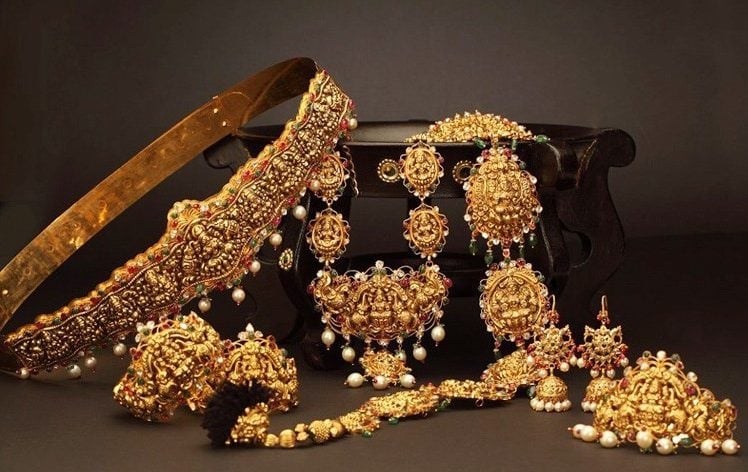 In the season of festive shopping, every woman has a list of favourites that become predictable. While there are sarees, anarkalis, gold jewellery, dry fruits and confectionary items to keep the family and guests happy and bubbling with joy, there is one item of possession that looks truly regal, traditional and auspicious. It is temple jewellery designs.
[Also Read: Diamond Jewellery Stores In India]
From the common man to a celebrity, temple jewellery has remained a matter of fascination in many hearts. From Aishwarya Rai Bachchan wearing it in her costume film Jodha Akbar to actress Shruti Hassan wearing a Pochampally saree with golden temple jewellery at a wedding reception, Indian temple jewellery has made its way into the fashion heirlooms, with ease and aplomb.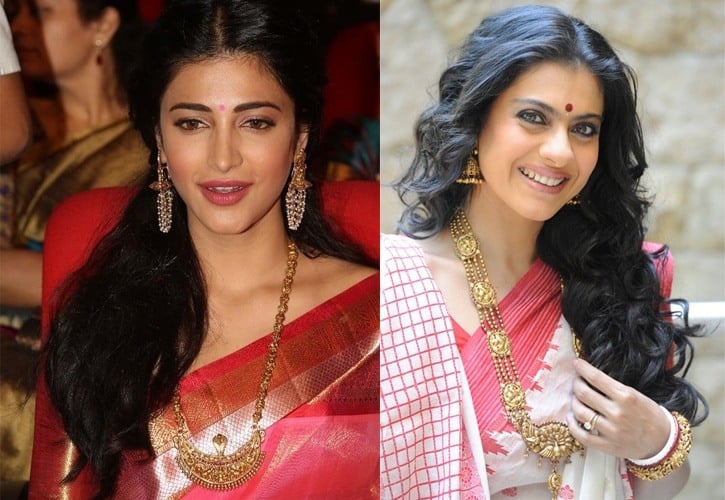 When Temple Jewellery Started Off
With Hindu deities, gods and goddesses inscribed on it, Indian temple jewellery came into evolution in the 9th century during the Chola dynasty.
The earliest representation of temple jewellery was seen in mural paintings of Thiruvambadi shrine in the Sree Padmanabhasvamy temple, Thiruvananthapuram in South India.
Historical records reveal that Indian temple jewellery was made using large quantities of gold that came as donations by the devotees. This helped in investing the wealth of gold into usable items. In a way, it also provided security to the temple and promoted temple art in the communities.
It's interesting to note that queens and high profile ladies at that time used to wear temple jewellery in celebration of festivals and occasions. Today, temple jewellery designs are worn majorly by Indian Classical dancers, particularly exponents of Bharatanatyam and Kuchipudi.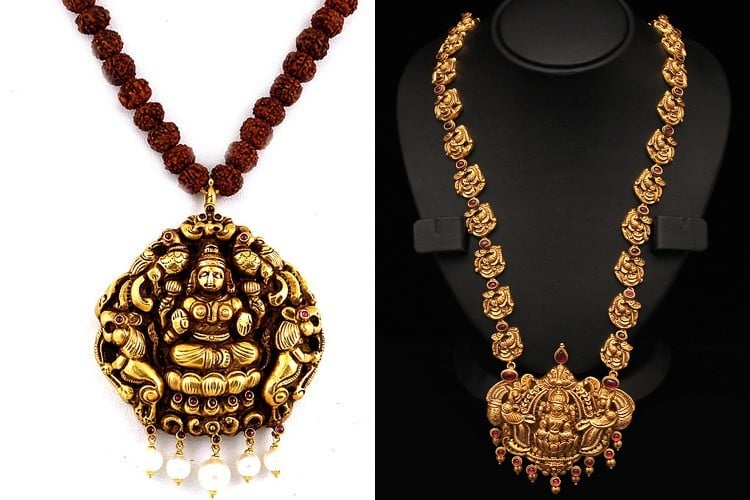 Temple Jewellery – The Making Process
It goes without saying that Indian temple jewellery is made of finest gold. It is further embedded with precious gems and stones to give it the additional flair.
First of all, the design is sketched out on a piece of paper. Subsequent to this, a silver sheet is cut in the shape of a pendant. This is followed up by curling of a silver tape and vertical welding on the surface of the cut silver sheet. What evolve are floral-design-forming-cavities in order to fix stones.
[Also Read: Full Finger Fashion Rings]
The vertically placed silver tape is now heat soldered to the sheet. Wax is filled up in the cavities, and the sides and back portion of the ornament are electroplated in gold to get a uniform gold look.
Now is the time to set the stones in these cavities. Once done, the stone studded jewel is ready for applying gold leaf, which is fixed on the exposed wax. The purpose is to seal the exposed wax with gold leaf.
Using a small pre-heated 'kathir' (a small chisel tool which is curved at the tip), the gold leaf is fixed on the wax and the surface. At this point of time, the stones are ready to be seen in a chosen design form on the surface.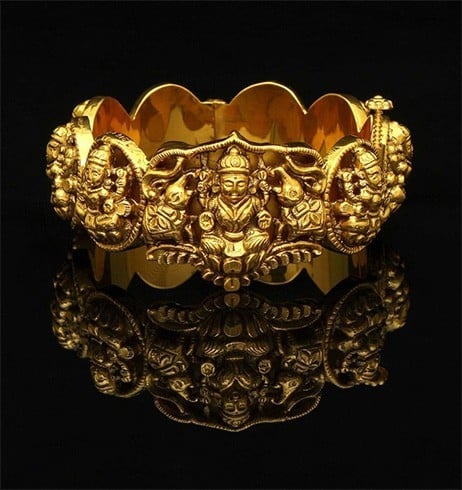 [sc:mediad]
Popular Ornaments Made From Temple Jewellery
The gamut of temple jewellery designs includes various ornaments such as necklaces, pendants, bangles, bracelets, nose rings, armlet, waist belt, ear rings and ear hangings.
Some of the popular designs used in the pendants are Makari, Naga, Yali, Parrot, Swan etc. Even crowns for temple deities are made using temple jewellery designs.
For Bharatanatyam dancers, red, green, blue, white synthetic stones are used as studs to make popular jewels. In fact, a complete Bharatanatyam set comprises of jewels such as head set, nose ring, bangles and many other items.
Goddess Laxmi sitting on a lotus is the most popular motif used in temple design jewellery.
[Also Read: Intricate Rose Gold Ring Designs]
Elephant is another interesting motif found in temple jewellery, since it is seen as auspicious in the South. Impressions of architectural designs are equally popular while designing temple jewellery.
Temple jewellery in fact enhances Indian wear such as saris, ghagra cholis and salwar kameez. You can wear temple inspired jhumkis and ring or a light temple necklace in order to make a statement.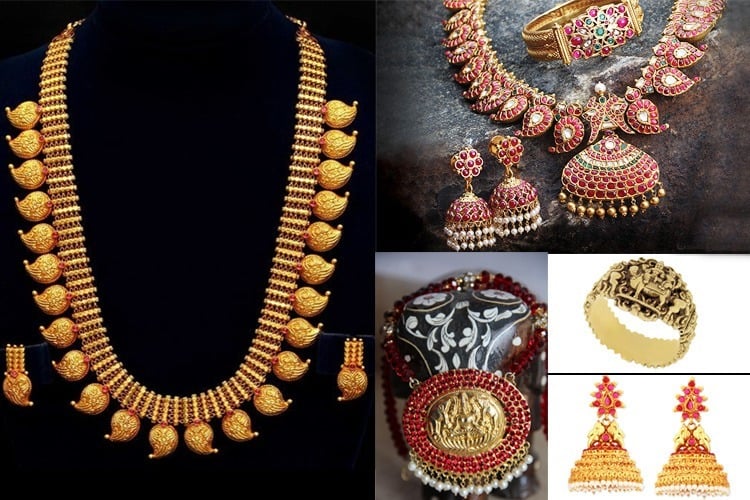 How Expensive is Temple Jewellery
Temple jewellery mainly consists of designs in kemp, uncut ruby and uncut diamond. The starting range is INR 80,000 and can go up to anything depending on the piece. The older the design, the more expensive it is. There are some necklaces that have been sold at INR 15-16 lac each.
[Also Read: Best Diamond Jewellery Stores In India]
Maanga maalai is one such form of temple jewellery sold at a famous jewellery store in Chennai at approximately INR 6 lac. The paisleys found in it are exquisite and studded with kemp and uncut diamonds. Which is why, the quality of workmanship in it is truly outstanding.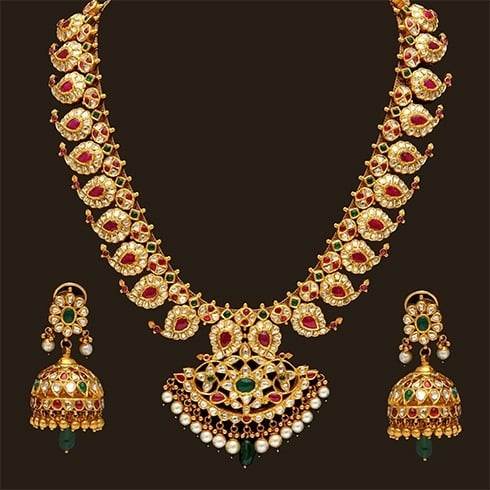 If you think such pieces are only owned by the royalty, then you are mistaken. There has been a section of the middle class who owned and sold temple jewellery without knowing its actual value. Even today there is a set of people who are not aware of the concept of antique jewellery.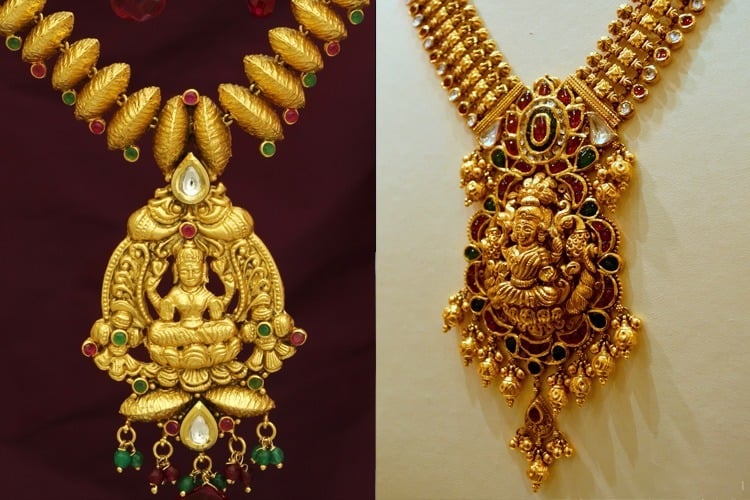 Sales and Marketing of Temple Jewellery
Temple jewellery is hot selling in the domestic market, particularly purchased by Bharatanatyam dancers.
Government undertakings such as Central Cottage Industries Corporation, Kaveri, Lepakshi, Poompuhar etc. and private emporia are looked into the marketing aspect of temple jewellery.
[Also Read: Maharashtrian Jewellery Names]
When the Handicrafts Marketing & Service Extension centre was set up in Nagercoil in Tamil Nadu, it was a big help to the craftsmen of temple design jewellery to showcase their products in urban metros such as Delhi, Kolkata etc. and mini metros such as Gwalior etc.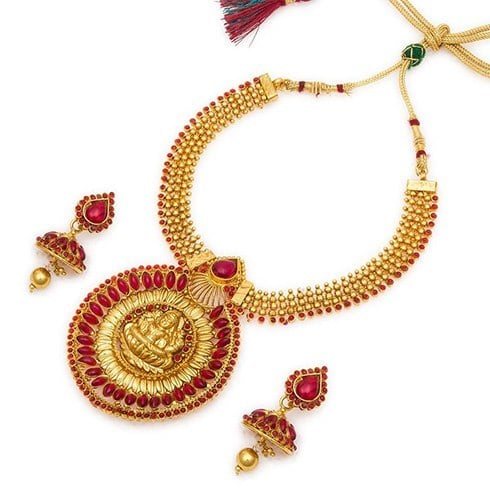 Temple jewellery, as you can see, is a strong insignia of Indian culture and tradition that's worth wearing and preserving for keeps.
Images Source: pinterest