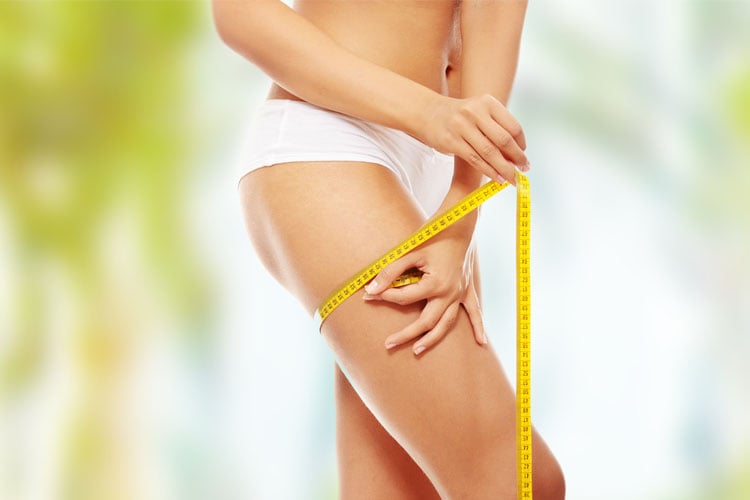 While shopping do you often feel confused if a particular outfit you selected would fit you or not? Most of us are blissfully unaware of our current sizes (as well as the changes that are regularly taking place in our body) and this one is a particularly difficult situation when we cannot try a very enticing dress or a top – especially when there is this unbelievable sale and you can't help but think –'Geez, I wish I could have bought this without a second thought!" While shopping online do you often end up buying the wrong size and wasting your money and time? Fret no more! Here's a simple guide to help you master the art of taking body measurements and that too independently! Sounds impossible? Go ahead and check out this article, right away!
Simple Steps For Taking Your Body Measurements Perfectly:
The section below will give you vital information on the best ways to measure crucial parts of your body. The diagram that you see above pinpoints all the locations that you should be measuring for a good fit. But before we go on to teaching you how to measure the various body parts?
Here is a list of things you should keep ready before getting started:
Use a non-stretchable measuring tape
Keep a small notepad and a pen handy to quickly jot down your vitals (Your memory might fail, so it's always better to make a note instead of fumbling later)
A very important tip is to remember to hold the tape snugly around you, but not tightly at all. If it's too tight, it will leave marks around the body and that is definitely how you should NOT be measuring. But make sure that the tape is not loose around you either! The best practice would be to wrap the tape around the area of the body that you are measuring and gently hold it in place. You should hold the tape in such a way that you can put a finger between the tape and your body, this will ensure your clothes will have some breathing space and a comfortable fit.
1. Bust:
To know your bust size, take the measuring tape and note the circumference of your chest. Make sure you position the tape at the fullest part of your bust and then take the tape around the bottom part of your armpit. It should circle around the shoulder blades too.
Notes: The right bust measurement will ensure that your bras (sports bras, or bralettes) and your blouses fit you well. The correct bra size is very important for optimal support and comfort. Some leading lingerie brands even help you know your bust-size before choosing a product at their store.
2. Waist:
Knowing your waist size is critical for buying your perfect pair of bottom wear -that could be anything from pants, trousers, denim, capris, shorts, leggings and the list is endless. To measure your waist, place the tape at the level you would tie your belt and circle your waist. Make sure that it is on your natural waistline. The natural waistline is just above your belly button and below the rib cage. Another quick way to find out your waistline is to bend sideways.
There will be a crease that will form on your body and that is your natural waistline. Whenever you are taking this measurement, make sure that you are breathing normally. Else you will get an incorrect measurement. If you are a fan of the low-waist fashion trend, then place the tape according to where you would like to wear your pants.
3. Hips:
The measurement of the hips, too is critical to accentuate your hourglass figure while designing your clothes. To measure the hips correctly, take the measuring tape and circle it around the fullest part of your hips. This is usually around the seat area. Please don't forget to make sure that your tape is lying flat on your hips. You can use a mirror to ensure that your tape is fixed right around your hips
4. Thighs:
Place the tape around the fullest part of your thighs and stand with your legs a little apart. Measure each thigh by wrapping the tape around it and noting the circumference. Remember to take the measurement for both your thighs. Though the difference may not be much, it is important that you take measurements for both.
5. Calves:
For those of you who love wearing very figure-hugging tights or jeans, having the correct measurement of your calves is very important. Just take the measuring tape and wrap it around the fullest part of your calves for the right measurement. This should be halfway around your ankle and your knee. The perfect fit of your capris can help highlight your toned legs.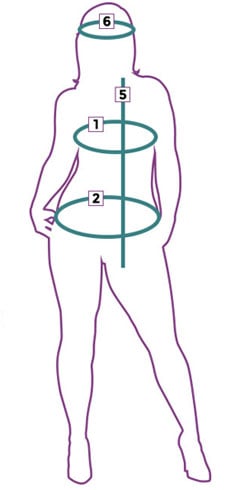 6. Upper Arm:
It is important to take correct measurements of your arm to not only ensure a perfect fit but also a comfortable movement. You should wrap the tape gently around the fullest part of your upper arm. Measure the circumference of both the arms for best results. There is usually a minimal difference between the size of your left and right arm, but you could still note it for getting precise measurements.
7. Forearms:
For measuring your forearm, it is important to place the tape below the armpit and till the wrist. This one may be a little difficult to measure on your own, so you could seek a friend's help for measuring correctly.
8. Neck:
How to measure: Measuring the neck area properly is the key to oozing some feminine charm, flaunting your slender neck and having the best collar fit. This number should be precise whether you are getting your blouse and kurta stitched or your jewelry customized. Wrap the measuring tape around your neck, make sure it is not tight and take down the measurements.
9. Sleeve Length:
This one is another important measurement but most people cannot do this on their own. So before you start measuring this, make sure that you ask for someone else's help. Place your hand in a way that your elbow is positioned at a 90-degree angle. Now start measuring with the tape and begin from the middle of the back of your neck and till your shoulder, down your arm to the elbow, and then on to the wrist. Quickly jot down the vitals, before you forget!
10. Inseam:
There are two ways in which you could measure the inseam. When we say inseam, this means the distance from the uppermost inner part of your thigh to the bottom of your ankle. There are two ways in which you can measure your inseam – one trick will help you measure it independently and the other method will require you to seek assistance.
[sc:mediad]
Without help: Just take a pair of pants that fit you perfectly. The most important thing to keep in mind is that they shouldn't be too loose around the waist. Now measure the inseam of these pants by stretching the tape from the crotch area to the hem of the pants.
With help: When you're wearing a pair of pants, stretch the tape from near your crotch region and ask a friend to hold it to the bottom of your ankle.
A Point to Remember:
The number one tip that we can give you when measuring the vitals is to invest in a good measuring tape. You can buy it anywhere, but make sure it is not made of a stretchable material or metal because the measurement will be skewed and you will not get accurate readings.
You may be measuring your body for a variety of reasons – to buy the right clothes or even to measure your weight loss. Inch loss is one of the indicators that you are losing weight. Hence, always invest in a good measuring tape and keep these vital stats handy so that the next time you are on an online shopping spree, you pick up an outfit that has a perfect fit without much ado! If you found this article helpful, give us a thumbs up in the comments section below.
Images Source: pinterest