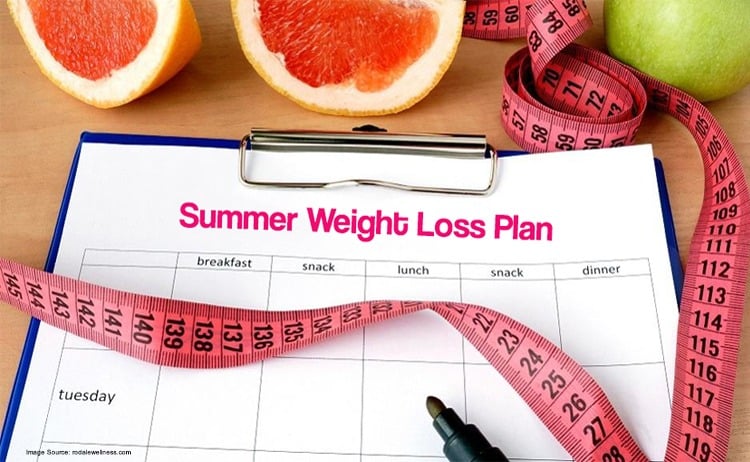 Why during the summers should we think of losing weight. The answer is simple, it is too hot and with the heat around, the metabolism of the body is lowered down. This means, there are certain types of foods which the body would not be able to digest. Our skin take a lot of beating when the summer months are on. This is why a Summer weight loss plan, with the right amount of foods and types of foods eaten should be followed.
Another reason why you should follow a summer diet for weight loss is because the high calorie foods, fats and sugars that we consume otherwise, tend to place a lot of pressure on the organs within the body, and add to that the heat generated within the body as well. This would thus make you suffer from illnesses related to heat, such as dizziness and constipation, headaches and nausea too.
Finally, one should have a Summer weight loss plan and a right diet plan, so that the weight of the body is brought down and that you look good in your summer clothes too.
Without taking much time, we shall now share Summer weight loss secrets, through what foods you should include in your summer diet. Please read on and be well-informed.
Foods that you should have for the summers
Have a lot of fruits
For the summer months, fruits are the best to consume. A fruit salad should be on the table when you eat any meal, say experts. This is because they have a high nutrient value and are great as snacking options too. Moreover, you do not have to prepare them as such. Hence here are a couple of fruits listed below which will help you with the summer weight loss challenge.
1. Get melons
While the summers are on, have as much as melons as possible. They are heavenly to taste, have a high nutrient value, and they have a lot of water in them- much more than most other veggies and fruits for the summers. Since our bodies tend to lose a lot of water while the summer months are on, you can have a lot of musk melons and watermelons, which helps keep the body hydrated. Melons are natural laxatives too, and they won't allow you to suffer from indigestion and constipation as well. They are filling as well, and consuming melons won't allow you to overeat.
Oranges are good to have
They are very low in calories and have a high nutrient level and plenty of water for you to enjoy. This is why, oranges make for a very great summer snacking option, and are often used in salads as an addition as well. They have a high fiber content and they boost digestion levels too, and keep you fuller and satiated for a longer time.
2. An apple a day
Apples are amazing to have while the summers are on, since they are very filling and low in calories too. They should be in every house this summer, and since they have enough fiber in them, they help you stay full for longer periods of time as well, and regulate your morning bowel movements too. If you do not like apples, you can always opt for pears, which are excellent alternatives and juicier than apples with plenty of fiber and water in them.
Vegetables that you should include in your weight loss plan for the summers
While we gave you a lowdown on which fruits to have the most during the summer months for your weight loss plan, don't forget that there are veggies to have as well. Some of them are-
Green leafy vegetables and more
Talking about cucumbers, they replenish the body very well with the large amounts of water they have. They are also very low in calories and can be made into a snack at any given point of time, and you can even munch on them in between meals too. Cucumbers are very filling and they have a crunchy texture which makes the salads a delight to munch on. Hence they are perfect for the summer weight loss plan as well.
You can even go ahead and add mint leaves to your salads or drinks, since they are stimulating and aid in weight loss, say experts.
Point to note
When consuming veggies, it is best to have them as a snack or as a salad, and raw as possible. If you are unable to consume the veggies raw, you can try adding some flavouring to them, grilling or roasting them, steaming or baking them as well. Try avoiding frying your veggies in oils or even stir frying. Remember, your main aim here is to lose weight, isnt it?
A simple tip to decide which veggies would work best for your needs during the summer- if a particular veggie takes time to grow, add it to your list of summer veggies to have.
Have a lot of fresh herbs
While the summer months are on, it would be nice to include in your weight loss plan a lot of fresh herbs. Garlic and ginger are great to include in your summer plan for diet needs, since they have heating properties that create a thermogenesis effect in the body. This means, it makes the body heat up and burn calories within, and then eventually cools the body down as well.
You must also add mustard and chillis, capsicum and peppers to your meals for the summer diet, say experts. It might seem odd that the experts say so, but they actually help burn more calories and cool the body down once the thermogenesis effect in the body is over and done with
Don't forget to have whole grains
From rice to breads, oats to soybeans and more, whole grains are great to have to bring into the body a lot of carbs without pressuring the system. You get all the energy you need for the day, and your summer weight loss plan still stays in place. You would not feel sluggish and even your blood sugar levels would stay put.
Coconut water once a day or twice
Energy drinks are a waste to be honest; nothing like sipping on cool tender coconut water to beat the heat and to help bring in a balance of electrolytes in your body through your summer weight loss plan.
[sc:mediad]
A glass of lime juice
Lime juice is known to refresh the body and cool the body, and it helps in digestion and weight loss as well. Drinking a glass of warm lime juice every morning on an empty stomach is recommended. But you can have a glass of lime juice during the day as well, sans sugar and salt or have it with just a teaspoon of honey.
Have buttermilk if possible
Buttermilk for a very long time has been a favorite amongst indians while the summers are on. It helps cool the body instantly, and the active culture within it helps keep the digestive gut flora in a good shape too. This means, it aids in weight loss and there would be no problems with digestion as well.
Have a glass of cool iced tea
For the evenings, instead of having a warm cup of chai, you could opt for a glass of iced tea. It is tasty and much better than just drinking plain water. Instead of using sugar, you can use honey to sweeten the tea up and this will make your weight loss detox drink very tasty and nice. Your waistline would not increase as well, and you would feel refreshed and happy with a tasty flavorful drink.
What meats can be eaten?
Meat eaters, we have not forgotten you. Meats still can be eaten, however, moderate it and stick to the leaner versions of meat. Chicken and turkey would be best to have during the summers, preferably roasted and broiled, baked or grilled. Try staying away from fried meats, which only adds more calories to the body.
Fish can be had as well, sardines, tuna, salmon etc are light fish, so are bhetki, rui, pompfrets etc. The best thing to do again with fish is to bake, grill or roast or even barbecue the fish, rather than having it as a curry or a stew.
What you should avoid in your summer weight loss diet
Coffees
When the summers are on, it is best to avoid having coffee. This is because of the diuretic effect it has when consumed in plenty. They say, if you have more than 300mg of caffeine a day, chances are the body would lose a lot of water and that you may get dehydrated too. Caffeine is also found in colas and soft drinks, teas too.
Cut down or stop alcohol
More than what caffeine can do to your body, alcohol makes the body weak and dehydrated faster. You must cut down or stop the consumption of alcohol if you plan to stick to the summer weight loss challenge diet.
Oily and fried foods
If you are consuming too much oily foods while the summer months are on, chances are it will show up on your skin. One of the summer weight loss tips, which we will give you is to avoid oily and fried food as much as possible. They are heavy and don't digest easily, and they add more calories to the body.
Try staying away from cheese
Cheese is a very popular dairy produce and many across the world enjoy it in many forms. However, you must know and realize that cheese is fatty and full of calories. This is not good to have when you are following your summer weight loss tips. A sprinkle of cheese on a sandwich is okay or on a salad, once a way. However, too much of it on a daily basis is simply not advisable. Goat cheese though is a healthier option to have, when you are on a diet.
Assorted nuts
Nuts are high in protein and they have a lot of nutrition too, but they are extremely heating and fatty for the body as well. This is why, when you are on your summer weight loss challenge, it is best to avoid a high intake of nuts. You can have dates though, but in moderation.
Sweets and baked delights
They have a lot of sugars and fats with gluten flour in them, and hence when you are following your summer weight loss plan, its best to avoid them like the plague. You do not need to fill your body with empty calories, and the body while the summers are on cannot burn off the excess fat pretty soon.
Thumb rule with cooked foods
If the foods take too long to cook, they should not be in your summer diet. This is what most experts say. Check around for recipes that cook fast and take the least amount of time so that your summer diet stays in shape.
Notes to ponder on
As compared to winter months, it is easier to lose weight while the summer months are on
You eat lesser during the summers, since the body system is slow and there are more fluids consumed than whole foods, and hence you can lose weight easily
Breaking meals while following the summer weight loss tips, is how it should be. Have your breakfast and then a mid morning snack, follow it with a lunch and then an evening snack, and then end up with a dinner, which should be light.
Experts say, one should begin the day with a glass of lukewarm water or lemon water with honey.
If you have tea first thing in the morning, it should be with marie biscuits
You can even have two to three almonds or walnuts on an empty stomach in the morning, but do follow it with a wholesome breakfast.
Breakfast should be with egg whites and cornflakes, oats or museli.
Mid morning snacks should be fruits or salads
For lunch, stick to multi grain rotis with vegetables and a bowl of lentils or dal
Evening snacks should be roasted channa with teas or idlis with teas or even dhoklas
For dinner, soups are best with veggies and rotis or brown bread.
If you feel hungry before you sleep at night, you can have a glass of warm milk
Fruits when consumed keep most of the empty calories away. Fruits that should be avoided when following any expert summer weight loss plan are mangoes and bananas, grapes too, since they have very high calorie levels.
Stay away from full fat milk and foods that are fried and greasy, sugar and its products, maida and its products, fried snacks etc
Red meats are not advisable to consume daily
For quicker weight loss, one needs to have skimmed milk, porridge made from whole grains, pulses, green leafy vegetables and salads or lean meats too
So here were the many summer weight loss tips which we found around for you to use and emulate. Please note, the information given here is through research only. You must consult your expert nutritionist and dietician to known more about how to lose weight in summer season. Their words would take precedence over what is written here and elsewhere online.