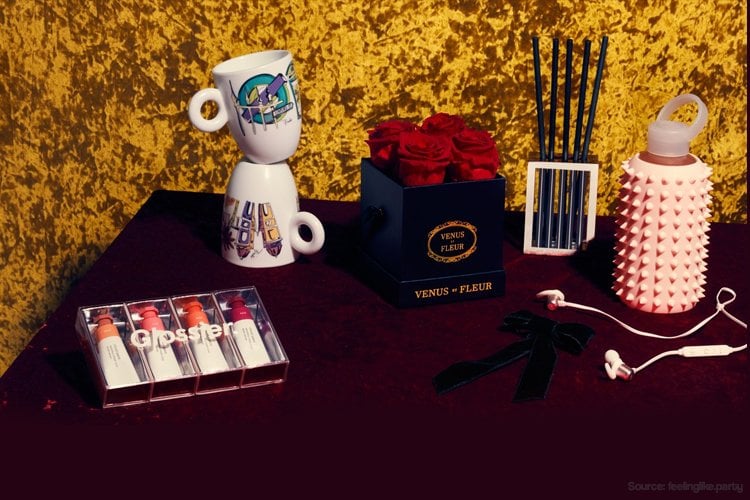 Hard it is to convince a woman. However, when you see the gifts for the woman who has everything, you will be amazed at the gift ideas, which are workable and admirable.
Here comes the helpful list of luxury gifts for the woman who has everything.
They are sure to please the pickiest and fussiest of people you know – and that could be your wife, mother, ma-in-law or GF.
1. Elizabeth and James Choose Your Nirvana Coffret Floral Edition:
Perfume gift shopping is the easiest thing to do but what to get the woman who has everything? Does it mean you have to manufacture custom brands for her? Ha ha…wish that was possible. Try gifting the threesome Elizabeth and James Nirvana Floral Edition. And what's so unique about it? Well, each rollerball (there are three of them – Nirvana Rose, Nirvana White, Nirvana French Grey) provides a unique floral fragrance – varying from clean and soft to deep and sultry. The heart of a dark rose with notes of Rose De Mai, Geranium, and Vetiver so that you get a sultry refined scent. Overall, this EDP is feminine, captivating and unforgettable.
Price: $28
2. Bkr Big Spiked Water Bottle:
Having a water bottle is one thing and possessing it is another. Am sure you would want the latter. So here is a spiked 16-ounce silicone glass water bottle from the brand which keeps you hydrated and in an environmentally conscious way. Available in shades inspired by the runway, this bubbly glass water bottle is wrapped in spiked and grippy silicone. Has a small opening for no-spill sipping and no-leak seal. Fits most cup holders. Free of phthalates and BPA, it's dishwasher safe too. As for the color options – there is Elle, Jet, Lala, Cash, Marina, Tutu and Naked. Isn't it one of the most thoughtful gift ideas for women who have everything?
Price: INR 2,805.19–2,945.45
3. Framebridge Instagram Mini:
Upload any picture from your Instagram feed, choose the frame and mat. Your snap comes framed and is ready to hang. Your Insta friend will love the gesture of yours.
4. Goop Wellness Balls in the Air:
There is nothing better than Health and Wellness product as a gift. This antioxidant-rich (beta-carotene, vitamin C, and vitamin E) luxury gifts for the woman who has everything helps to reduce inflammation in the body. This 1-month supply has 30 packets and works for guys too. $90 for one month; $75 for a monthly subscription.
5. Jennifer Behr Velvet Bow Barrette:
Jennifer Behr's hair accessory is made from plush velvet knotted in the shape of a bow. The barrette fastening will ensure it stays securely in place. Pin it up as half-up style to get instant holiday hair.
Price is $130.
6. Mave New York The Razor & Blades Set:
When it's this luxurious, then even a razor is a perfect gifting option. The razor's chic and elongated handle and sculptural razor design are both polished and practical. The set includes a matching stand for easy storage and is compatible with Gillette® Venus® blades. In short, the handle's slender, six-inch design makes shaving a breeze. That is why it is one of the most usable luxury gifts for the woman who has everything.
Priced at $91.
7. La Rousse Rose Gold Box:
A beautiful heirloom photo presentation, you can display photos, jewelry, lipstick, anything in this vintage-inspired glass box. The perfect showpiece it is for any desk or dresser. And the answer to what to get the woman who has everything.
8. Nest Fragrances Birchwood Pine Liquidless Diffuser:
Meet the new and improved version of a holiday candle. Being a diffuser, it spreads your favorite scent into the air for 1 month without using flame or liquid. You can customize the scent strength – the foresty fragrance – using the biodegradable and compostable ScentSticks™ made from sustainable paper. Isn't it a super elegant way to make your home smell good all season long?
Priced at INR 4,207.78.
9. LSTN Rose Gold Bolt Wireless Earbuds:
These wireless headphones combine form and function. Anodized aluminum, sweat proof coating, 120-foot range, 10 hours of battery life raises the bar on wireless earbuds. But what makes it as one of the most thoughtful gift ideas for women who have everything is the fact that all proceeds from the sales of LSTN products help provide hearing aids for people in need around the world.
Price – $100.
10. Splendid Printed Thermal Pajama Set:
Fairisle Coral, Midnight Stars, Navy/White are the color options of the cute, cozy and comfortable sleepwear. The print is festive and seasonal. Little things such as round neck with lace-up detail, tall cuffs, elasticized waistband, banded cuffs, the pull-on style and rounded hem make it a well-deserving gift item for the woman you love.
Price – INR 4,629.
11. T3 Source Showerhead:
Yes, a showerhead may seem a strange gift. Relax, this showerhead contains a mineral mixture (known as Redox) comprising of copper, zinc and calcium sulfide that remove chlorine, hydrogen sulfide, iron oxides, and other dirt from your shower water.
12. Venus Et Fleur Le Petite Eternity Arrangement:
Flowers are a lovely gift, and always. Say "Thank You" to your loved ones through this petite box. The best part about these roses is that they last throughout the year and need no watering or maintenance. Yes, it is true. While the box material is in two colors – black and white, the real roses come in a variety of colors.
13. Wölffer Estate Vineyard Finca Wolffer Rosé 2017:
The Finca Wolffer Rosé Wine is made from hand-harvested grapes sourced from the company's 85-hectare Argentine Estate. One of the most indulgent luxury gifts for the woman who has everything is the perfect companion for fine meals and friendly gatherings. Can be served chilled with barbecue items, fish or shellfish. As for the aroma expect a fragrance that has notes of citrus, peach, ripe berry, and a hint of sun-dried grass.
14. Giuseppe Zanotti Women's E60064 Heeled Sandal:
Any idea who is Giuseppe Zanotti? He was born in an Adriatic town – San Mauro Pascoli. The better part is his long experience in shoemaking. He has created luxury footwear for women for over twenty years. Then he made a name for himself as a footwear designer for Italian and international companies. No wonder his shoes are so gorgeous and stunning to wear and look at.
Price- $1,595.
So which gifts for the woman who has everything tempted you the most. Write in and tell us which of these gifts you find great to buy.