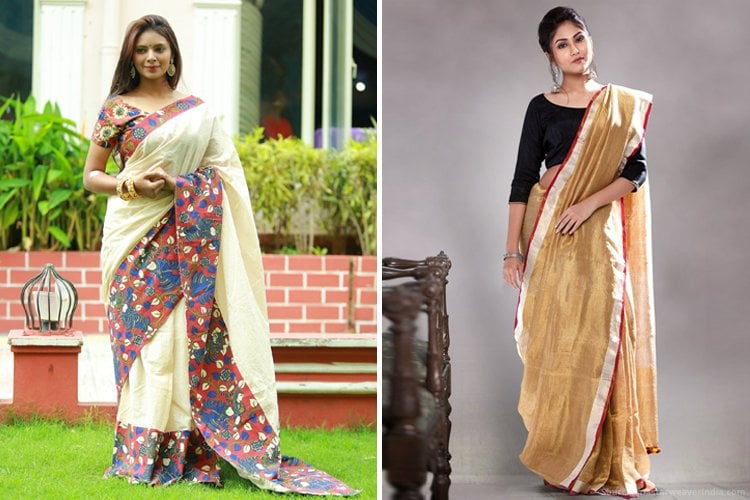 It is important to stay cool in summer for several reasons, including health, style, and comfort. Breathable fabrics allow maximum amount of air to pass through. There are several types of saree fabric design, which are natural and man-made, like cotton, linen, silk, sheer, etc. These lightweight fabrics can bring comfort in your daily life and make a huge difference. As a rule, select natural fabrics while buying saris, like the ones mentioned above and avoid synthetic fabrics, nylon, and polyester.
Here are six saree fabrics you can wear during summer.
1. Cotton
One of the most common natural fabrics that are breathable is cotton saree fabric. This is a fabric extracted from fibrous balls found in cotton plant. At present, it is one of the most popular and versatile fabrics used all over the world. The fact that it is breathable is because of the small hollow gaps in the fabric. This allows them to absorb and release perspiration quickly.
Wearing cotton fabrics help in passing air through the fibers and keep the body cool, by drying off perspiration. The porous nature of cotton not only absorbs dye but other varieties, as well. Cotton blends well with other fabric properties for several functions.
You can also find other cotton varieties and weaves like flannel, muslin, terry cloth, sateen, gauze, velveteen, and sailcloth. It is hardly surprising that cotton is summer's mainstay. This natural and lightweight fabric is an excellent choice for summer wear including saris.
You can select crisp cotton saris in white and pastel shades to keep you cool and trendy this summer. While hunting for cotton saris, stop at Jaypore to check their decent range of collections.
2. Khadi
Khadi is a hand-woven fabric made from handspun yarn and boasts of a unique weave. It allows the maximum comfort, allowing breathability in the fabric. This is the best fabric for summer heat.
Khadi kurtas are the most common choices, but you can also add khadi saris to your summer wardrobe. For the best khadi buy, source the fabric from Khadi Bhandar outlets and have it tailor-made to create simple separates.
Indian designers like Abraham & Thakore and Rajesh Pratap Singh work extensively on khadi creations.
3. Linen
Linen is a natural fabric extracted from the flax plant. This plant needs proper care in its growing stage because a lack of fiber elasticity can make it difficult to weave. Linen is a more expensive fabric than cotton. It is believed to be one of the oldest fabrics.
Today, linen is a popular Indian saree fabric because of its breathability and durability. The fabric is two or three times stronger in comparison to cotton and a better heat conductor. This is the most breathable fabric available. It is also extremely lightweight and easily washable.
Linen saris are a great option for summer. There are several high-street bands that have a great collection of linen clothing. Cottonworld and Fables by FabIndia are great options. You can also watch collections from new designers by Anavila Misra who specializes in linen saris and blouse for daily wear through her label Anavila. Other designers who also work extensively with linen are Anuk Bhutani and Paridhi Jaipuria.
4. Sheer
Sheer is one of the most-loved saree fabrics in summer at the moment. The fabric was introduced to India by the British and made its way to the United States. Sheer is an all-cotton fabric that has derived its name from Urdu and Hindi. This fabric prevents sticking to you in summer, unlike other heavy fabrics. Its close relation with cotton makes it a strong enough reason to become a summer pick.
Sheer styles come in tulle, lightweight crochets, and lace to make for a perfect summer statement.
Indian designers also love sheer. They believe it adds femininity and elegance to Indian outfits. Sheer has been part of Indian Fashion week seasons and have evolved over the years. During summer, you can go Indian wear panel with sheer. You need to balance off traditional and sheer elements. For instance, sheer sleeves or panels are a good effort and combination.
5. Silk
Silk is a great choice for summer sarees. It has hypoallergenic properties and natural protein structure offering easy breathable space. Silk is also considered to be a climate fabric with temperature-regulating properties. The fabric also absorbs sweat allowing your skin to breathe and is suitable to wear during all occasions in summer. You can look up for silk saris and blouse in sunny colors.
[sc:mediad]
Anamoly offers great collection of basic silk blouses. Other than that, online shopping website Ajio.com has great source of silk saris.
6. Chambray
What looks like a dream, feels like heaven, and will perfectly transition your summer staple is Chambray! This is the perfect summertime fabric for saree opposed to heavy fabrics. There is a fixed reason why this crisp fabric shouldn't disappear from your wardrobe. It is perhaps known as a popular sari fabric choice in summer because of its impression of denims. But this textile doesn't stop there. The woven fabric is lightweight and breathable.
If you are shopping for easy, breezy saris staples, consider something in chambray. This versatile fabric is perfect for scorching summer days. The classic neutral tone looks amazing with summer saris – whether you're looking for an all-white, colorful, or patterned sari.
You can dress up your saris for a night-out in the town by throwing on a sparkly necklace or metallic sandals. You may also dress down by wearing chambray saris with flats. While you are buying chambray saris, remember there are awesome layering pieces out there.
All in all, if you are facing the summer blues and want to match your mood, then you should go for the chambray saris. From traditional to office-appropriate saris, to strapless version, there is a style for everyone.