Fairytale or fantasy? There is a thin line of difference when it comes to a realistic take on popular children's story. Cinderella's beautiful gown, her sparkling glass slippers, and her mouse friends are stuff fairtytales are made of. That was then. The Cinderella story continues to entertain us as adults even today.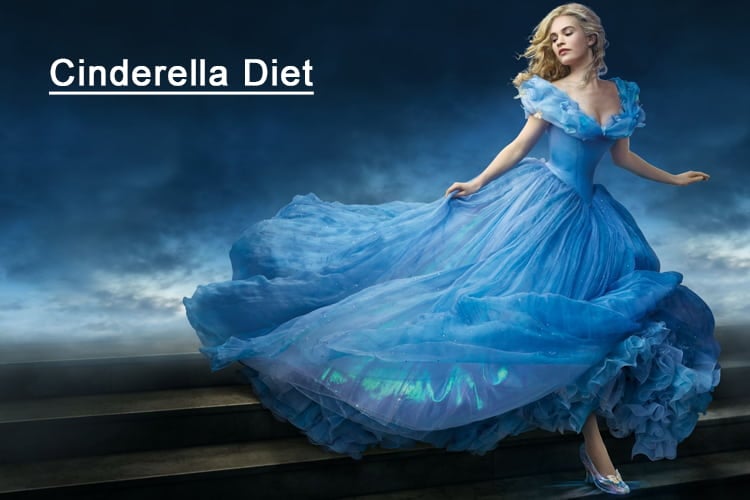 Can Cinderella diet secrets ever be the newly found twist in the Cinderella story?
Is this a revolution?
You bet, it is.
The newest thing that has gone viral is the Cinderella diet – the latest weight loss diet trending all over the globe.
Wow, it sounds exciting. However, the strange thing is that people are not very happy about it.
Why but?
Call it Disney dilemma, the shocking Cinderella diet trending these days is a challenge to have an end weight goal like that of Cinderella, the fairytale character.
This new viral weight loss trend is a big one in Japan and has spread like wildfire on Twitter. You see the so-called Cinderella weight loss diet is not a passing fad but a dangerous challenge. I mean having to get Cinderella curves is not easy considering the proportions of the fairytale figure.
The Formula To Calculate Cinderella Diet:
When following the Cinderella diet what formula is used to find one's weight goal?
The Cinderella weight (in kilograms) is calculated by squaring the person's height in meters, then multiplying that number by 18.
Why the controversy but? You can say that Cinderella, the fictional princess is being used in a regressive way for attaining unhealthy weight goals.So that the person adopting the Cinderella diet plan ends up looking like the fictional character.
Some Twitter users wrote how much they will have to lose in order to complete the Cinderella diet challenge. Some see it as losing almost half of their weight, OMG! Possible?
But all in all, the Cinderella diet benefits aim for a body mass index of 18 (as mentioned above). Officially speaking, this is classified as "underweight" on the BMI scale. Does this ever mean Cinderella was underweight? Or lean and trim with "a size zero figure"? We will have to travel to fairyland to crack the mystery.
[sc:mediad]
Analysis Of Cinderella Diet:
Though the Cinderella Diet trending varies from person to person, but according to Japan Today, it is 18% lighter than the weights recommended for women of that height by the Japan Medical Association. Whereas if you were to go by UK standards, it results in a body mass index of 18, officially classified as "underweight" on the BMI scale.
I hope you know what is BMI scale? It is a popular method used to tell if your weight is healthy or not.
For a few ladies, this trending food habits might be natural and healthy. For the majority of women, it could only be achieved through extreme dieting or even starving which can be extremely dangerous.
To be realistic, this is not the first time when the Disney princess is at the centerstage of a raging controversy. Go back to the 2015 remake of the Disney film where the impossibly small waist of the actress Lily James started off the blame game sparking off accusations of her proportions being "digitally" altered. Did you know the starlet was on Cinderella liquid diet that made her fit into her corset dress? It is quite obvious she had to give up her solid foods while wearing her famous and super cool ice blue ball gown.
Says the actress Lily James who starred in the live-action remake of Cinderella "When [the corset] was on we would be on continuous days so we wouldn't stop for lunch or a lovely tea like this — you'd be sort of eating on the move," she told E! News "In that case, I couldn't untie the corset. So if you ate food it didn't really digest properly and I'd be burping all afternoon in [Richard Madden]'s face, and it was just really sort of unpleasant."  
Some people believe the Cinderella diet trending now is one of those fad diets and a big red warning for eating disorders.
Popular Take On Cinderella Diet:
Mixed opinions, actually. Here is decoding Cinderella diet pros and cons.
One user did not understand why the diet was so 'controversial' as 'some people just want to be skinny'. Another user argued that the Cinderella weight loss diet is 'way lower than what is considered healthy for a normal human being'.
Actually, Cinderella diet – latest weight loss diet trending all over the globe has created a storm online.
What about the opinions of people?
While many feel that the lovely Cinderella is an ideal fitness model for those who aim for extreme body proportions that belong to the fictional world of Disney. Others think not to rake up the 'skinny shame'.
Some Twitter users are speaking out against this unhealthy goal.
Here are some of them:
"Ridiculous. A woman would have to remove all of her internal organs and have the impossibly thin waist of a manga character to do this.'
"I used to weigh my Cinderella weight, and then I noticed how disgusting it was when I could see my ribs so clearly."
"My live-in girlfriend weighs exactly her Cinderella weight, eating the same things and leading the same lifestyle that I do, and she's perfectly healthy."
The best course of action is to avoid leaning on a specific weight loss fad so much that you tend to ignore other health indicators. Always consult a fitness professional or nutritionist before you start trying out on an intense weight loss plan. Remember fitness and wellness both are of critical importance.
So what is your take on the Cinderella diet – the latest weight loss diet trending all over the globe? Did you like the latest weight loss tips? Please write your comments and views below.