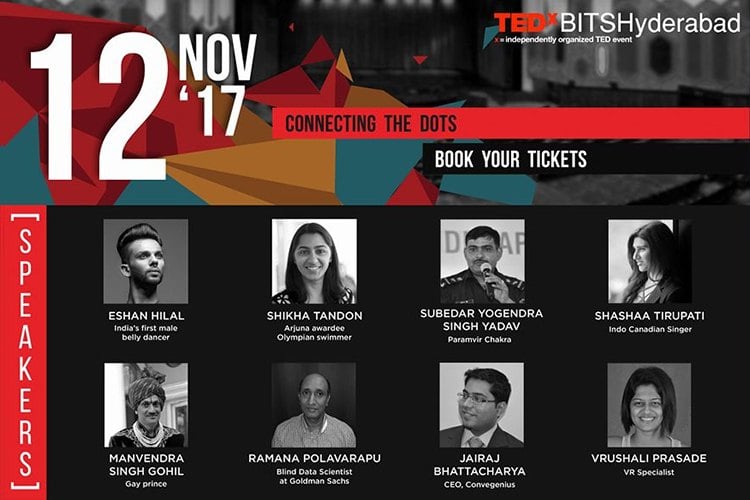 Knowledge is something that only doubles when shared.
An experience is one of the most lethal sources of knowledge. More precisely, it is the practical forearm of knowledge gained through practice and observation.
While your experiences are sure to teach you well, learnings from other's experiences is a privilege that has the capacity to grant you more strength and insight.
Not every day you get the opportunity to have a direct face-off with real souls who have put themselves through uncertainties and grave difficulties and finally achieving what they set out for.
If you are in the city of Hyderabad on the 12th of November, 2017, then one of the most popular and globally acclaimed platforms, TEDx, has a surprise for you.
TEDx, the independent organization set up to support and encourage sharing of worthy ideas at a local level, has joined hands with one of India's most premier engineering and design institute, Bits Pilani, to enlighten you with first-hand experiences from across varying spheres.
The Hyderabad campus, which is also the youngest among the four physical campuses will play host to this learning experience.
In its 4th edition now, the theme of this edition is "Connecting The Dots" wherein TEDxBitsHyderabad brings to you 8 speakers coming from distinct backgrounds and unconventional professions, willing to share all the important lessons of life they have learned from their learning curve.
Every speaker will be given a talk time of 12 minutes. However, true to the events primary motive of creating a community between the attendees including the speakers and ensuring a healthy interactive session, the event aims to introduce short breaks and also a lunch break allowing attendees to network amongst themselves and also gain deeper insights into the experiences of the speakers.
The event is planned and curated by an organizing team that has an eye for detail. From an appealing set to goodie bags, everything has been well taken care of. For additional convenience, all attendees will be briefed with a pre-hand understanding of the conference and what it would entail.
Please note, that an exclusive offer of a dinner date with the speakers is being provided to highly selective attendees. The dinner hosted a day before the conference will give you a chance to introduce yourself to the speakers on a more personal note allowing you to build a more strengthened bond with these dignitaries.
To see the names along with profiles of the speakers along with other event details click here.
We are definitely not missing this one and you too should not. See you at the campus of Bits Hyderabad.