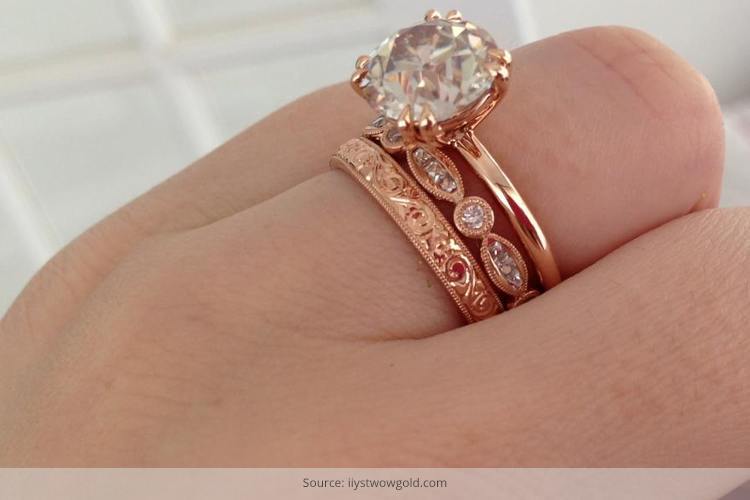 Gone are the days of gold and platinum engagement rings. Now is the time for rose gold engagement rings and everyone is craving for one! Even celebrities are increasingly sporting rings of this colour now, increasing the frenzy even more. The newest iPhone 6S is also of the same colour! Now, you can imagine how much in demand rose gold colour is!
Weddings are a special occasion and everyone loves engagement rings that are not common! This is where we come in! We have looked for intricate wedding rose gold rings left, right and centre to help you make your choice.
Let's check out some of the best rose gold engagement rings that we can find in the market right now. But before we begin with the designs, let's learn a little more about rose gold wedding band.
What exactly is rose gold colour?
For starters, rose gold is just gold, but it is a mixture which has a high percentage of yellow gold and copper, which results in the pinkish tinge. The high percentage of copper is why the soft pink colour is seen in most of the rings.
The Downside of Rose Gold
While you are zealous to buy a rose gold ring, keep in mind the fact that the copper will make your ring tarnish over time. As a result, you will see that your rose gold ring is actually darkening over time. If you would not want that, you should actually not go for rose gold then!
Since rose gold ring designs are so much in vogue, there are tons of different designs that you can look out for as a bride. Each and every design is unique and since it would be a lifetime investment, you should invest in something that you really like.
[sc:mediad]
Rose Gold Bridal Set Rings
If you want to go for something which is not too flashy or gaudy, then you can go for these set rings. These are not just single rings, but a set of rings. So, you usually wear them in a stack. You can have tons of different designs for these too. Have a look at some of these breathtaking designs.
Antique Rose Gold Engagement Rings
[Also Read: Cute Engagement Rings]
Yes, we know that rose gold has recently come into fashion, but antique rose gold rings have existed since more than a hundred years! Vintage rose gold rings were also very popular during the 19th century and many royals wore these rings as a fashion statement. The colour came back into popularity once Cartier brought back its stacked rings in white, yellow and rose gold colour.
Here are some antique ring designs you should look out for:
[Also Read: Full Finger Fashion Rings]
Designer Rose Gold Designs
Besides the antique rose gold designs, another popular genre of rose gold rings are the ones which are designer made. Though you cannot customize much when it comes to antique rings, the designer rings give you much more flexibility with the choices and stone settings as well as having designs of your choice.
Rose gold designs are being picked up by almost all the major designers in the industry and big shots in the industry like Cartier have also started manufacturing rose gold rings in a lot of designs.
Here are some of them:
We hope all these choice of rose gold rings will help you make your choice in the best possible way!