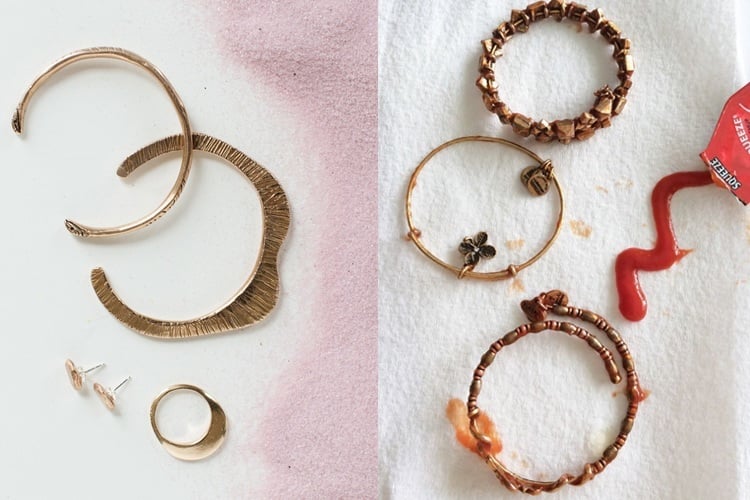 Who would mind a bright gold-like appearance in everyday life? Well everybody would love it, even your next door friend and foe. So move over expensive gold as brass is very much there to give you an attractive sheen at budget-friendly prices.
[Also Read: The Antique Jewellery Shop In Kolkata]
Yes we know that brass is a fantastic alternative for those who love the rich and warm color of gold but can't afford it. But whenever you turn to brass ornaments, you need to take extra care of it so that the tarnishing due to climate, sweat or pollution doesn't hamper the joy of wearing it.
Buying jewelry cleaner is the easiest alternative. But if your jewelry has stones then it maybe a little too harsh on the brass. Relax as there are household items found in your kitchen that teach you how to clean brass jewelry. So if you are an intelligent woman, then follow these easy tricks to cleaning brass jewelry and bring back that smile on your face.
Best Ways To Clean Brass Jewellery
Want to know the best way to clean brass? Here are simple and effective ways.
1. Soap And Water
This is the simplest and best way to clean brass, particularly brass-plated jewelry pieces. Use a mild dish washing detergent which will avoid causing any damage to the metal.
Stay away from using a scented soap as that can leave behind a film on your precious jewelry and destroy the brass sheen.
[Also Read: Heart Shaped Jewelry Gifts On Valentine's Day]
Talking about cleaning brass jewelry – first of all, see to it that the sink is plugged well so that by no chance your brass jewelry slips down the drain. Run the jewelry under warm water, and use a small amount of soap so that the dirt or oils can be washed away. You can also use your fingers or a toothbrush with soft bristles in order to rub the soap on the entire jewelry surface. Thoroughly rinse off the jewelry piece and dry it appropriately.
2. Ketchup
Squeeze a small amount of ketchup onto your brass jewelry such as rings, bangle bracelets or choker necklaces. Alternatively you can also use your fingers, cloth or for that matter your toothbrush to rub the ketchup on the dirt found on your brass ornament.
Having done that, let the ketchup stay on the brass for a few minutes. Rinse it off and keep repeating it till you get back the desired shine. Once you feel the brass is back to its sheen then use a dry cloth on the brass to buff it off.
[Also Read: Jewelry On The Red Carpet]
Not just ketchup, did you know you can also use Worcestershire sauce to get your brass ornaments look gleaming. Sounds interesting na?
3. Lemon Juice
Hey, don't mistake it to be a recipe of lemon juice and honey to reduce the extra flab off your body. On the contrary, it's a handsome trick to kick off the dirt from brass jewelry.
Now take one lemon and cut it into half. Sprinkle some salt over it and use it as a sponge to rub your jewelry with it. But remember, the acidic juice in the lemon can tarnish the brass if used for too long. So after a short duration, gently wash and dry the brass ornament. Lemon juice is of immense value and your tarnished brass jewelry is evident of the shine that comes back.
4. Vinegar
Take a small bowl. Mix 2 tbsp of vinegar with 2 tbsp salt and pour 1 pint of hot water in it. Soak your brass jewelry in it and let it stay till the time it gets back its lustre. Then rub it with a soft cloth or toothbrush dipped in vinegar. Once done, rinse it off and dry the jewelry.
Precautions While Cleaning Brass Jewelry
Over and above the home made tips mentioned above, there are a few things you need to keep in mind while polishing brass:
Avoid Steel Wool as it can shed the polish off your brass bangles, earrings, finger rings or necklace.
Antique Brass is unlike the normal conventional brass. So get your brass jewelry appraised before you start to use any type of cleaning solution in polishing brass. In fact, tarnishing of an old ornament adds value, whereas dipping it a cleaning solution could reduce value.
Brass is a metal that usually retains water. So dry it immediately and thoroughly.
Two sides of the same coin – so pick and choose between how to clean brass jewelry and polishing brass and things would fall in place.
Taking Good Care Of Your Brass Jewelry
Here are some golden tips on things to avoid whenever you are wearing brass jewelry:
Never take a shower with your brass jewelry on since city water is known to be harsh on metals.
Put on your brass jewelry after you have applied lotions and perfumes. Since cosmetic products have chemicals, they can react with the brass metal and change its color as well as finish.
Do not keep your brass jewelry in bathroom. Owing to the humidity levels in the bathroom, more tarnishing of your brass ornaments can happen.
Treat your brass jewelry with respect and it will love you!
[Also Read: Trendy-Setter Hammered Jewelry]
Now that we have shared so many quick fix solutions on how to clean brass jewelry, you just need to follow the handy tips shared above.
Remember how to clean brass is not difficult. Once you do it well, you will get many happy years of wearing brass jewelry.