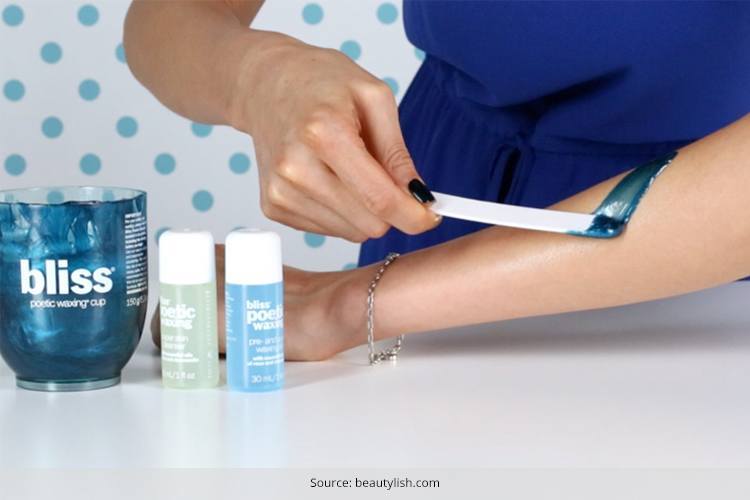 Removing unwanted hair from various body parts is an almost mandatory yet barbaric experience that most women resign to as a price to pay for being a woman. Amongst all beauty treatments, waxing can be the most cumbersome and trickiest task to do at home. The exorbitant bill of a spa-salon can prove to be heavy on the pocket, when the sum has to be shelled every month. However, relief and above average quality spa-treatment is just a hand stretch away with Bliss Poetic waxing kit.
Bliss Poetic Waxing Kit Review
Bliss Poetic Waxing Kit is fairly easy and safe to use any part of face or body. The biggest advantage it offers is it being stripless. It allows you to apply it on exact location. Wax hardens beautifully on the skin as it cools and easily removes fluidly in one piece. Because of its 'shrink-wrap' technology around the hair and less stickiness on the skin, it removes even the tiniest hair effectively at first go with minimal to no pain.
Product Description
Bliss poetic waxing kit counts amongst one of the best gentle, effective and painless do-it-yourself Australian hair-removal system. It is a low temperature and aromatherapy-based kit which come with a pre-waxing lotion to facilitate easier removal of hair. This stripless system 'shrink-wraps' hair without sticking on the skin and makes head-to-toe hair removal, a comfortable and convenient affair, even for highly sensitive skin. No wonder fashion magazines can't stop raving about this easy, soup-to-nuts kit whose treatment results match any high class spa saloon. This terrific 'four week farewell' kit can be used on any part of the body without batting an eyelash.
Components Of The Kit
The kit comes with a microwaveable enamel mug containing wax, a super skin cleanser; about 30 ml each of pre and post soothing waxing oil; an in-growing hair eliminating pad; three individual small and large spatulas and a bag to eliminate wastes. An easy bliss poetic waxing instructions is also included for any first time users.
[Also Read: Beeswax For Skin]
The wax itself contains plenty of skin nourishing, soothing and pampering elements to leave a soft and glowing skin post session. Its beeswax, rosin, lanolin and paraffin wax aid in hair removal while its apricot, kernel, mineral, rose-flower oil along with anthemis-nobilis-flower oils moisturizes and eliminates any irritation or inflammation to the skin. Pre and post waxing oil have number of aromatic essential oils like mineral oils, sweet almond oil, tea tree leaf oil, lavender oil, chamomile flower oil etc which leaves the skin nourished and soft. The wax smells like chamomile while cleanser and oil ooze off rose and chamomile scents respectively.
[sc:mediad]
How To Use Bliss Poetic Waxing
The wax already comes inside a microwavable mug. One needs to heat it for about 30 seconds and then take it out and blend well with the included spatula. Given steps are repeated about six times till the wax gains consistency of a thick honey. If the wax gets over heated, it can be left to cool inside the microwave. It's best to use the wax on a stable and easy-to-clean countertop to eliminate any messy spills or burn. Now the area to be waxed is cleaned with the rose smelling super skin cleanser and blotted to remove any excess. Few drops of pre and post waxing oil is well massaged on to the area and wiped for even skin.
Temperature and consistency of the wax is now checked on the inner wrist. Necessary adjustments are made to ensure that it is spreadable and just slightly warmer than the room temperature. A smooth layer is now applied in the direction of hair growth with enough pressure to help it get a firm shape with edges that can be easily peeled back as the wax is stripless. Timing of removing the wax is the key to success here. It should be set but not too tacky to develop cracks. Keeping the skin tight and taut, the edge of the wax is caught and removed quickly and fluently against the direction of hair growth in one stroke. End with re-cleansing and pampering your skin again with pre and post waxing oil.
[Also Read: How to Take Care of the Skin Post Waxing]
Fashion news deems it a trifle expensive product with below quantity of wax. For those women who intend removing hair from hands, legs as well as face at one go, a preordered refill kit is a pre-requisite. However, its ease of use and spectacular results make it worth every dime. The wax also takes a longer time to melt to desired consistency though it makes many feel more secure and confident of no-burns or scalding.
Any compromise with her looks is a bug turn-off for any woman. No other DIY waxing kit available in the market today can match its ease and results. Hence if you had been scared earlier of trying waxing at home; going all adventurous and giving it a shot once. However, don't forget to share your experience with our readers.