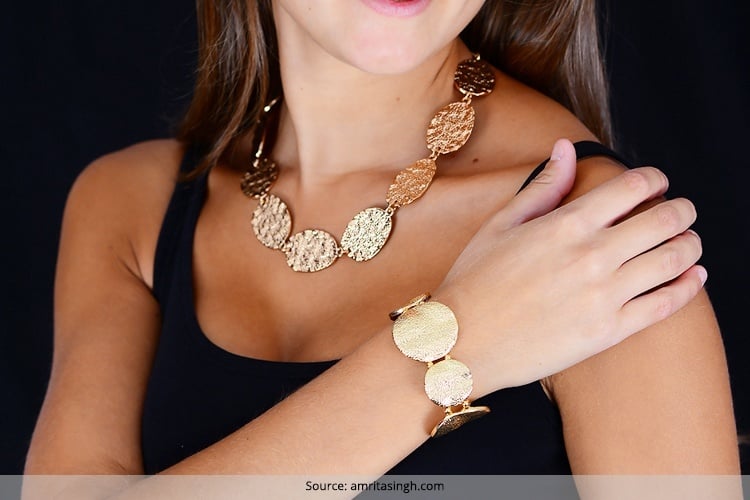 How many of you love your ancestors? Even if it's a mixed response, most of you won't mind raising your hands in the air.
After all, it has taken quite a bit of bending and hammering done by our ancestors on a metal wire to give endless shapes to the beautiful hammered jewelry.
[Also Read: Handmade Silver Jewelry]
Hammered Wire Jewellery is a new favourite in art and music connoisseurs. Not because it is ancient looking, but because it is an absolutely freaky form of jewellery which gives a whacky sense and attitude, cut off from others.
In short, you need to belong to a different tribe to love Hammered Jewelry Ideas. For only then can you love, admire and wear hammered jewelry designs beyond your skin.
On this note, let us get a first-time understanding of the hammered jewelry that makes heads turn.
[Also Read: Kundan, Polki And Jadaau Jewellery]
What Goes Into The Making Of hammered jewelry Designs
There is not one substance which is involved in the making of hammered jewelry designs. Multiple metals such as gold, platinum, diamond and palladium are used in the making of this type of jewellery.
Starting from neck chains and earrings to cuffs and rings, hammered jewelry designs are there to add untold breadth and texture to any design it touches.
If your heart is set out for a 'twist', then hammered jewelry designs are meant for you. Because it has a lot of edge and hip style which is hand-made, done in a precise manner by the artisans. So that it matches your outfit well.
Let us have a look at the hammered jewelry tutorial to get a better understanding.
First of all, gold or copper (as the case maybe) is melted and a golden plate is formed from the liquid metal. Slowly and gradually, it is moulded into a golden thread by making it pass through a spinneret. This makes it thinner, thanks to each time the gold passes through the machinery.
Upon becoming thin, the gold is made to pass through a spiral so that circles can be created. Following which chain rings are closed, welded and finally 'hammered'.
Now they are reopened and joined so that appropriate necklaces, earrings or bracelets can be created.
[Also Read: Meenakari Jewellery Designs]
This art of making hammered jewelry designs and the tools used are a part of decade-long experience. But yes, copper is a fab metal to work with since it is cool and looks great on jewels. Moreover, it gets harder on being hammered more.
Brass can be also considered, though it is cheaper than copper but nevertheless it has a fairly good golden colour.
[sc:mediad]
Hammered Jewelry Ideas
1. Chains
When it comes to gold chains that too hammered, intricate patterns are extremely popular. Individual chains are linked together leading to a decorative necklace. Rope style chains and shaped links are popular styles in women's chains.
2. Earrings
Whether it is dangling earrings or hoop styles, hammered jewelry designs are coming to be the new age style. They can be worn at any time of the day or week and make you the focal point.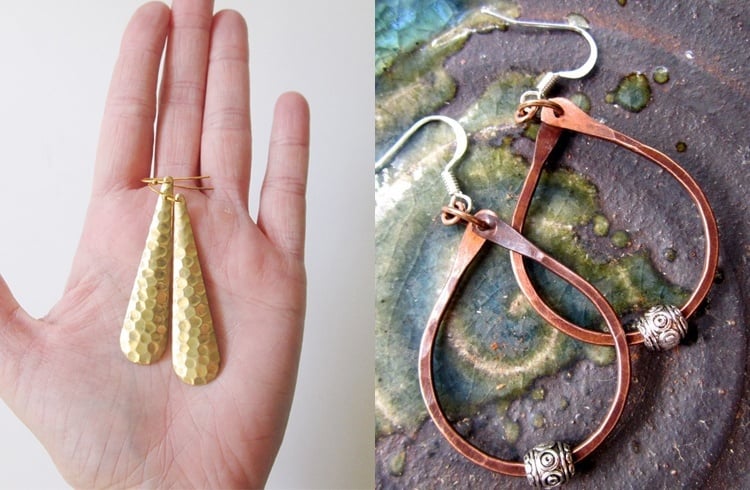 3. Rings
Let your fingers experience bold and beautiful gleam in hammered jewelry designs. The one-of-a-kind appeal that follows is unmatched.
[Also Read: Silver Charm Bracelets That Are Most Amazing]
4. Pendants
Check out this rustic pendant shown below made of 10 gauge copper wire. The best part of copper is its healing properties especially for those suffering from joint pains and arthritis.
5. Necklace
On the design front, hammered necklaces come in silver and gold in various sizes and lengths. All you need to do is pair it with matching dangling earrings and watch this jewellery become the new trend-setter.
Most of us have been seeing hammered jewelry designs making their presence felt on the streets and on the runway. But now it's high time to bring this fashion trend into your wardrobe ensembles.
[Also Read: Rose Gold Ring Designs]
We will be happy to see you follow this statement jewellery. Let us know your thoughts behind this jewellery cult.