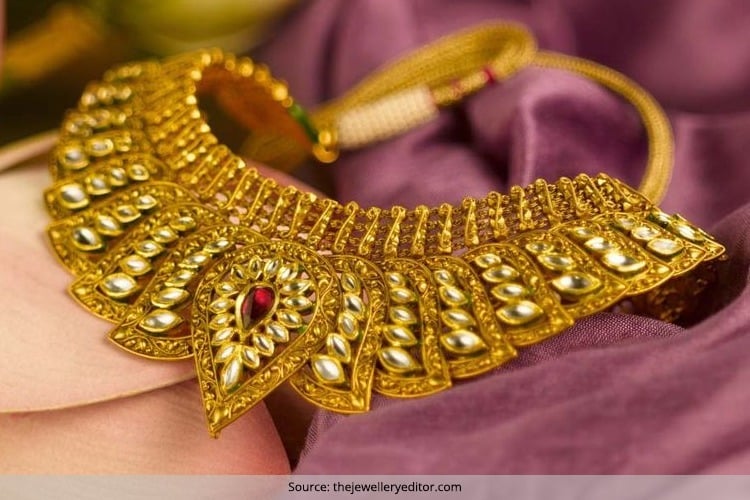 Guess the common thing between the Indian Rajkumars and Rajkumaris? Royalty, glamour, rubies, silk, gold and everything that's beautiful and expensive.
Of all the prized possessions that the kings and queens of yesteryears have, kundan jewellery is truly royal, heritage and elite. So also, is the making process of kundan jewellery and polki jewellery which is intricate, time-consuming and needs every bit of craftsmanship and skill. That is why both these forms of jewellery are a popular favourite among brides who aspire to look traditional and regal on their wedding day.
[Also Read: Wooden Jewellery]
In fact, joining the 1000-year old legacy of kundan jewellery is jadau jewellery, both of which hail from the times of Mughal era.
How To Make Out Between Kundan And Polki jewellery
[Also Read: Gorgeous Maang Tikka Designs]
The difference between kundan and polki jewellery is not so major, but no harm in knowing what makes them look distinctive.
Both Kundan and polki jewellery are essentially speaking stones. While Polki is made of unfinished natural and original diamonds, Kundan is made of different types of stones – some original and some glass imitations set in gold.
Polki is mined from the earth, not in an artificial but natural way, without any lab test. That is why the polki jewellery is in great demand, highly expensive and held in high esteem because of its natural form and sheen.
To further simplify the identification process, polki jewellery was introduced by the Mughals, whereas kundan jewellery is a famous Rajasthani jewellery style.
[Also Read: Traditional Kannada Jewellery]
What makes kundan jewellery? Basically, it is all about precious gemstones that are studded in gold. This is one reason why it is worn by most women around the world. The usage of artificial stones makes kundan less expensive. Not always is gold put into kundan jewellery, which increases its affordability factor immensely.
The Technique Used In Kundan And Polki
Well, the craftsmanship style is more or less the same between the two. Uncut stones are usually set on 24 carat gold using pure gold foils or lac.
Polki is made with a gold foil at the back so that it is able to accommodate the diamonds while reflecting light.
[Also Read: The Meenakari Jewellery]
Kundan jewellery is elaborate by all means, since it has layers and layers of precious metals and stone. Most of the time, the underside of Kundan jewellery is enamelled.
Best Places To Go Kundan And Polki Jewellery Shopping
Jaipur is the ideal destination to go choosing Kundan creations. As far as Jadau Jewellery goes, then the city of biryanis and pearls, Hyderabad is the best locale.
But this is just a cue. You can go shopping for kundan jewellery and polki jewellery in big cities and metros, where there is no dearth of quality jewellers who stock these inimitable creations.
Jewellery Pieces That Look Awesome In Kundan And Polki
Whether it's a heavy choker or an intricate neckpiece, both look great for your wedding day when set in Kundan or Polki. If you are the fashionista who is not so eager to go for heavy stuff, then chandelier shaped Kundan earrings or maang-tikka or gorgeous bracelet can set you apart.
If you go by last year's trend, then Chandbalis designed in Kundan or Polki were the hottest and most prized possessions. Such was their acceptance that they replaced the Jhumkis when it came to wedding bells.
Pricing Of Kundan Vs Polki
[Also Read: Temple Jewellery Designs]
Just like diamond jewellery, the pricing of polki jewellery is done depending on the 4 Cs' – carat, colour, clarity and cut.
The average price of a polki choker can range between 4 to 15 lacs, keeping in mind the number and quality of diamonds used. That is why polki jewellery is seen as the first preference of Bollywood celebrities and royalty.
[sc:mediad]
Jadau Jewellery
Jadau work has been in practice in Rajasthan and Gujarat since the Mughal era. Jadau jewellery also called Engraved Jewellery is done with Meenakari or enamelling work done at the back side of the jewellery.
Most of the Jadau creations are set with numerous embellishments such as precious/semi-precious stones, cut diamonds and crystals studded in gold.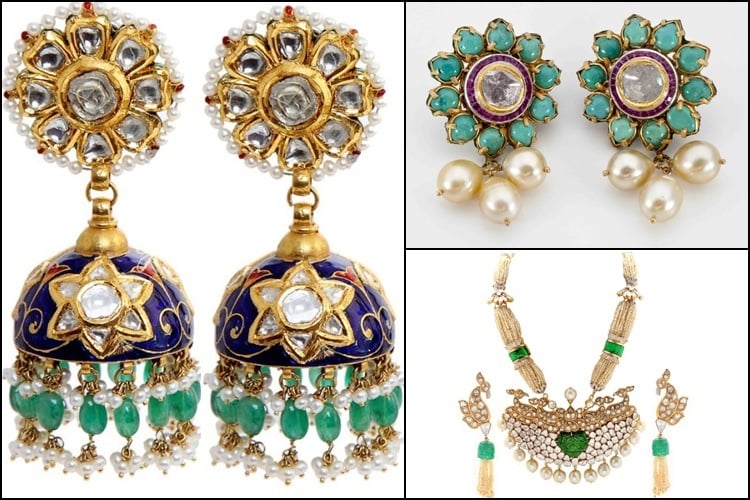 [Also Read: Facts About Diamonds]
Now that you have got a preview of some of the finest jewellery creations in India, go ahead and shop for them. With festive season around, the time is ripe to purchase and flaunt kundan jewellery, polki jewellery, and Jadau Jewellery.