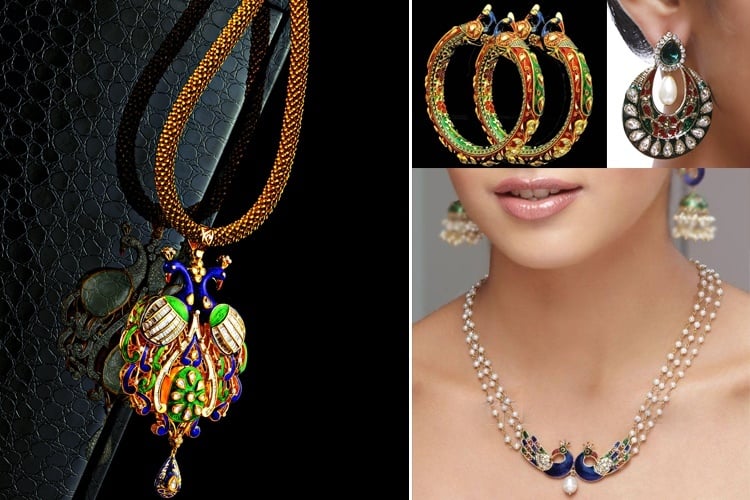 India has an age old affair with traditional-cum-opulent jewellery. And this is something which is not only visible but now a trend.
Take for instance Meenakari jewellery, which is not only an intricate form of jewellery but extremely detailed. Artisans use nothing but precious metals such as gold or silver, minerals and semi-precious stones in the form of rose cut diamonds, sapphires, rubies etc.
[Also Read: Temple Jewellery Designs For Gold Admirers]
We give you a sneak peak of one of the favourite jewellery making techniques popular in India – meenakari jewellery also called enameled jewellery.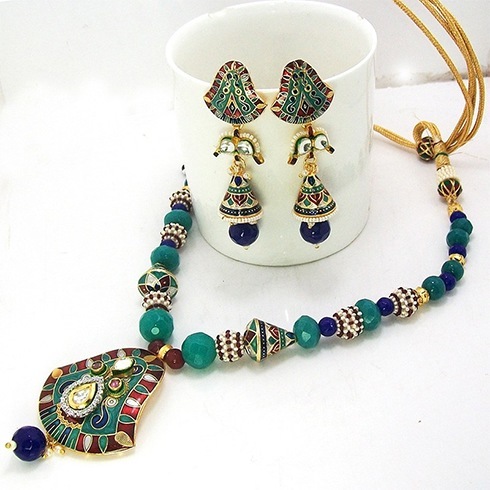 What Makes Meenakari Jewellery designs Special?
As mentioned above, in the making of meenakari jewellery designs, minerals such has copper and cobalt are moulded to give it a colourful look. But what makes it special and endearing are the nature-based motifs that are depicted in jaipur meenakari jewellery in the form of plants such as flowers (phool-patti) and animals such as peacocks, elephants, parrots etc.
[Also Read: Bengali Jewellery Names]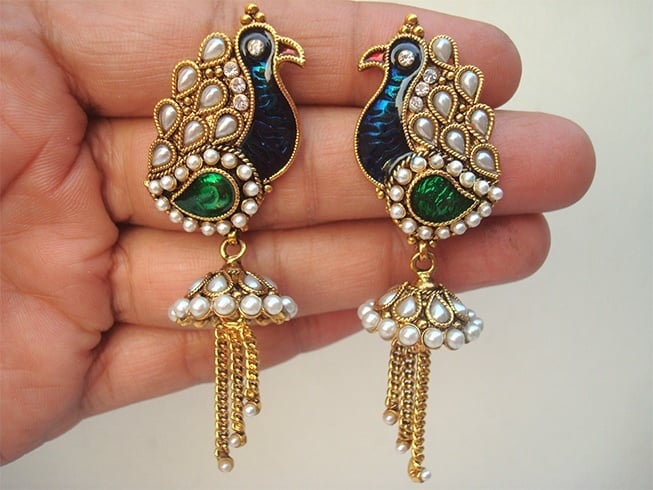 Red, blue and green are the common colours used in meena work. Undoubtedly, doing Meenakari needs proficient and trained craftsmen.
Once the design sketch is submitted for the jewellery piece to be made, the sonar makes the metal base. It is the chhatera who does metal engraving, and creates groves and walls so that the colour to be filled can be held. Now it is the turn of the meenakar to pour in the colours. White is the first colour applied, followed by green, blue, and red is the last colour poured. After each colour is poured, the meena piece is fired in a kiln.
[Also Read: Diamond Jewellery Stores In India]
The furnace heat is set between 750 and 850 °C (1380 and 1560 °F) which melts the colour. After which, the coloured liquid spreads equally into the groove.
When worn frequently, the Meenakari enamelling done on the back side of the piece wears often. But not an iota to worry! Rather, the Meenakari jewel brightens up with every wear. That's because, there are special minerals used for enameling that don't diminish fast. Probably it is one reason why meenakari jewellery designs are seen as the most durable pieces of Indian jewellery. And therefore, their prices are higher as compared to other jewellery items.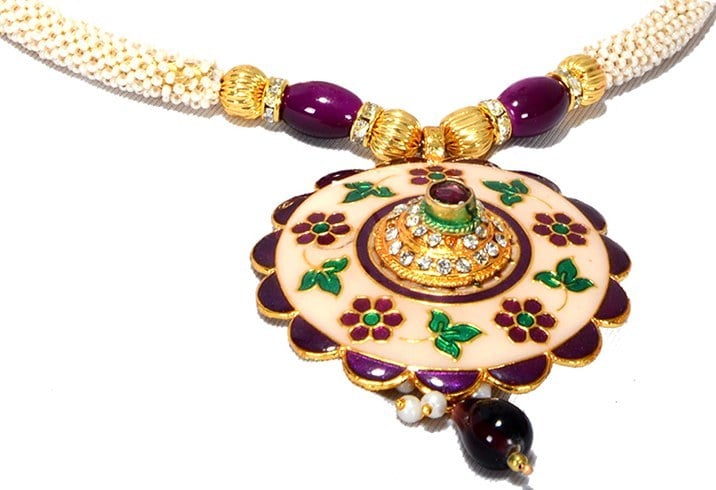 Apart from the traditional Meenakari of Jaipur and Delhi, the one belonging to Varanasi is identified by pink brush strokes set on white enamel. Lotus blooms and buds are most common motif used by Varanasi craftsmen.
[Also Read: Assamese Jewellery Design]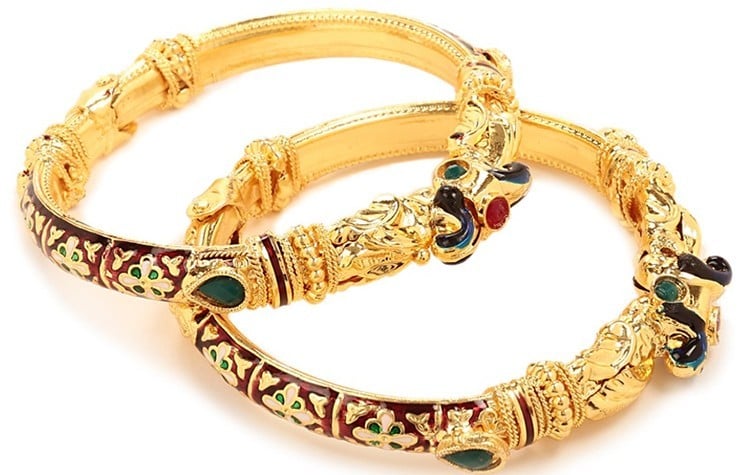 Meenakari On A Historical Note
If Agra is known for its Taj Mahal, the city of Jaipur is known for its jaipur meenakari jewellery.
Meenakari is all about decorating metal surfaces with powdered minerals like copper and cobalt.
[Also Read: Best Diamond Jewellery Stores In India]
As a unique form of art, meenakari jewellery came into being in India at the time of the great Mughal king, Shah Jahan in the 16th century.
It so happened that Mirza Raja Man Singh of Amber, a noble in Shah Jahan's court, was so smitten by meenakari work that he went ahead and invited some of the skilled artisans from Lahore to come and set up workshops in Mewar and Rajasthan. Ever since, jaipur meenakari jewellery has come to be the most sought-after handcrafted enamel that is used in jewellery, sculptures, architecture and housewares. While Bikaner and Udaipur are known for silver meenakari work, Lahore and Jaipur are famous for gold meenakari jewellery.
[sc:mediad]
Materials And Tools Used In Meenakari Jewellery
Two metals – silver and gold form the base of meenakari. All available colours can be applied to gold. Stones, gems, silver, and gold foil are also used in ample measure.
[Also Read: Jewellery Shops in Delhi]
Following are the tools that are used in making meenakari jewelled items.
Salai (etching tool)
Mortar and pestle
Kiln
Metal palette
Kalam/Taqva (tools used to apply enamel)
Forceps
Small scrubbing brush
Takala (needle like tool used for applying colours)
Agate stone for smoothing/sanding
Brass dye
Going by the current and ongoing trends, two types of meena exist –
1. The Indian meena which melts at extremely high temperature. Since it is exceptionally delicate, it is fired only twice
[Also Read: Maharashtrian Jewellery Names]
2. The foreign or vilayati meena. In this, the enamel is sourced from Europe, which has a much lower melting point and has more flexibility in terms of firings it can take.
The vilayati meena is cheaper as compared to the desi version. Which is why, it gives meenakari jewellery a chance to be worn by a wider section of society.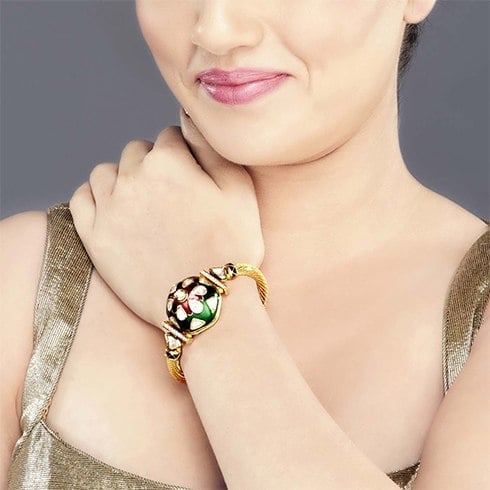 Nowadays, the option of meenakari jewellery online is available and catching up fast. The online purchase makes a good gifting option to your near and dear friends and family member and the delivery is fast and assured.
[Also Read: Celebrities Who Have Been Sporting Amrapali Jewellery Like A Star!]
With festival shopping banging at the doors, buying jaipur meenakari jewellery is the best way to celebrate the season of lights and colour. So go ahead and make the most of it and let us know which meenakari item you plan to purchase.