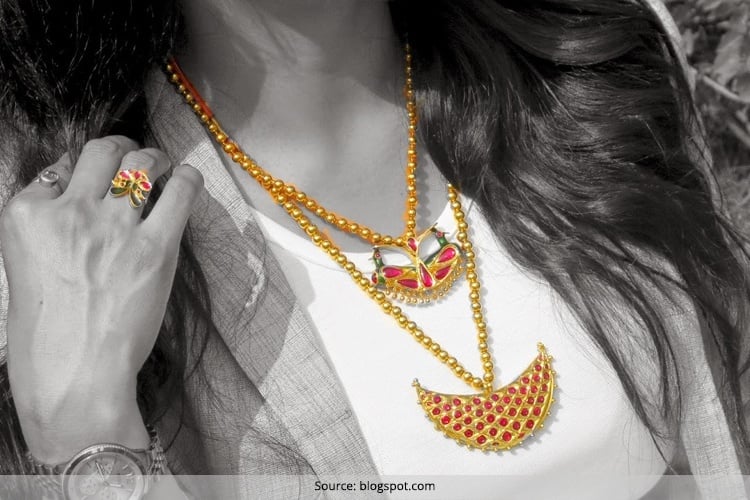 Assam is not only famous for its greenery, wildlife, bihu festival, one horned rhinoceros, tea gardens, Brahmaputra river, hottest chilli Bhoot Jolokia, eri and muga silk, and Bhupen Hazarika, it is equally famous for its jewellery-making.
[Also Read: Gold Jewellery Design]
Jorhat is the main hub of manufacturing of Assamese jewellery design.
Inspired by flora and fauna, surroundings, objects such as musical instruments and things used in daily life, Assamese jewellery design is completely hand-made. In the making of traditional Assamese jewellery designs, the main frame is made of silver which is covered by a thin gold covering. Gold is the prime metal used whereas silver and other metals have been used for centuries.
[Also Read: Glass Bead Jewellery]
Wouldn't you like to know the name of Assamese jewellers? It's very much 'Sonari'. Doesn't it sound apt and made-for-each-other?
Let's look at traditional Assamese jewellery designs
Well, the traditional Assamese jewellery designs are simple but gemstones such as ruby, pearls and diamonds are also used. In fact, Assamese women are great lovers of traditional jewellery.
The most popular pattern used in Assam Jewelry is black, green and red enameling which is done on gold jewellery. This is popular, trendy and dominating in the traditional dresses of Assam.
Now let us go down the lanes of Assam and find out the jewellery masterpieces very few know of.
NECK ORNAMENTS
1. Loka Paro (Pendant)
Inspired by the pigeons, the pendant has two pigeons sitting back to back. Further on, this pendant is attached to a string containing gold beads.
2. Jonbiri (Half Moon Pendant)
It's nice to watch the moon at night and it's nice to wear half-moon too. Jonbiri is the traditional Assam Jewelry made by hand and is inspired by musical instruments, nature and household goods of Assam.
[Also Read: Meenakari Jewellery – The Enamelled Masterpieces Of Rajasthan]
3. Dholbiri (Drum-shaped locket)
The only thing that you can't hear in this drum-shaped ornament is the beating sound. But why ask for it when Dholbiri is based on a special Assamese musical drum. Wearing this Assam Jewelry is a musical feature in itself.
Motabiri is another name of Dholbiri. But Motabiri is bigger in size and does not have any gems on it. This name came up owing to the fact that it was worn by men. But nowadays with the studded gems on it, it is worn by Assamese women too.
[sc:mediad]
4. Doogdugi (Necklace)
This ancient jewellery comprising of heart shaped neck locket, ring and earrings might be great to look at but the name is still a mystery today. One will have to go through the Assamese dictionary of the ancient times to discover the true meaning of this Assam Jewelry when the land was ruled by pre-Ahom and Ahom kings. For now, Doogdugi is made in gold with pearls studded on it.
5. Golpota (Necklace)
[Also Read: Traditional Kerala Jewellery Designs For Malayali Manga]
This Assamese jewellery design is made of gold. Stuck around the neck, it has different floral designs on it.
Other items of Assamese neck jewellery include Dhariabiri, Shilikha or shilikhabiri, Parachakuwa biri, Lata Bakhorua biri, Magarmuabiri, Madoli, Gejera, Bena, Salsari, Dhopamoni, Chandrahar, Phutimoni, Chipat etc.
EAR ORNAMENTS
1. Thuriya (Earrings)
These are gold earrings worn largely by older Assamese women. They are notable for a special studded gem stone.
2. Keru (Earrings)
This ear ornament, made in gold, was largely popular in Barpeta district in Assam. Now women in other parts of Assam have s tarted wearing it.
[Also Read: Knowing The Traditional Maharashtrian Jewellery Names]
Other items of Assamese ear jewellery include Jangphai thuria, Lotkan etc.
HAND ORNAMENTS
1. Gamkharu (Bangle)
Large bangle with clasp, gamkharu is made in silver with gold polish. The gold gamkharu has a lovely floral pattern inscribed on it. This Assam Jewelry is worn on occasions such as marriages and bihu. In previous times, men used to wear silver gamkharu.
Other items of Assamese hand jewellery include Magarmuria kharu, Sancharua kharu, Bala and Gota kharu.
How do you plan to remember all these names of Assam Jewelry? It's not tough for jewellery lovers at least. But whatever said and done, traditional Assamese jewellery designs are there to stun the true lovers of art for quite some time.