Can't do without your daily cuppa of aromatic, frothed coffee? Warm and energizing, the brewed beans help you kick-start gloomy days or be your silent companion when you drift your thoughts down the memory lane. Likewise these tiny beans help awaken your skin too. Include coffee in any form in your skin-care regimen to see a noticeable difference in your beauty quotient. Now your morning java will not just boost your mood but deliver pretty perks too. Here's how: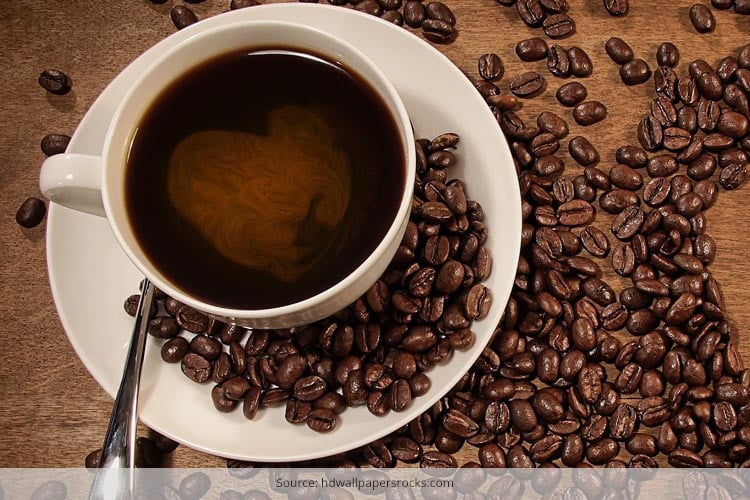 How to use coffee for skin?
We know it best as a drink for our morning wake-up-call, not just for the eyes, but brains too. However, you can use it in the form of bean, powder, liquid or extract form to harness the benefits. This magical potion rescues girls' beauty problems like no other.
Our fashion magazine has zeroed down on few ways how you can use coffee on your skin. Along with it, we have also associated the benefits a homemade coffee face pack has to offer.
De-Puff The Eyes
Partying late nights or working buried under piles of files, family obligations or catching up on late-night flicks – the end result would be the same in all cases! Puffy eyes and dark circles.
[Also Read: Why Decaf is Healthy]
Game Changer: Coffee! Thecaffeine content helps reduce the under-eye dark circles and puffiness when applied locally. Though market is flushing with caffeine containing cosmetics promising to de-puff your eyes, you can do the same with this simple, easy and quick face pack recipe.
Ingredients:
Method: Save some grounded coffee from your morning pot of coffee. Once it has cooled apply the paste under your eyes and on the eyelids. Listen to some soothing music and try to relax for 30 minutes or so. You will see the eye-bags have gone and puffiness has reduced considerably. Wondering why? Well, it's no magic. Coffee helps by constricting blood vessels and helps remove excess water from the area.
Word of Caution: Don't rub the area under your eyes with coffee grounds. Be gentle.
Antioxidant Face Pack
Load your skin with the antioxidant dose. Flavonoid rich, your cuppa holds a lot more than just flavour! Caffeine offers powerful antioxidant punch that is beneficial for your skin's overall health. Defending your skin from harmful rays, damaging free radicals, pollution and more, coffee can prevent pre-mature aging. Moreover, it helps protect you from certain types of skin-cancer inhibiting a protein enzyme at molecular level.
Your skin benefits from its effects, by simply sipping up the hot brewed coffee and by applying a coffee-cocoa enriched face pack. Sounds yum, doesn't it? Well indulge your senses and give your skin an aromatic, mouth-watering treat.
Ingredients:
[Also Read: Pre – Wedding Beauty Regimen]
Cocoa
Ground Coffee
Honey
Method: Mix cocoa and coffee in equal proportions, to add a teaspoon of honey and voila! Your antioxidant rich coffee face pack is ready.
To Brighten Up The Skin
For a high-end salon like facial treatment at home opt for coffee beauty treatments. It helps reduce pigmentation, and aids in brightening up dull, tired complexion. Acid in caffeine lends a chemical exfoliation to the skin and boosts skin's protective wall. This works to soften lines, unclog pores and brighten skin in turn. Moreover, the caffeine in the coffee stimulates circulation, which improves blood flow in the skin, making you appear more radiant and alive.
[Also Read: How To Use Coffee For Skin Care]
Try this homemade coffee face pack for glowing results:
Ingredients:
1/4 Cup Coffee Grounds
1 Egg White
Method: Mix the coffee grounds and the egg white. Blend them well and massage it onto your skin. Wait for 15-20 minutes or till dry and rinse with lukewarm water.
To Tighten Up The Skin
Owing to its diuretic properties, coffee is used in beauty regimens. By dehydrating the fat cells and constricting its fluid flow, coffee based homemade face packs help visibly reduce cellulite. This in turn helps constrict cell size and shrink the pores lending a healthy-looking tightened facade.
Ingredients:
2 Tbsp. Freshly Grounded Coffee
1 Tsp. Yoghurt
Mix the coffee with yoghurt and apply it on your skin. Leave it on to dry and wash off with lukewarm water. For best results, apply thrice a week.
[Also Read: Kola Nut Health Benefits]
Anti-inflammatory
You may think twice about how coffee can on one hand improve circulation while on other calm inflamed skin. Even though it may seem counteractive, but the same antioxidants calms inflamed skin, rashes and irritation too. Sooth your senses, here's how:
[sc:mediad]
This recipe is super easy and can be prepared in advance. Simply pour your espresso in ice tray let the cubes set and voila! Now, gently rub an ice cube in circular motion across your face to discover a radiant, brighter and healthier skin.
To Smoothen Skin
Grounded coffee is great for exfoliating; this natural and inexpensive ingredient is effective without being harsh.
Achieve smooth skin and observe finer lines minimize with this easy homemade scrub cum face mask. All you need is two ingredients!
1 Tsp. Coffee
1 Tsp. Cold Compressed Coconut Oil
Method: Mix coffee with coconut oil. Rub it on your skin in gentle circular motions and leave it on for another 15-20 minutes. Wash off with lukewarm water.
Coffee For Anti-Ageing
[Also Read: The Coffee Secret]
Coffee plays a key role in regulating new cell-growth, increasing collagen and thus improving skin elasticity. It also stimulates the skin and improves blood flow to the face that results in healthy turnover of cells. As mentioned earlier, coffee face pack also helps shrink pores and acts as a diuretic, draining water and fat from cells, thus giving way to young and radiant skin.
Ingredients:
2 Tsp. Coffee
Few Drops Of Tea Tree Essential Oil
1 Tsp. Water
Method: Mix all the ingredients and with a skin brush massage the blend in circular motion on your skin. You will notice visibly lighter and radiant skin. However, for it to actually work as your anti-ageing serum apply it regularly for a week.
Do you have some homemade coffee face pack recipes too? Or may be some funny or researched concoctions for your face? Share it with us, leave a comment or just a "hi".