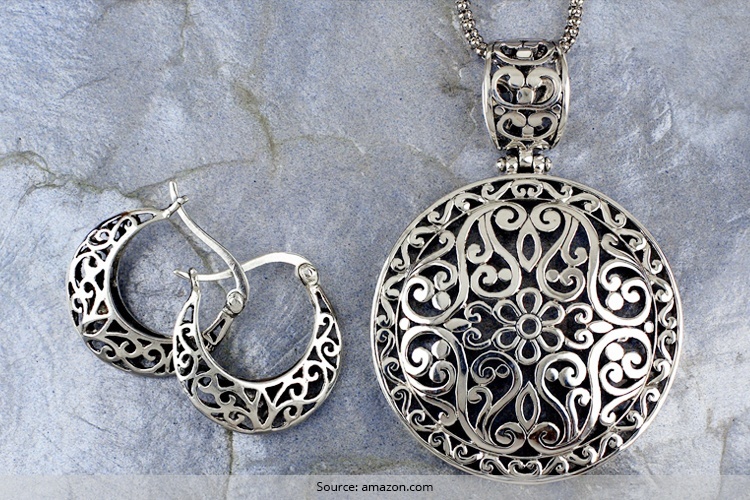 The moment you hold them in your hands, you are bound to get a flurry of questions in your head. Is it the same wire used by electricians? Are these sturdy and long lasting? Can I bend it without any fear of breakage? Can it look nice for every day or evening occasions? Are they worn by a different breed of people? Or, wow this looks cool and new? Can it be made glittery?
[Also Read: Rajasthani Jewellery Designs]
There are so many jewels in Indian culture that you would lose count of. One of the famous ones is Filigree Jewellery that has been around for over thousand years.
Delicate and decorative, filigree jewellery designs are done on silver. It is essentially lace work where master jewelers use metals such as gold, rose gold, platinum or silver wire and thread. These wires or thread work are intertwined or bent into rosettes or swirls which makes them all the more delicate and feminine.
In eastern India, Filigree Jewellery in silver is quite famous. In fact, silver filigree work is a beautiful extension of silver handicrafts.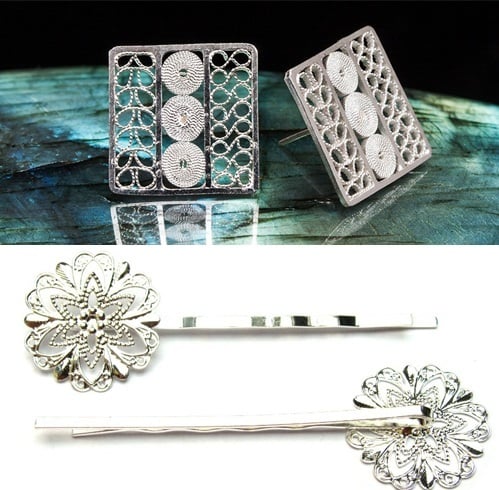 The Popularity and Creations Of Filigree jewellery designs
Formerly written as filigrene, filigree has been a very popular part of French, Italian, and Spanish metalwork. And this is not new. Filigree Jewellery designs goes back to circa 1660 till the late 19th century.
Go across India and two states score the most when it comes to making antique filigree jewelry – Orissa and Andhra Pradesh.
In Orissa, Filigree Jewellery is called 'Tarkashi' and is mainly localised to Cuttack. The Konarak Chakra and Konarak sun temple are great mementos of filigree art.
In the state of Andhra, Karim Nagar is the hub of filigree jewellery creations.
[Also Read: Jewellery Shop In Kolkata]
Do you need any special equipment to make filigree jewellery designs? No, you only need your hands and few wires in different gauges to create filigree jewellery designs.
Filigree is not only useful in jewellery making it is also used to make different kinds of showpieces, cookware such as trays, plates, bowls, spoons, pooja items such as incense containers, then ashtrays, and various decorative pieces.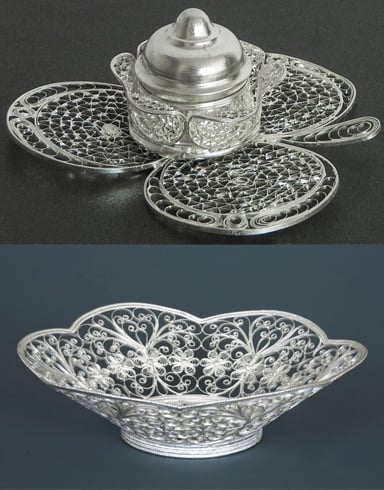 Jewellery Creations In Filigree
Different types of filigree jewellery such as earrings, pendants, hairpins, brooches, etc. are a true reflection of this Indian jewellery art. Come let us have a look at this jewellery form that makes hearts go flutter.
[Also Read: Kerala Jewellery Designs]
1. Filigree Engagement Rings
Unlike other engagement rings, filigree engagement rings are an extension of beauty and delicacy in its own individual form. Because of their ornamental and delicate motifs, they have gained popularity in the last decade.
Some of the most common motifs that flourish the most in filigree engagement rings include vines, scrolls, hearts and flowers.
Filigree Engagement Rings are of two types – antique and modern vintage types. While the antique ones have a romantic association with the 20th century, the vintage ones are a blend of modern and vintage.
There is a third one – the custom filigree engagement rings that are a hit amongst the couples.
[sc:mediad]
2. Filigree Pendant
Now won't you love to get bowled over by this large pendant? It tells you how you can add miles to your basic ensemble. All you need are a couple of wires and wirework knowledge to turn it into antique looking filigree jewelry.
In fact, so inspired are Indian artisans by filigree work that flowers and peacocks carved on pendants is a common sight.
3. Filigree Bracelet
Whether it is a Sunday brunch or an evening do, why not sport stunning looking filigree bracelets? They can be a sure winner – whether it is made of silver or 24K gold overlay.
[Also Read: Wooden Jewellery]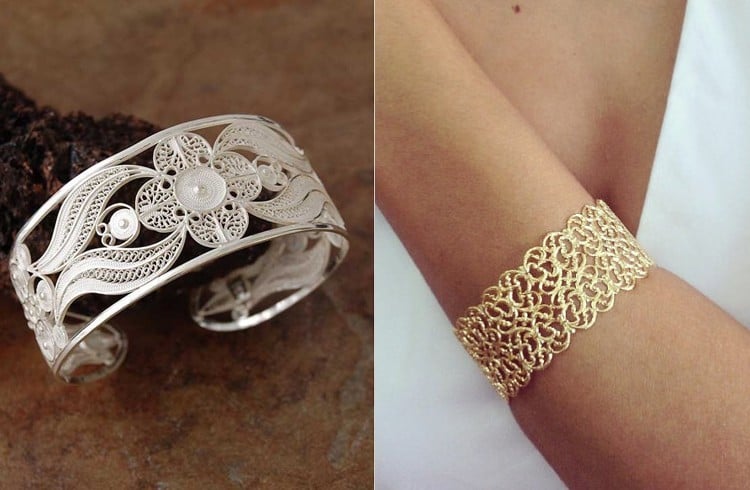 From tiny treasures to large pieces, the filigree charm is by all means fabulous, because it is lightweight and close to nature. Go ahead and get some of the finest picks from a reputed jewellery merchant. You will love every wire of it!