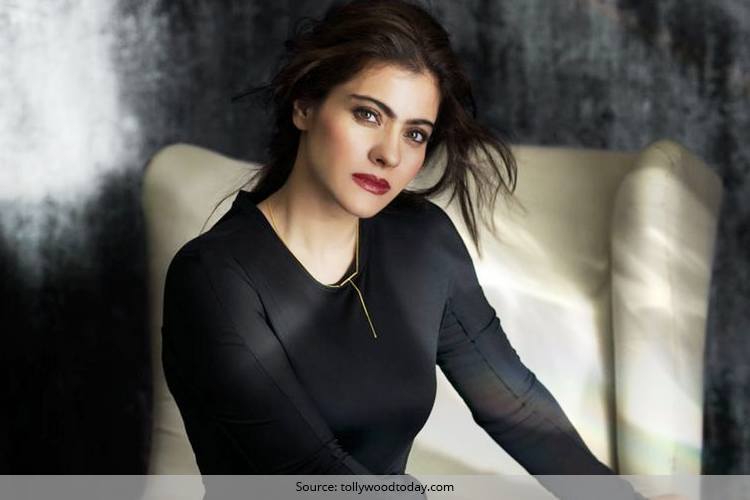 You've seen her since the 90s in Indian movies and she has always managed to portray an array of characters with utmost aplomb and style. Kajol Devgan nee Mukherjee, the dusky beauty of Bollywood has always stolen our hearts with her chirpy sense of humor and playful attitude. Today we shall take a look not only at Kajol dresses and her sense of fashion, but also let's focus on her overall personality.
Let's get start with kajol dress designs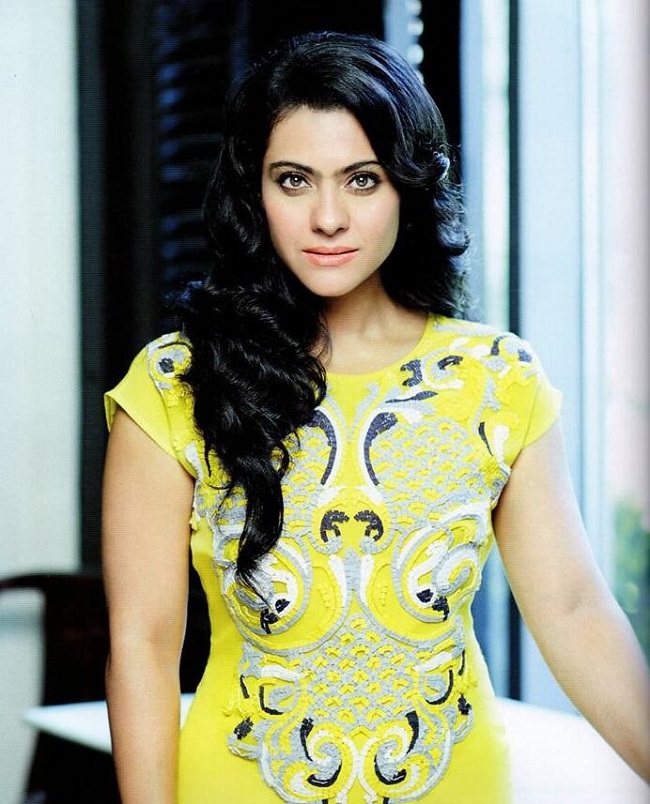 One of the Most Beautiful Faces that Bollywood Ever Brought in
When Kajol first made her appearance in BAAZIGAR, a blockbuster back in the 90s with SRK and Shilpa Shetty Kundra, the masses didn't take much notice about her. Most rubbished her off for being dark-skinned, with unkempt eyebrows, no makeup and a bohemian street style fashion sense. But the old ugly duckling story is what came true in Kajol's case. She worked hard on herself, transformed into a swan and skyrocketed in no time as one of the best actresses ever in the world of Bollywood.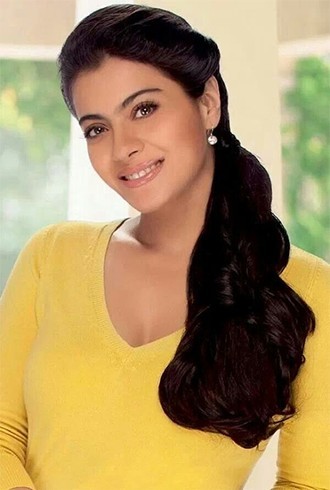 Kajol in Kuch Kuch Hota Hai
In 1998, when the movie Kuch Kuch Hota Hai was released, the tomboyish role played by Kajol took the world by storm. PYTs and boys alike fell for Kajol, especially the Kajol dresses, which everyone could relate to. College-goers went gaga over her androgyny look, dungarees in red and a baseball cap!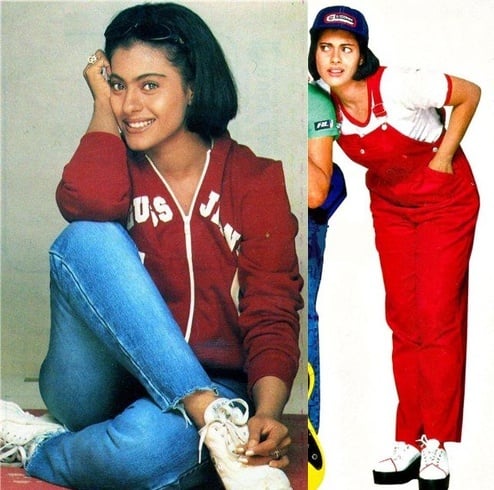 Her beautiful face stole the show and the media wrote ravishing notes about her new look. What seemed to be flaws once upon a time, now became a fashion statement. Kajol showed us how the word 'minimal' could be coined and used over and over again, to make a mark in the glam-sham world of Bollywood.
Her hazel eyes is what drew everyone's attention right from day one, resonating well with every single Kajol dresses worn by the actress. No wonder there were many who tried to woo her and get her attention, but only Ajay Devgan managed to swoop his lady off her feet.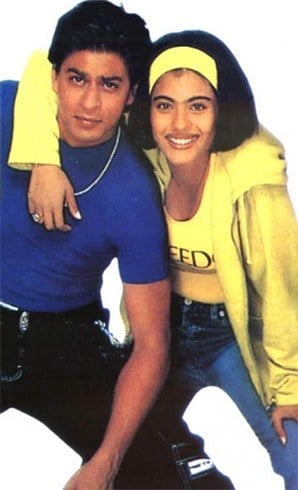 Mesmerizing Looks of Kajol That Show Us Minimal is Indeed Chic
Maybe Kajol dress designer understood well that the diva's overall looks needed to be much explored, and especially her personality. This is why Kajol over the years has transformed from a chirpy teeny bopper to a ravishing momma-licious diva, and we wait for the screens to set ablaze once she decides to make a comeback!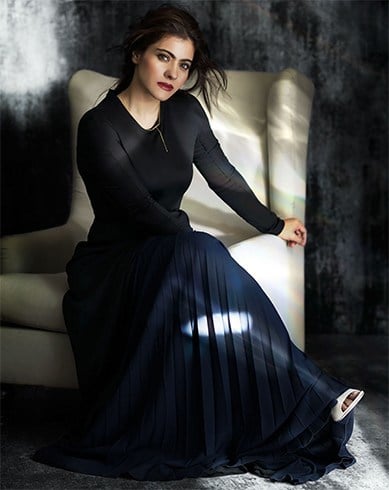 [sc:mediad]
It's Not Only About Her Looks, But Her Grace – Kajol Look in DDLJ
Talking about Kajol look in Dilwale Dulhania Le Jayenge, we guess every Punjabi PYT would have resonated with Simran's fashion sense, her lifestyle and personality. What we simply loved about her style in the movie was that one could easily brandish the look as "been there and that is so me" types. Kajol effortless pulled the look through the movie in patiala pants and chic kurtis, jhutis for the feet and a long plait to complete the look. Take a good look and you would notice very little makeup used, typically desi she was!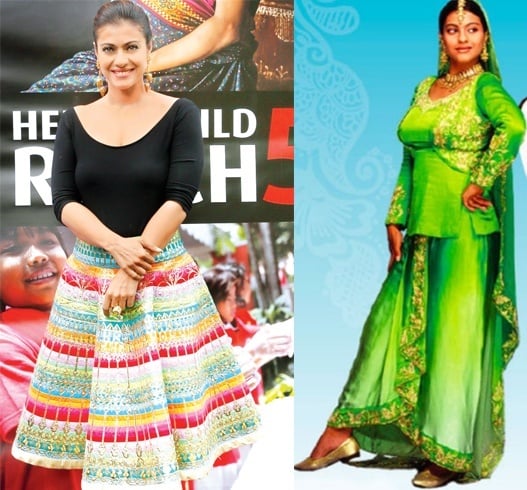 [Also Read: Fashion From Dilwale Dulhania Le Jayenge]
Apart from Dilwale, in other movies where Kajol created a stir, the actress left no stone unturned on keeping the nude look alike when it came to makeup. While other actresses at that time were experimenting with eye shadow colours and bronzers or blushers, Kajol was clandestine about making no bones with the same.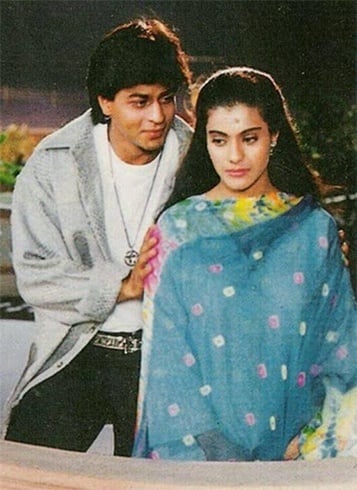 The actress wasn't the size-zero per se and she loved being full-bodied, with curves and flaunted her voluptuous self too. In most movies where she dressed as a college girl or a grown up lady, she never felt shy or inhibited about her heavy thighs and chubby waist being flaunted.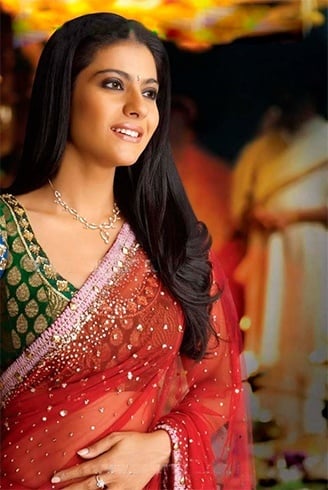 Kajol believed and still does; everyone has a natural beauty to themselves and hiding it doesn't do justice. Her roles were as versatile as her personality, which is why she was seen in saris, Kajol anarkali dresses, shorts, short skirts and everything in between.
Take inspiration today and try some of the outfits worn by Kajol, you never know when Rahul by the block would come knocking. If you still are so besotted with the Dilwale outfit, maybe you should this Diwali get that stitched for yourself. And when you do that, do send us pictures of you wearing the same, and we would like to show off your creation, maybe talk about your sense of style as we did Kajol's today!
Image source: pinterest.com