How can a woman project her ancestral royalty? Ask a Rajasthani bride and she will happily answer it for you.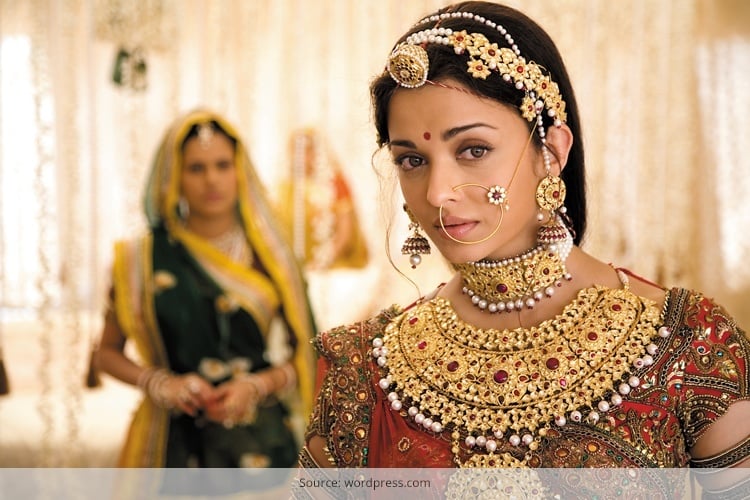 Yeah, we mean the Rajasthani jewellery designs, which is like wearing tradition from head to toe.
The all-time favourites of a Rajasthani Marwari or Rajput bride are almost the same – Kundan, Thewa or Meenakari works with precious stones studded into it.
Such is their popularity that renowned Indian actresses such as Rekha, Sridevi, Vidya Balan, Aishwarya Rai and Madhuri Dixit have happily flaunted Rajasthani Rajputi ornaments at red carpet events and movies. This could be one of the reasons for the growing fans and admirers of Rajasthani jewellery designs.
[Also Read: Indian Bridal Jewellery]
Whenever you are talking about culture or heritage, Rajasthan and therefore Rajputi jewellery patterns come top of the mind. This is the Land of the Royals that has been amply beautified by mahals, forts, handicrafts, royal cuisine and princely attires.
But whatever said and done, the charm and nostalgia of Rajasthani Rajputi ornaments is unbeatable.
Let's look at some traditional Rajasthani jewellery
Kundan Work
One of the famous Rajputi jewellery patterns, Kundan work is a jewellery art where gems and semi-precious gems are engraved in gold and silver.
While making this Rajputi jewellery patterns, the goldsmith leaves holes for the gems and then fills them up with lac. The local Rajasthani word, Kundan jewellery is the gold that forms a perfect interface between lac and gemstones.
[Also Read: 2015 Bridal Trends]
Meenakari Work
This is another specialty of Rajasthan artisans where metal is also enamelled with bright colours, apart from embellishment of stones and semi-precious stones into gold or silver.
Thewa Work
Creating jewellery designs in gold on glass is the specialty of Thewa work. This Rajputi jewellery patterns showcases Thewa pendants that are popular across the world for their designs, craftsmanship and bright colors.
Here are a few masterpieces in Rajasthani Rajputi ornaments:
1. Rakhdi
This is a bell-like accessory which the bride wears on her forehead. It is a headgear which the Marwari brides call it as maang tikka.
2. Kundan Bhutti
These are long and thick Kundan earrings that kiss the bride's neck. The enamel work and precious stones further give an exemplary look.
3. Choker And Raani Haar
A Rajput bride's neck is all the more enhanced by choker studded with precious stones clinging to the neck.
[sc:mediad]
Ranni Haar is yet another elaborate form of Rajasthani Rajputi jewellery designs that reaches down and touches the navel. Raani Haar is the symbol of royalty which looks distinctive in gold with uncut diamonds. Truly a one-of-its-kind traditional Rajasthani jewellery it is!
4. Nathni
A Rajasthani bride is almost incomplete and ordinary without a nathni. Made of gold ring, the nathni has few beads that make it look classy and elegant.
[Also Read: Beautiful Nose Rings For You]
5. Bajuband And Chooda
These are classic Rajasthani Rajputi ornaments that are worn by the Rajput and Marwari brides.
While a bajuband is worn on the upper arm and stands out owing to beautiful patterns crafted in gold, the chooda is all about a set of bangles, gold or ivory made, that symbolises marital bliss.
6. Kamar Bandh And Bichhuye
What about the waist and the toe of the bride? Are we going to let that be without any adornment? No way as Kamar bandh and Bichhuye form an integral part of Rajasthani Rajputi ornaments. While Kamar bandh is a traditional Rajasthani jewellery of the waist, Bichhuye is typical Rajputi jewellery patterns for the toe.
[Also Read: The Traditional Saree Belt]
Other than these, there are beautiful looking pahunchis and hathphulis that are a perfect foil for mehndi designs and glorify the fingers of the Rajput bride.
Since the festival season is banging on the door, make the most of it by buying Rajasthani jewellery designs. They will certainly catapult you into the status of a royal Maharani.