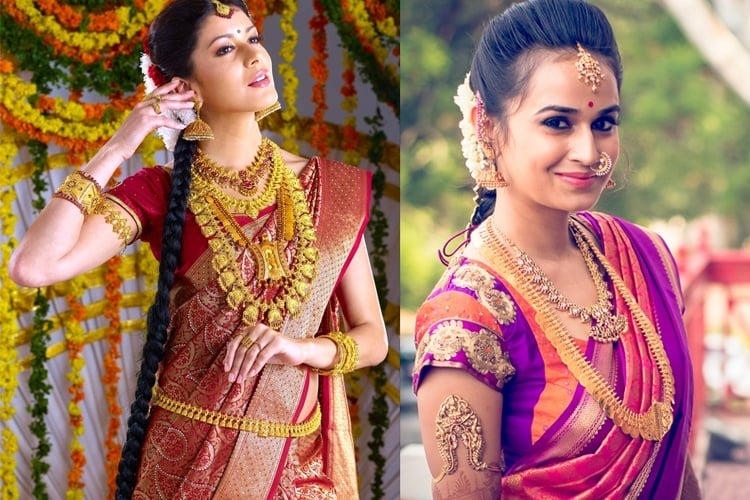 Shaadi happens once in a lifetime. And for a bride Indian bridal jewellery is the next most important thing after her bridal outfit. Which is why, a would-be bride has to spend good amount of time choosing latest bridal jewellery that can go well with her bridal saree or lehenga.
[Also Read: Dos and Don'ts on Bridal Makeup, Bridal-Wear & Bridal Jewellery]
Bridal Jewellery Designs
If you haven't started shopping yet on wedding jewellery and are looking around for options, look no further as we bring you some gorgeous wedding jewellery designs that you will get besotted with. Now reach out for your diary and start jotting down these bridal jewellery designs ahead of your wedding vows. It's a ready reckoner that will help you immensely.
1. Polki Bridal Jewellery
Of all the bridal jewellery designs that you see Polki jewellery is the most popular and favourite. And Bollywood movies and red carpet events have a lot of contribution to make on this front.
Polki is basically uncut diamond that is studded in gold along with a couple of precious to semi-precious stones. At times, the Polki necklace is enhanced by stone drops and pearls. Flip over to the reverse side of Polki jewellery and you will find meenakari work.
Considering its rarity, craftsmanship, heritage value and traditional tag, Polki as indian bridal jewellery as an heirloom piece is passed over to generations.
Even Bollywood celebs are taking to this designer bridal jewellery. Who can forget Shilpa Shetty adorning the Polki set that had emeralds, pearls, enamel work on her wedding? It was not only regal but added dollops of glitter to her bridal ensemble.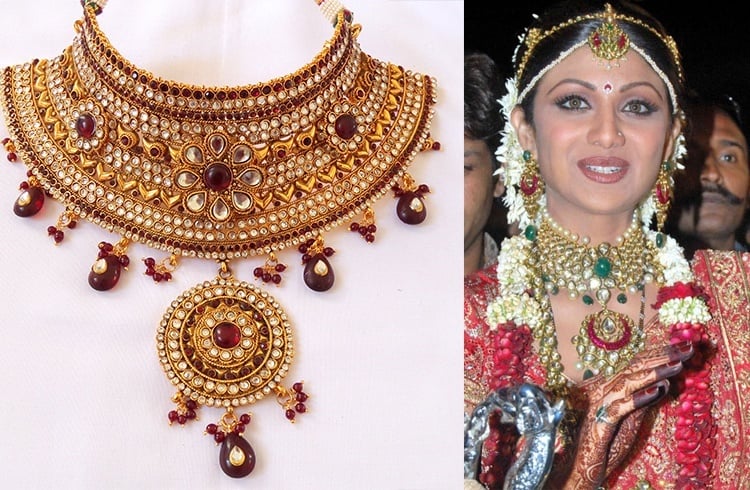 2. Diamond Bridal Set
It is not without a reason why diamonds are considered a woman's best friend. Precious and forever, diamonds in the form of designer bridal jewellery can be sported with sarees and lehngas as much as dresses and gowns.
[Also Read: Jewellery Shop In Kolkata]
Now take a look at this diamond and emerald set from Diagold. The beautifully cut emeralds and shimmering diamonds will certainly leave you looking dazzling and drop dead gorgeous on your wedding.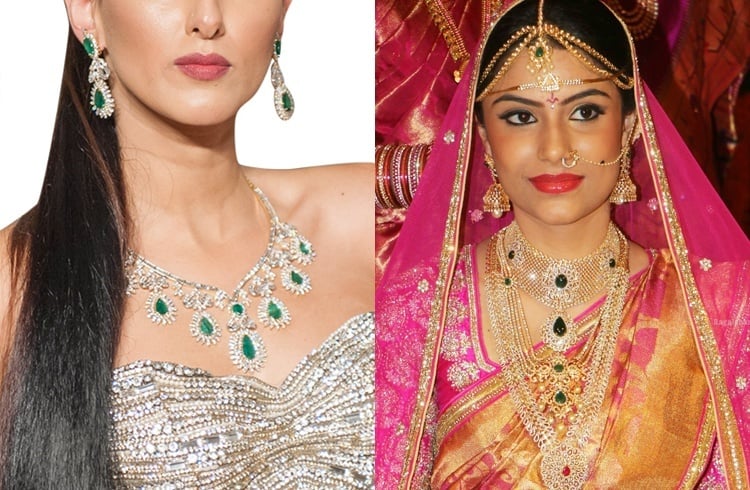 3. Gold Bridal Jewellery
While diamonds, stones and pearls are a big hottie for the North Indians, pure gold is the first preference four South Indian brides.
Go to any wedding down South and you will see stacks of gold bangles and kadas rolled up on the arms, layers of necklaces in all possible lengths and shapes, and heavy earrings dangling from ears. This is what true indian bridal jewellery is made of.
[Also Read: Breathtaking Antique Jewellery Designs]
So you must have seen Aishwarya Rai Bachchan looking resplendent in gold jewellery in one of the great Indian functions at which she was the honorable guest. Never forget that gold is an integral component of wedding jewellery designs.
As a touch of bridal accessory, maang tikka is worn with the saree or bridal lehnga to further add a distinctive flair.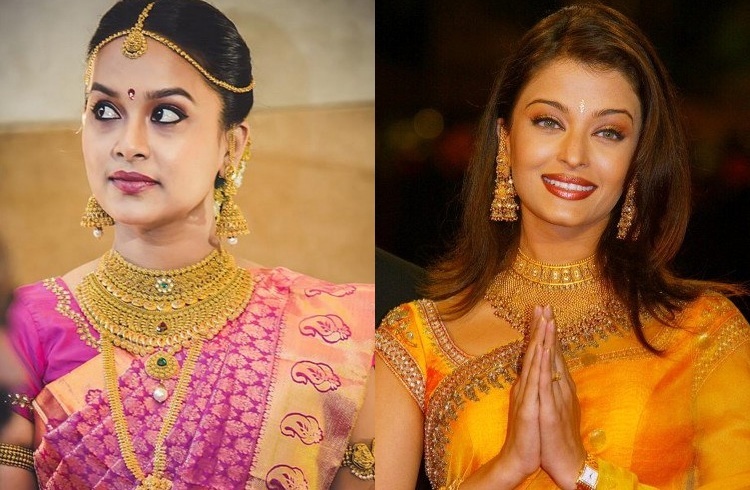 4. Bridal Set Of Semi-Precious Stones
For those of you who prefer chunky or heavy pieces of jewellery with a bit of gleaming shine and shimmer, there are bridal jewellery designs in semi-precious stones.
[Also Read: Re-Use Your Wedding Jewellery]
Look at the designer bridal set below. The earrings and necklace comprising of red and white stones can look gorgeous with a red bridal lehnga. Such kind of styles helps you pick jewellery that fully completely complements your outfit.
5. Antique Gold Set For Wedding
Antique gold design is of late picking up as the latest trend in wedding jewellery designs. It goes without saying that antique bridal jewellery designs are heavy, ornate, rich and often depict popular Indian Gods and Goddesses. There is every bit of intricate craftsmanship that makes antique jewellery befitting for a bride.
[Also Read: Jewellery]
Whether it is the bangles, necklace, pendant or armbands and waistbands, antique designer bridal jewellery looks great when paired with Kanjeevaram sarees.
[sc:mediad]
6. Maang Tikka
Bridal Jewellery is not just for the neck, wrists, arms, nose and ears it is also for the hair. Maang tikka is a hair ornament where there is a string made of either gold or pearls in the form of a hanging jewel.
The string is worn on the center hair parting which leads up to the jewel resting on the forehead.
7. Tagdi
Belly chain or waist belt, a Tagdi is yet another part of bridal jewellery which adorns the waist. This designer bridal jewellery is made of gold, diamonds, polki and even kundan.
8. Mangalsutra
In this necklace pendant, a Mangalsutra is a traditional piece of bridal jewellery made with black beads alternating with gold beads.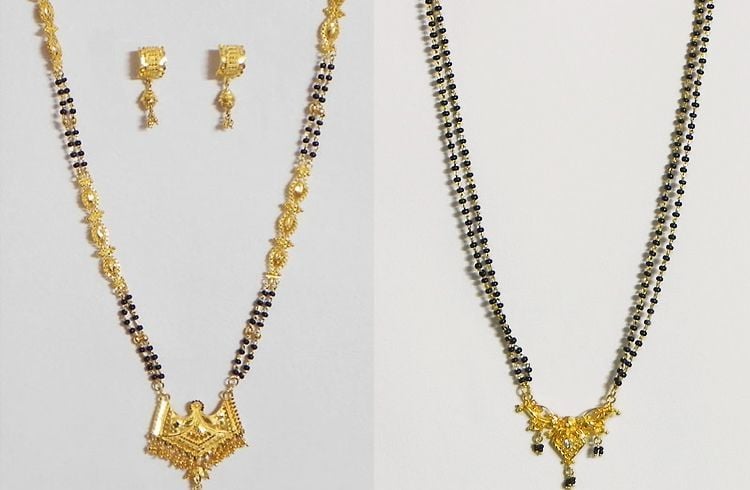 9. Matha Patti
This is a Maang tikka that has beaded side strings, covering the forehead.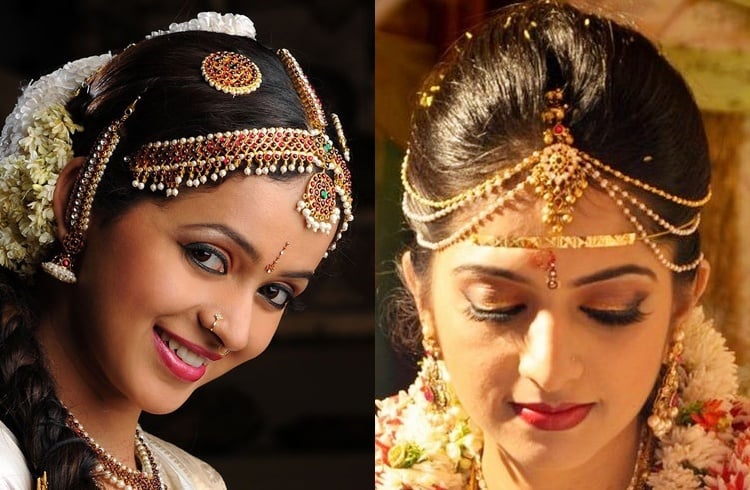 10. Kada
An integral part of wedding jewellery designs is Kada which are thick bangles in gold made in kundan, diamonds, meenakari work.
11. Haath Phool
Adorning the hands is Haath phool (Haath stands for hands, Phool stands for flowers). They are made of gold, kundan, crystal and sometimes embellished with meenakari work.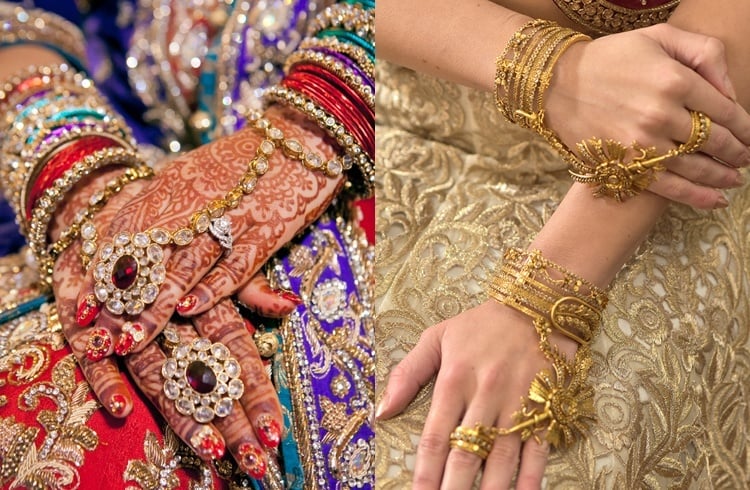 12. Bajubandh
Let's not forget dressing up the upper arm of the bride. Yes, we are referring to armlets made in gold worn mostly by South Indian brides. On the contrary, North Indian brides prefer wearing polka or kundan bajubandh.
[Also Read: Rajasthani Jewellery Designs]
Now that we have showcased options in designer bridal jewellery, pick out the bridal jewellery designs that complement your bridal outfit in a unique way.
So tell us which bridal jewellery are you going to wear on your wedding day?