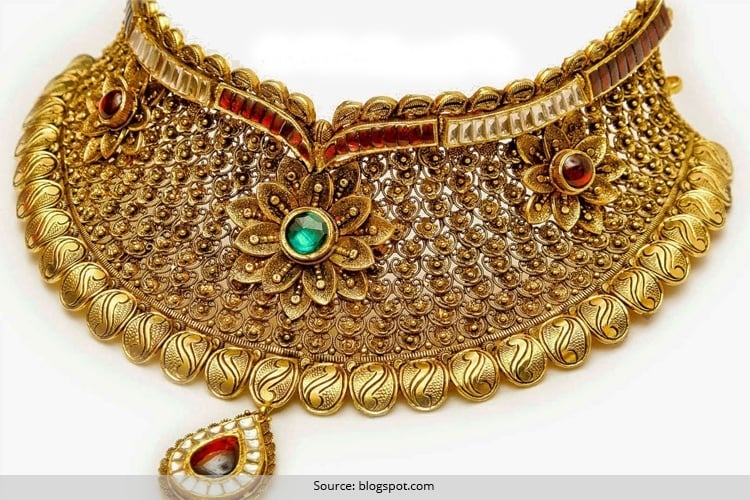 What is your definition of antique? Anything related to arts, crafts, fashion (you can't say the same about people) and now even jewellery which is worn at red carpet dos, Academy Awards and glittering functions. For instance, Penelope Cruz and her dainty and dazzling antique sapphire ring gifted to her by her husband Javier Bardem.
A piece of jewellery which is over hundred years old can be safely proclaimed as antique. It includes several decades or eras.
[Also Read: Indian Bridal Jewellery]
Besides the age factor, other factors such as rarity of the gems, embedded beads, design, craftsmanship and sometimes the emotional connection with the wearer all contribute to antique jewellery designs.
Hop across to Europe and you will find antique jewellery being classified under Georgian, Edwardian, Early Victorian, Mid Victorian, Late Victorian, Retro genres. But hey one moment – is antique jewellery the same as vintage jewellery? You see if the jewellery is over 50 years but less than 100 years, it is vintage provided it is recent enough in style. And when it crosses 100 years mark, then it is treated as antique.
Also jewellery cannot be branded as antique or vintage just because it has vintage beads or parts.
[Also Read: Vintage Sterling Silver Charm Bracelets]
What makes antique jewellery designs look unique? Well they usually carry motifs such as gods and flowers. Even Temple jewellery is very much antique.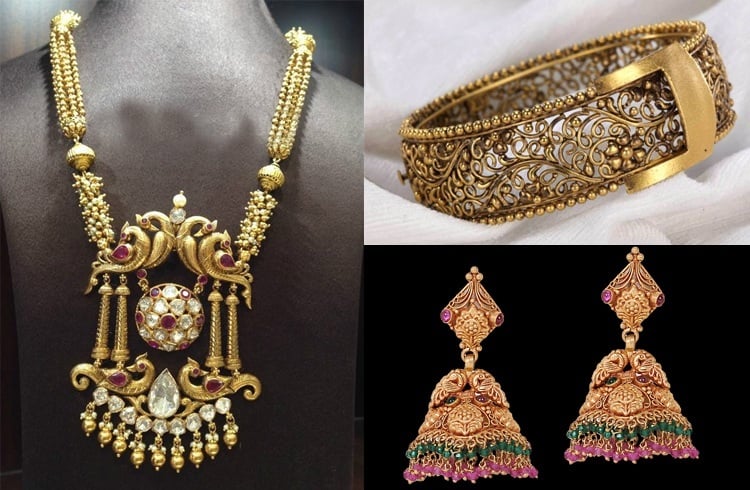 What Are Antique Jewellery Auctions?
Heard of antique jewellery auctions? These are the one that showcase vintage and modern jewellery pieces, and are a good alternative to buying jewellery the conventional way. In fact, you might end up picking a bargain in antique jewellery auctions.
Materials That Go Into the Making Of Antique Jewellery
Undoubtedly the one common answer is 'stones' and 'metals'. While the stones can be divided into emerald, sapphire, diamond and ruby, there are semi-precious stones too such as topaz, tourmaline, aquamarine etc. and few of the less valuable stones such as onyx, pyrite etc.
[Also Read: Glass Bead Jewellery]
The precious metals that are a part of antique jewellery designs can be divided into gold, silver and platinum. There is even the modern metal titanium and non precious metals such as iron, aluminium, copper and others that are pressed into service when it comes to making latest antique jewellery designs.
[sc:mediad]
Commissioners And Users Of Antique Jewellery
If you want to know the honest truth, it is the royalty that commissioned and set the trends when it came to antique jewellery.
[Also Read: Jewellery Shop In Kolkata]
Big names such as Cartier, Van Cleef & Arpels, Tiffany's, Boucheron still boast of their popularity and fame they had in the first half of 20th century. But they rarely come up with spectacular jewellery now days.
The Trends In Antique Jewellery
If you thought antique jewellery collection is a thing of the past, then you are very much mistaken. Owing to the fine workmanship that goes into it, antique jewellery designs are a perfect complement to Indian bridal wear, whether it is a saree or a lehnga. Since the brides of today like to wear vintage jewellery, latest antique jewellery designs become the hot picks.
[Also Read: Antique Silver Ring Designs]
Ruby and Emerald have not only been the constant factor when it comes to wearing stones, they are also considered auspicious. Look back at the Indian weddings and you will find these stones depicting antique jewellery collection methodically.
With customised things becoming the latest trend, even jewellery can't be left far behind. Which is why, many people love to appoint a jewellery designer for themselves and their family. This way, the bride gets a chance to select the metal look, size, colour and design to her satisfaction.
How To Look After Antique Jewellery – Do's And Dont's
Never mind if you have purchased it from an antique shop or it has been gifted to you by a very dear friend or family member, antique jewellery collection needs equal amount of care. Only then can it survive long enough.
Here are a few tips that will make your antique jewellery last for years:
[Also Read: Jewellery Care Tips for monsoon]
Regular cleaning of jewellery is a must to keep damage at bay. Avoid using harsh chemicals or soap solutions as they can loosen up the stones or discolour the enamel.
Gently scrub your antique gold or diamond ring with a soft toothbrush dipped in warm soapy water. But don't use the same technique with pearl ornaments. Use a soft jewellery cloth to wipe off dirt from soft stones.
Avoid dumping your antique jewellery in your almirah drawer that is overcrowded with other ornaments. Instead get hold of a jewellery box that has separate compartments so that there is no room for clutter, scratches or any other damage.
Buy an anti-tarnish jewellery box to store your antique silver ornaments. Such kind of boxes has a lining of chemically treated fabric which slows down the oxidation of silver. Also keep cleaning your sterling silver jewellery with a silver polish from time to time.
So are you intrigued or amazed reading about antique jewellery collection? Drop in a line on your wishes and desires on latest antique jewellery designs. Since it is festival time why not encash on it by buying antique gold jewellery designs?
[Also Read: Temple Jewellery Designs]
Remember, antique jewellery is more pricy than gold jewellery owing to the intricate designs and shades in it. So whenever you decide to buy antique jewellery, it is next to buying an heirloom.