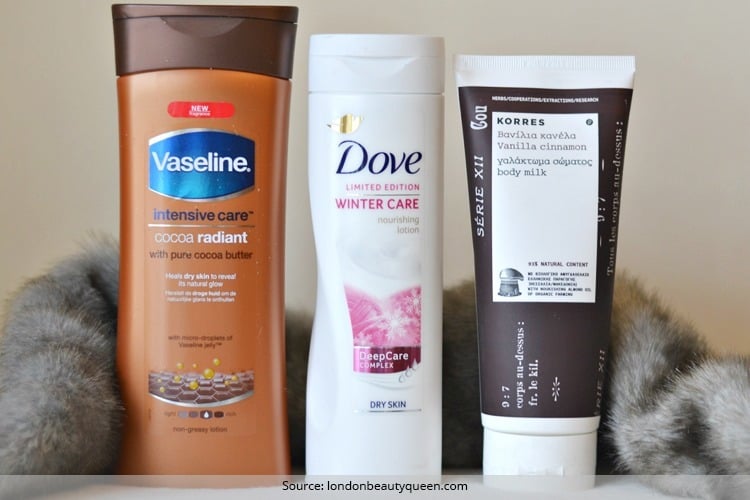 Choosing the right moisturizer always becomes one tiring task. With so many options in the stores, it is mindboggling to decide on which of these lotions is most suitable for us. Here we have listed down for you the 10 best lotions for winters along with the prices. Hopes this makes it easier for you to pick up your cream.
[Also Read: Winter Skin Care Tips]
Best Winter Moisturizer
Mentioned below are some of the best winter moisturizers in India. They are boosted with properties of pure and powerful ingredients, apt to be used for Indian winters.
1. Kaya Skin Clinic Daily Use Body Lotion
Infused with shea butter and goodness of real mango, Kaya Skin Clinic Daily Use Body Lotion transforms your skin into an illuminative texture. It has a highly effective 24-hours moisture-lock formula which prevents the skin from getting dried and cracky even after hours since having used it. This product from Kaya skin clinic is a perfect winter-time lotion that can be used in your entire body. The price of this moisturizer is affordable at Rs 325 for 200ml.
2. Himalaya Intensive Moisturizing Body Lotion
If a long-lasting smoothness and elasticity of skin is what you aim at, try this moisturizer from Himalaya Herbals. The proportionate mixture of cocoa butter, grape seed oil, olive oil in it, wheat germ oil, moisturizes your skin intensively, and leaves it smooth like a candle. All these components are boosted with antioxidants so they also help in restoring any type of skin injury caused by over drying of the skin. The pack of 400ml comes in a very affordable price of Rs 250.
3. Nivea Smooth Milk with Shea Butter
Nivea stands out for the quality it has maintained in all its products throughout the years. The same is with the Nivea Smooth Milk lotion. As an effective winter moisturizing lotion it gives your dry skin the much required nutrition of Hydra IQ, Shea butter, Gingko extracts, and Vitamin E. The lotion is gifted with a mild fragrance that keeps you feeling fresh throughout the day. The non-greasy formula of this product is an added advantage and you can wear it all through the day. If you haven't used it yet, this winter treat your skin with the yummilicious Nivea Smooth Milk. A pack of 250ml is available just for Rs 218.
[Also Read: How to Get Rid Of Dry Skin Patches]
4. Vaseline Total Moisture Cocoa Glow 24hr Nourishing Lotion
The moisturizer has a unique formulation which helps in maintaining the skin's PH Balance throughout the day. And also keeps the skin well hydrated serving as the best winter moisturizer. The natural oils present in Vaseline Total Moisture Cocoa Glow 24hr Nourishing Lotion maintains the smoothness on the surface of the skin, also assuring internal nourishment layers below. The cost of 300ml is just Rs 190.
5. VLCC Almond Nourishing Body Lotion
Almond oil content in this VLCC lotion is one of the best lotions for winters and a superb skin moisturizing and nourishing agent. It has a broad spectrum UVR Protection formula to check sun tanning and photo aging. The price of 100ml of this is Rs 85.
[Also Read: Shimmer Lotions]
6. Ponds Triple Vitamin Moisturizing Lotion
This rich creamy Ponds Triple Vitamin Moisturizing Lotion is formulated to be the best one for Indian skin. Endowed with the goodness of vitamin B3, Vitamin C, and Vitamin E, it fights issues related to age spots, fine lines, wrinkles, and of course dry skin with its multiple vitamins action. The lotion gets absorbed by the skin easily making it very wearable for the entire day. Easy on the pocket the cost of 300 ml is just Rs 110.
[sc:mediad]
7. Dove Essential Nourishment Lotion
This moisturizer from Dove with a striking aroma has a thick creamy density. Hence, for Indian winters, it acts as a lotion replenishing your skin with maximum hydration and optimum care. Dove Essential Nourishment Lotion has an advanced complex skin care formula that conditions dryness of the skin cells and carefully helps them to recover in totality. A bottle of 250ml of this lotion costs Rs 180.
8. Garnier Intensive 7 Days Hydrating Lotion
This lotion from Garnier is particularly considered for those with highly delicate skin and winters have made it scalier. Enriched with the benefits of palm oil, shea butter, glycerin, and mineral oil, the product also has a kind of non-drying alcohol called cetearyl alcohol. These ingredients help the body restore its natural moisture and keeps it elastic for longer duration. The cost of 250ml bottle of this is about Rs 290.
9. Oriflame Happy Skin Nourishing Body Cream Extra Dry Skin
The body cream from Oriflame is a great moisturizer. After having known the Indian market and customers for quite some time, Oriflame has marketed this product only for those in India suffering from dangerously dry skin during winters. Oriflame Happy Skin Nourishing Body Cream Extra Dry Skin treats chapping skin and cracks, leaving you with a sweet fragrance. Though a 200ml pack of this lotion coats Rs 449, it is absolutely worth it.
[Also Read: Shea Butter for Skin and Hair]
10. Parachute Advanced Deep Nourish Body Lotion
After having ruled the hair department, Parachute has come up with this greasy product which has the goodness of natural coconut milk and hydrogenated vegetable oil. These components make it one of the best lotions for extremely dry skin conditions. Its advanced moisturizing formula helps treating the flakiness your skin and locks the moisture within. It's definitely your go-to cream if you like the fragrance of fresh coconut, however, if you don't like the fruity smell, you might as well not go for this one. A 100ml bottle of Parachute Advanced Deep Nourish Body lotion costs just Rs 59.
The prices of the products mentioned above may differ slightly from what is available in the market now because we had taken old sample bottles from last year for study. However, the costs will just be higher by a 5 to 10 rupees. But, given the protection these lotions will grant to your vulnerable skin, the cost should not bother you at all. Just layer up the skin with a generous amount of your favorite body lotion and welcome a great New Year.