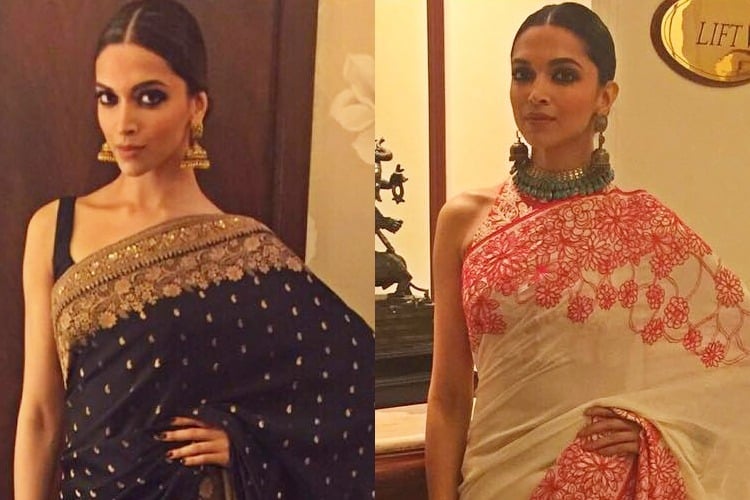 From the past few weeks, Deepika Padukone has changed her profession. From being an actress, she went on to being a Goddess! Nope, we aren't kidding! Have you guys taken a close look at Deepika Padukone recently?
She has taken it upon herself to look fabulous!! 24/7! And we are loving it!!
With the release of Tamasha being right around the corner, Deepika Padukone is making sure that she's promoting her movie off the hook. From the past few days her life has become all about movie promotions and Diwali parties.
This week, she gave us two fabulous looks which we have fallen in love with. Although she's gone the desi way in both these looks and has dressed almost the same way, we are loving them both! We have labeled them as the Day and the Night look.
Let's take a look at them!
Day Look
Deepika Padukone attended a promotional event for Tamasha, in the gorgeous white saree by Payal Jain. The only striking feature of her saree was the red embroidery. She made the red colour stand out more by wearing silver and turquoise jewellery by Sangeeta Boochra.
We LOVE!
[Also Read: Deepika Padukone In Off-White Outfits!]
[sc:mediad]
Night Look
While attending a Diwali party, Ms. Padukone opted for a black saree by Sabyasachi Mukherjee. Jhumkas and kada's by Amrapali, smoky eyes and a sleek bun finished her look. How can we not love this look!?
But the real question is – between the two looks, which do you favour more? Because we honestly can't seem to decide!!