Shea butter is commonly found in West Africa and several other countries. It is typically used as an ingredient in cosmetics and other natural products. When applied on the skin, shea butter is moisturizing and hydrating.
What is Shea Butter?
Shea butter originates from fruit seeds of the Shea Tree. It is rich in Vitamins A, E and F. It provides the skin with UV protection and all the nutrients essential for collagen production.
Benefits and Uses of Shea Butter for Skin: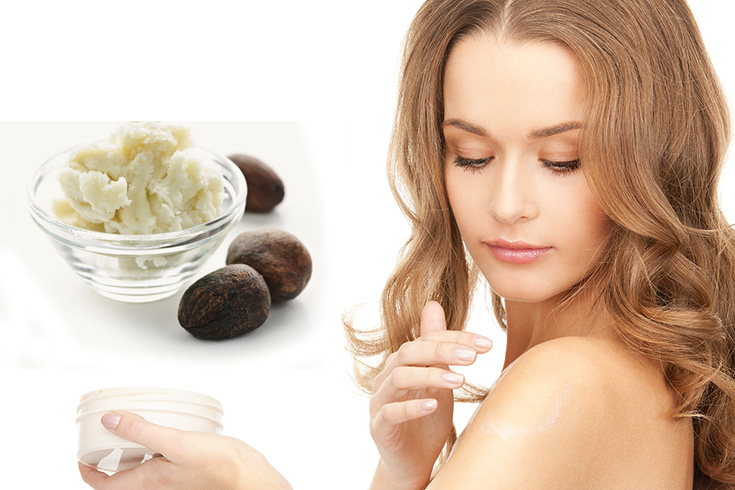 1. Natural Skin Care
Raw shea butter is a natural skin care ingredient as it can be used as a moisturizer and brings a glow to skin. It can condition and restore hydration to skin.
2. Anti-Ageing
Raw shea butter can boost skin regeneration and reduce wrinkles. You can apply shea butter twice in a day and slow down ageing process. It can boost collagen production essential for healthy skin.
3. Sun Shield
Shea butter can protect the skin from harmful UV radiation of the sun. It is also a great natural after sun care solution and restores moisture and nutrients to the skin.
4. Lip Care
Shea butter can help to keep lips moisturized with its rich content of Vitamin A and E. The butter present in it can nourish dry chapped lips and keep it healthy.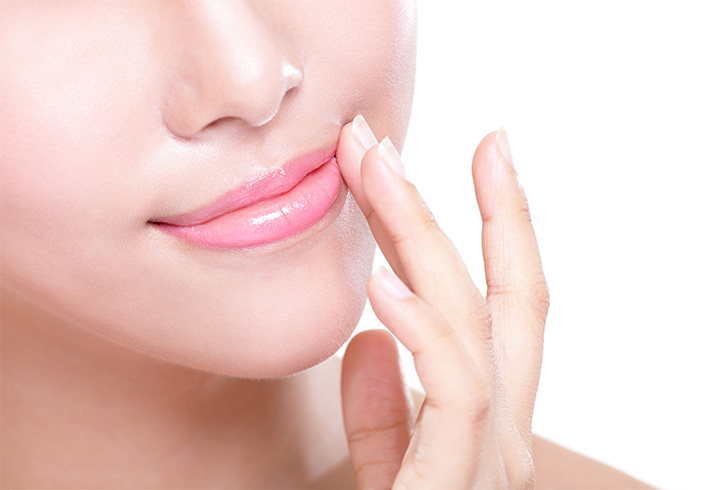 5. Baby Care
Shea butter is a gentle ingredient and commonly present in most baby skin care products. Pick organic products that are free from artificial fragrance. Massage your body with this mild solution.
6. Restores Skin Elasticity
The rich ingredient like Vitamin F found in shea butter can help to restore skin elasticity. Regular application of this solution can hydrate, soften, and beautify the skin.
7. Moisturizer
Its high concentration of fatty acids and natural vitamins makes it extremely nourishing. It can help to moisturize dry skin and protect skin's natural oils.
8. Relieves Dry Skin
Raw shea butter can help to treat itchy winter skin, dry hands, and rough skin. Its natural moisturizing properties penetrate deep into your skin while preventing windburn.
9. Treats Blemishes and Wrinkles
Shea butter can help to boost collagen production and hydrate skin. It can slow down ageing process for a long period of time.
10. Treats Skin Rash
Unrefined raw shea butter can cure skin rashes because of its great healing properties and its presence plant sterols such as oleic, linolenic acids, stearic, and palmitic.
11. Itching Skin
Shea butter is able to cure itchy skin because of its presence of natural substance such as rich emollients, fatty acids, anti-oxidants, Vitamin E, and anti-inflammatory agents.
12. Burns
Raw shea butter can facilitate against burnt skin that often results from sunburn or accidental injuries. Its goodness can soothe burning skin, and heal it in no time.
[sc:mediad]
13. Skin Cracks
Shea butter can be applied directly on cracked soles and feet. It can penetrate deep into the skin and leave skin moisturized. Apply the cream daily before bedtime for best results.
14. Scars and Sores
Shea butter does not have hydrating properties alone. It has healing properties that can reduce the appearance of scars and sores.
15. Skin Strengthening
Application of shea butter daily can strengthen your skin by stimulating collagen production and protein into the skin. It can help to keep the skin more supple, alive, nourished and glowing.
Benefits and Uses of Shea Butter for Hair: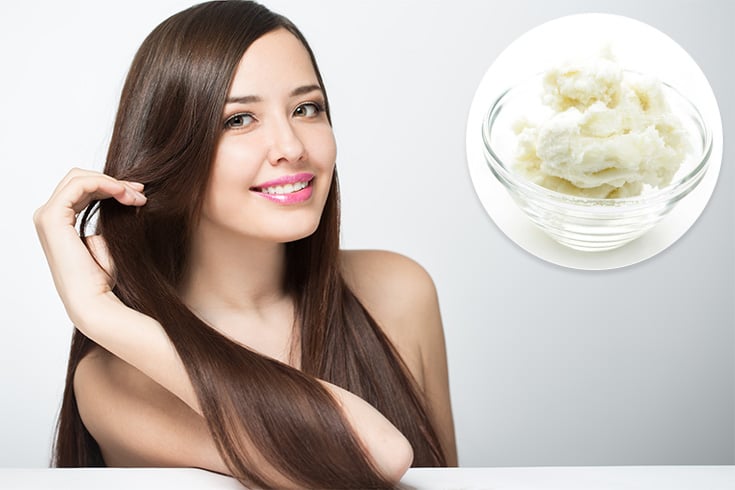 1. Dry Scalp
Shea butter is a great solution to relive from dry scalp, dermatitis, eczema, and psoriasis. Its richness of Vitamin A and E, can soothe scalp dryness, and prevent breakage.
2. Hair Protection
Shea butter can protect hair against harmful radicals and keeps it nourished. It helps to repair damaged hair caused by overexposure to direct heat.
3. Hair Softener
Shea butter can soften and revitalize damaged hair. It is non-greasy and therefore controls excessive oil in the scalp. It can be applied twice daily for improving your hair texture.
4. Moisturizer
Shea butter can help to lock in hair moisture, without making hair greasy. Due to its high hydrating properties, it can even treat highly dry and curly hair.
5. Restore Damaged Hair
Shea butter can protect the hair shaft and restore damaged hair. It can work wonderfully for processed and colored hair.
6. Hair Conditioner
Shea butter can serve as a natural conditioner for hair. It can provide moisturizing properties for the hair, and is also better known as mother nature's conditioner.
7. Massage Oil
You can apply shea butter on your scalp to improve blood circulation. Allow the shea butter to melt and apply its oil onto scalp. Wrap your head in a towel for 20-30 minutes before washing off.
Benefits and Uses of Shea Butter for Health: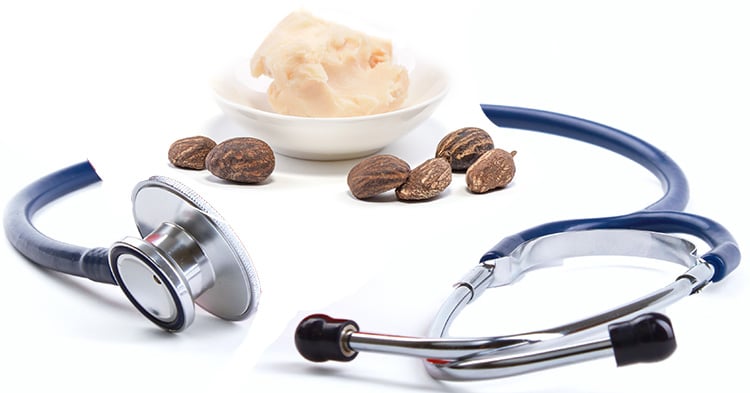 1. Healing Qualities
Shea butter has great healing and anti-inflammatory properties. Because of these medicinal effects, shea butter serves as an excellent solution for your health.
2. Antioxidant Qualities
Shea butter contains rich sources for Vitamin A and E and essential fatty acids which offer great health benefits. It can boost bone growth, immune system, and eye health.
3. Anti-Inflammatory Properties
Shea butter can help to reduce inflammation. It contains anti-inflammatory properties that can heal scrapes, wounds, cuts, sunburns, and rashes.
4. Reduces Stretch Marks, Scarring and Cellulite
Shea butter can visibly decrease the appearance of stretch marks, scarring, and cellulite. Its hydrating properties can smoothen and soften skin in the best way possible.
5. Insect Bites
Shea butter is commonly used for treating insect bites. It can quickly heal any stinging pain. Its anti-inflammatory properties can help to reduce insect bite itching and soreness.
6. Muscle Fatigue, aches and tension
Shea butter oil can be massaged into aching joints, and relief from muscle fatigues, aches, tension, etc. You can mix it with other essential oils such as roman chamomile and lavender oil.
7. Eczema
Regular use of shea butter can allow people to find relief from extreme dry skin conditions like eczema. Because of its deep nourishing properties, shea butter makes an excellent remedy.
8. Dermatitis
The rich presence of Vitamin A and E found in shea butter can combat dryness condition like dermatitis. It can provide relief from skin itchiness and redness.
9. Pain relief
Shea butter is used as a treatment from arthritis swelling and other joint problems. It can help to induce pain and soothe sore muscles.
10. Relief from Cold and Sinusitis
For several centuries, Shea butter has been used to relieve one from nasal congestion and sinus congestion. Apply it to mucosal lining to clear up nasal passage.
Shea Butter: Nutritional Background
Raw shea butter contains stearic, oleic acids, Vitamin A and E.
It is a rich source of vegetable oil which contains about 45-50% oleic acid, 30-40% stearic acid, 5-9% palmitic acid and 4-5% linoleic acid.
Shea butter is rich and smooth in texture. When stored at room temperatures, it does not liquefy. At the same time, the cream is easy to apply.
It has high amounts of fatty acids in comparison with grape seed oil, canola oil, and olive oil
Refined vs. Unrefined Shea Butter
Unrefined shea butter is extracted without using toxic chemicals or synthetics, while refined shea butter is extracted without high heat and chemicals. Unrefined shea butter has a distinct aroma, and has a creamy to grayish-yellow color, while, refined shea butter is odorless and has a pure white color.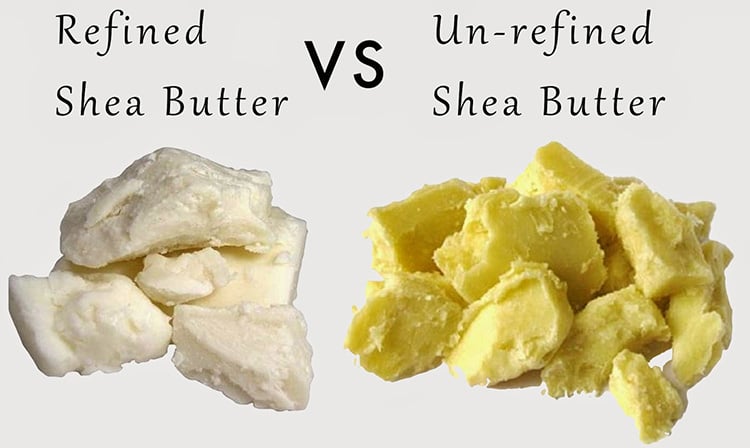 How to Find the Best Kind of Shea Butter
Purchasing high quality shea butter can offer the maximum benefits. It should be used with 18 months of its extraction, because its beneficial properties might reduce overtime. It is best to purchase organic and unrefined shea butter to yield maximum benefits.
Shea Butter Recipes
1. Tea Tree and Lavender Shea Butter Facial Cream
What all you need?
Three tsp raw shea butter
Three to five drops tea tree oil
Three to five drops lavender essential oil
Two to three drops frankincense essential oil
Directions:
Apply this solution all over your face and body in the morning before applying makeup
Apply the cream at night before bedtime
How it works:
Shea butter creams can restore skin hydration, and combat against acne, wrinkles, and damaged skin. Its healing properties can help to revitalize skin leaving it glowing and radiant.
Tip:
Do not overheat shea butter because it can lose its beneficial properties.
If you want to achieve a hardened shea butter result, then use a spatula while blending.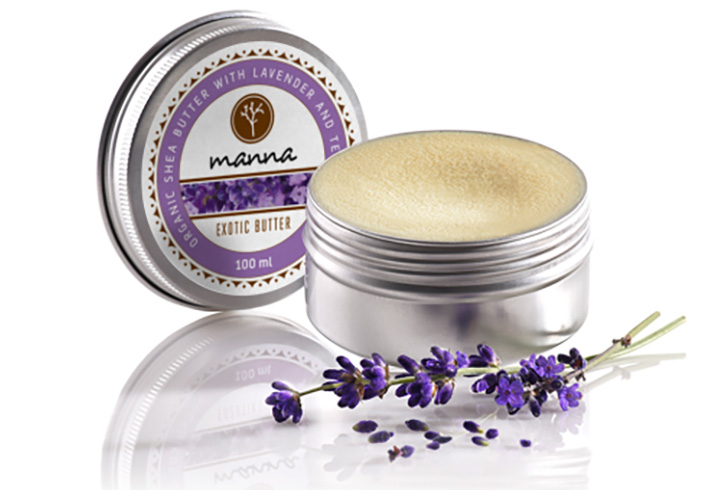 2. Body Butter Lotion
What all you need?
½ cup cocoa butter or mango butter
10-30 drops lavender oil (optional)
Directions:
Combine all ingredients in a glass bowl
Bring it to medium heat and mix constantly until all ingredients are melted
Remove from heat and set it off to cool
Transfer it to the fridge for one hour
Use a hand mixer for whipping until you get a fluffy result
Transfer it back to the fridge for setting
Store in a glass jar with lid to use for everyday use
How it works:
This body butter lotion can be ideal for sensitive skin and even for babies.
The combination of shea butter and cocoa butter makes it a great moisturizing solution.
Tip:
Do not store under direct sunlight as the cream might soften.
Store at a fridge is outside temperature is high.
3. Lavender Mint Lip Balm
What all you need?
Seven drops peppermint essential oil
Seven drops lavender essential oil
Directions:
Combine all the ingredients together in a sauce pan and keep on medium heat
Remove from heat and add the essential oils
Pour into tin jar and set it off to harden
How it works:
This lip balm is free from toxic chemicals.
It provides hydration and nourishment to dry and cracked lips without causing side effects.
Tip:
Ideal for daytime and night time use.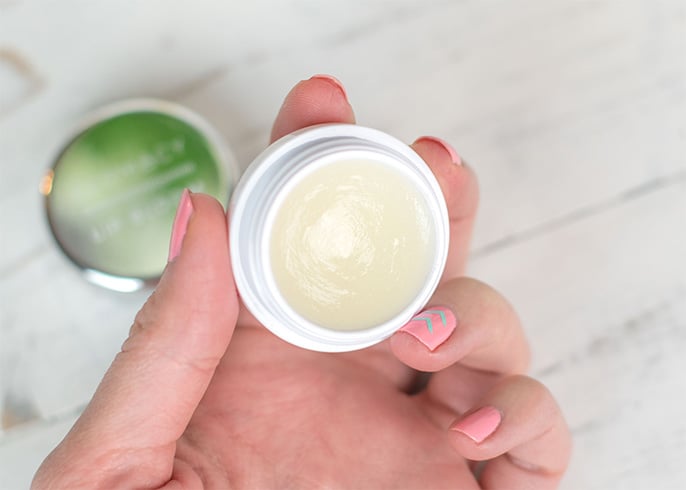 4. Natural Shaving Cream
What all you need?
¼ cup olive oil or coconut oil
Two to three tsp shea butter
¼ cup aloe vera gel or honey
¼ cup liquid castile soap
Directions:
Take a sauce pan and put it on medium heat. Melt the shea butter until melted
Remove from heat and add rest of the ingredients
Whisk or blend for five to ten minutes
Transfer the mixture to a glass jar or container
How it works:
This shaving cream is free from any toxic or chemicals, and therefore leaves the skin smooth naturally.
Tip:
Use this solution before 60 days.
Keep a check on the solution while it is cooling off. It should not separate.
Keep on whisking or mixing it well until smooth.
Tips, Prevention and After Care
Purchase organic or unrefined shea butter suitable for skin and hair.
Look out for ingredients that are 100% pure and which one which contains high essential oils.
Unrefined shea butter has a hard texture. It can be smoothened when warmed.
It has a creamy to off-white to yellow color.
Shea butter is safe to use, but if you are allergic to nuts, then you should consult a healthy physicist before use.
Commercially available shea butter comes with five grades. Grade A is the raw, unrefined shea butter, and can be extracted using water. Grade B is refined. Grade C is refined making use of chemicals like hexane. Grade D has the lowest uncontaminated grade. And Grade E contains contaminants.