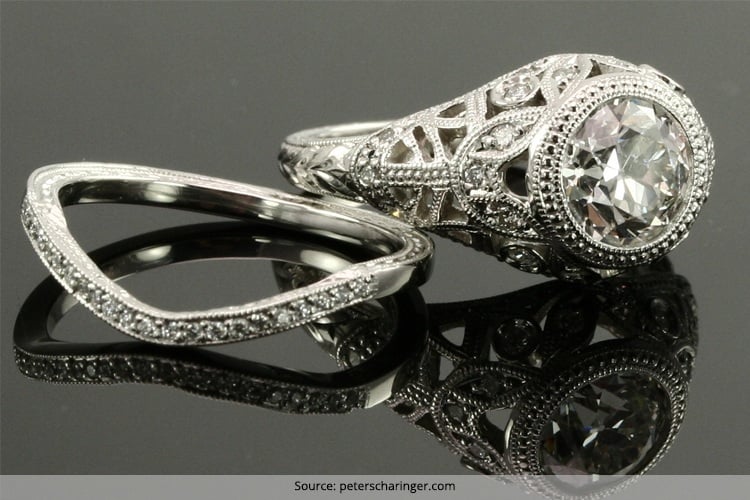 If you look back at the year when Sushmita Sen (Former Miss Universe 1994) won the crown and was interviewed on national television, you may have heard her speak about her love life – the man she marries should be worthy enough to gift her a 'big stone'.
Would that big stone be one on antique silver ring designs or a plain proposal band, it wasn't told to us. But the former beauty queen and a doting mother now, still holds her fort on the same thought. However, she does have a collection of antique silver ring designs, which make us PYTs, go gaga about.
[Also Read: Vintage Sterling Silver Charm Bracelets]
What's your choice and likes on antique silver ring designs?
Growing up we all had our little tea parties with make-belief attendees and of course, discussions on the Prince Charming who would come and woo us too. Some of us even went a step forward planning our wedding, the bridal trousseau and the whole event at large.
Cut to the new-age, and today we are all grown up. We have our work schedules to adhere to, families to manage and of course, our own sense of style. This is why, we would like to take a few moments of yours to make it easy for you to choose silver antique rings, since you love them so much and would want to buy them too. Read on and be well-informed!
LET'S LOOK AT HOW YOU CAN GET THE BEST DESIGNER SILVER RING DESIGNS
The Shape
In addition to the carat, the colour, the clarity and the cut of the big stone on the silver ring designs, it is the shape of the ring that would matter the most.
Keep in mind the stone's geometry and not just the cut of the stone. Your fiancé knowing you all too well should know your likes and dislikes on the same. Each angle and facet of the stone matters – so when shopping for one with him, let your point be known!
Focus on the settings
When we say "settings", we mean the metal framework on which the stone would be mounted – this could be for designer silver earrings, earrings made from sterling silver or even the precious proposal and engagement silver rings too.
A classy silver ring would be one that brings about freshness and modernity galore and with a bezel setting to say the least. Opting for the timeless trendy oval rings for the ears or the fingers seems to be an haute choice and norm these days.
Most girls prefer the four-prong setting though, and only an expert can help bring about the right shape and setting – a combo very chic!
Drop Hints
Why drop hints to him about the type of designs of silver rings you would want to wear and flaunt? The answer is simple. For him, presenting you with a promise ring, a proposal ring or an engagement ring isn't just an act of love. It is but an investment too.
[Also Read: Affordable Engagement Rings On A Budget!]
Couples these days shop for rings together, however, should you want him to be a little more traditional on the gifting aspect and wait for the surprise, by all means drop a hint and leave it to that.
Ask your BFF or siblings to go out with him or to help him shop online for one of the chicest sterling silver diamond earrings or finger rings to buy. Maybe platinum too or a rose-gold one, but silver is eternal and every woman kind of gravitates to the touches of Goddess Luna on her embellishments somewhat.
The Quality of Metal
The quality of metal in use, particularly for bands and engagement rings should have the highest tone and textures, no compromises there. Platinum and sterling silver are for sure the most wanted metals around. They are perfect for those who have sensitive skin too. Silver is hypoallergenic, durable and very pure, making it the number one choice for ring gifting options.
Give it Two Months
Don't rush and swipe your card or allow him to do that, just because the first few silver rings you saw stole your heart. There would be many more to come and pamper you ahead. Once you place your order across online or brick-and-mortar stores, it would take some time for the ring to arrive. And more so if you have decided to customize the same, or have it engraved. Hence, give yourself a good two months and then make a choice before you place an order for the same.
While most of the above designs were those of silver rings, we will now leave you with the antique silver rings that will melt your hearts.
[Also Read: Antique Jewellery Shops In Delhi]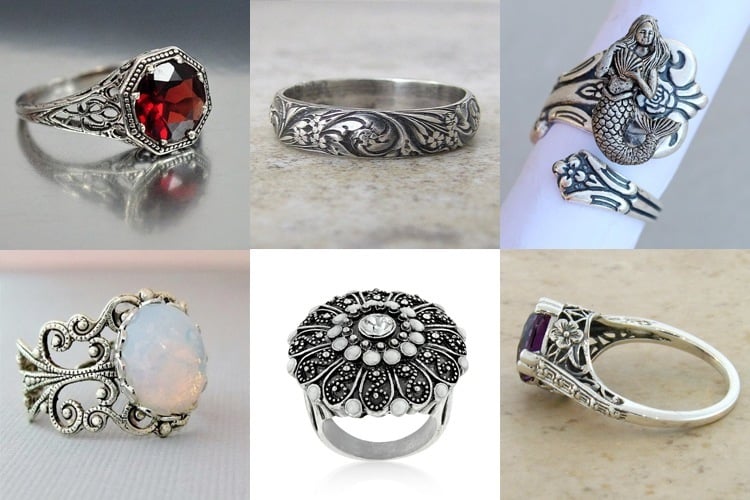 Finally, when picking diamond studded silver earrings or silver band rings, ensure a certification from reputed councils comes along with the product. Shop safe, shop wise and make this gift a special one for a wonderful time ahead! By the way, what are your thoughts on the ten chic silver rings we showed you through this post?