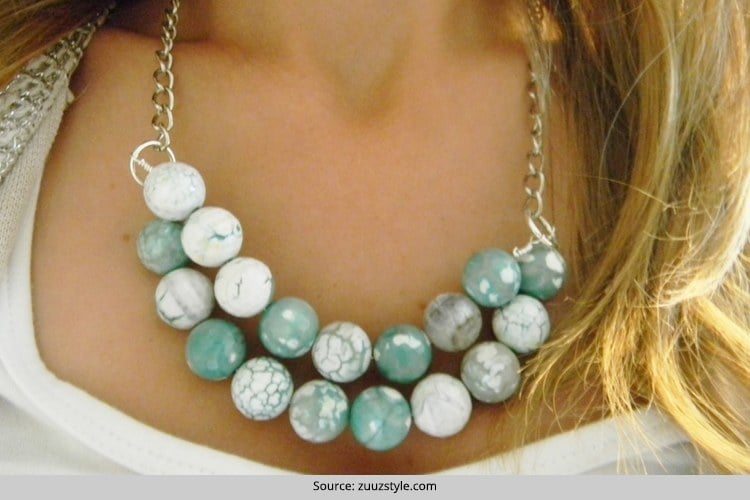 What we particularly like about being creative is that there are no limits to where one's imagination can go. You only have to be enterprising, patient and imaginative, the world then would be one fashionable oyster for you to bask in.
With that being said, here are a few ways to repair and reinvent your precious handmade jewelry, with chic handmade jewelry ideas that would work like magic.
LET'S LOOK AT SOME HANDMADE JEWELRY AND HANDCRAFTED BRIDAL JEWELLERY
The Festival Season is Here
With the festival season knocking on our doors, it is time to bring out more of those handmade jewelry ideas, using the left remnants of the old and turning them into something luxe and chic, and new! October onwards the festivities begin and the party season just doesn't cease to exist. Having said that, you would want to look trendy and outstanding when attending social do's. Get creative with handmade jewelry ideas, and stun the world.
[Also Read: Easy DIY Jewellery Box Ideas]
It is All About Style
Simple, elegant and chic with minimal reworking needed, should you have old porcelain clips that have lost a hook or two, convert them into porcelain brooches. Wear the brooch for work or for the girls night out next weekend, with your shirt or on your dinner jackets. This would be one style statement your BFFs would want to steal.
What Do We Do With Handcrafted Bridal Jewellery?
With handcrafted bridal jewellery, the choices are galore. you could think of reusing and re-wearing such items on your chic lehengas and ghagras. For a desi touch to all things western in your wardrobe, the handcrafted jewelry that you wore at your wedding could convert into snazzy chunky buttons for your kurtas and kameezes.
If that isn't all, you could make mini pieces of each piece and convert them into pendants. You can even match them with western office wear or for chic occasions when you have to doll up in luxe cocktail dresses. Turn your favorite maangtikkas into wristlets and bracelets if you want!
[Also Read: How to Make Paper Quilling Jewellery]
Need More Handmade Jewellery Ideas?
What do you do when your favorite amber and pearl necklaces fall apart? Lament over the fact that the best is gone? Stop right there, you can now use handmade beaded jewellery work wonders as other accessories on you. For example, who wouldn't like smooth pearl earrings for an event to wear at?
If you have more handmade bridal jewellery at home and wouldn't want to let go of them, just because a stone or two seems out of place, you can either get to the goldsmith and fix it up or revamp them all into chunky slim chandelier earrings.
[Also Read: Handmade Silver Jewelry]
Just because the handmade items that you once flaunted and wore have lost their shine and sheen, or are broken and slightly damaged, it doesn't mean that you show them the door. You can bring back the former glory they were once bestowed with. Think about a little bohemian touch here, how about a waist belt made from stray pearls and stones!
[Also Read: Washer Necklace Tutorial]
You could also think of converting that old beaded white necklace that has lost some of its beads into a new choker for the neck. Wear the choker with a white off-shoulder cocktail dress and stun the party scene around!
What Do I Do With an Old Amber Necklace?
[Also Read: Geometric Jewelry]
Amber brings in a lot of health benefits to the mind and the soul, and this is why amber as a stone is highly spoken off and used for holistic healing. If you have an amber necklace that has lost some of its beads or has a broken stone, you can get some more beads of the same colour and string a neckpiece for yourself. Use a sterling silver clasp to keep the beads hooked at either ends, with a stone pendant hanging in the middle.
Tassels and Metallic Wool Strings
[Also Read: Luxury Jewellery Designers on Instagram]
We simply love this idea we found online, involving the use of coloured metallic wool strings and tassels with beads. Take a look at the infograph below and follow the easy DIY method in conjuring one for yourself. Never knew it was so easy to make and remake bracelets at home, using old handmade Jewelry!
Do you have ideas on how to make and reinvent or reuse old handmade jewelry? If yes, do write in and share your ideas, and we would like to share them with the world!
Have fun with your DIY handmade jewellery designs ideas!