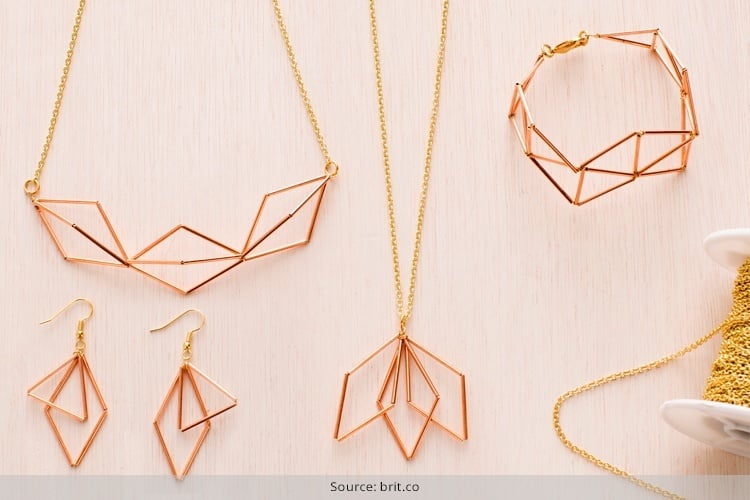 One word that takes us back to school is geometry. Remember the circle, square, rectangular, diagonal, triangular drawings we all had to make and mug up to get good marks in the mathematics exam.
It's much the same in geometric jewelry too. With abstract influences and geometric inspirations, geometric jewellery designs are absolutely chic, trendy and with a mind of their own. All it needs is a bit of form and shape to turn an ordinary jewellery accessory into an artistic one.
[Also Read: Ivory Jewellery: Excellent Example Of Elegant And Painstaking Craft]
The kind of options available in geometric jewelry is far too many. There are triangles, circles and guess what, there is three-dimensional geometric jewellery available too. All of them roll up their sleeves in helping you portray a unique appearance with dramatic lines and bold patterns.
Is geometric jewellery the new thing to watch out in the fashion radar? Well, it has been around since 1970s. Today, you can spot it out in rings, necklaces, earrings and bracelets in diverse shapes such as square, circle, hexagon, sphere, rectangle, trapeze, triangle. In fact, triangles have been going hot for quite some time. All in all, geometric jewellery designs are fresh, nostalgic, versatile and will have you swooning over them.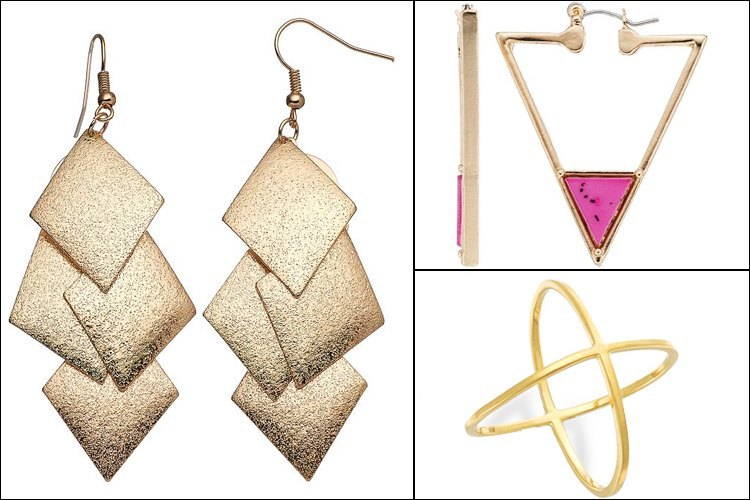 You know the trick behind geometric jewellery. No matter how plain your outfit is, it will instantly give you an edgy look. This trend is so chic and easy to wear that you might find inspiration in celeb/fashion shows of Celine Dion, Donna Karan and many more divas.
Geometric Necklace
This lavish looking pendant has a marbled look thanks to its faux stones. Lightweight and monochromatic looks and lobster clasp make this geometric necklace a true delight.
Black is always fascinating and this geometric necklace having triangles made of wood and copper chain is no exception.
Neon is the colour of fashion. The geometric wooden silver and neon necklace shown below is a tribal necklace that gives you the boho look you expected of geometric jewellery.
[sc:mediad]
Geometric Ring
Usually made of poplar wood, geometric rings are laser cut and then hand finished using a natural transparent paint.
Triangles and rectangles are two basic forms of geometric rings, but there are final compositions too. Once you decide upon the form, you can then decide the quantity of wood layers to be put. Polished finish further adds a fashion twist to these rings.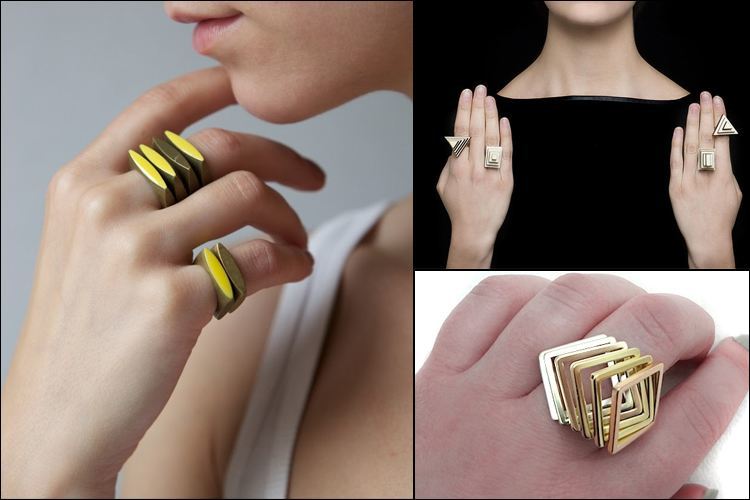 Geometric Earring
Take your urban look to the next level with these geometric earrings. Made of 3 mm birch plywood, geometric earrings are a fashion inspiration for girls who want to be out of the flock with their faded color wash.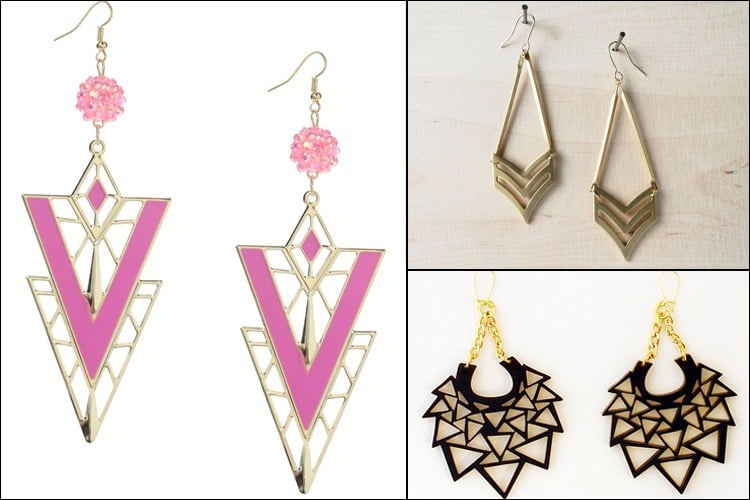 Jewelry Making Tutorials
Here's a jewelry making tutorial. Enjoy learning making this wooden geometrical necklace. You need the following items mentioned below:
[Also Read: Glass Bead Jewellery]
16 to 20 square wooden shapes which you can buy from a craft store or cut it out on your own to your choice
Acrylic paints
Electric drill
Jump rings
Chain
Jewelry clasp
Pliers
Following are the steps you need to take to get started with geometric jewellery designs:
Use 16-20 wooden shapes (to add a fashionable twist). Then drill a hole in the corner of each square. Remember, the hole that you drill should be big enough so that it enables you to put a jump ring through.
Now paint the squares in four different colours (as shown in the image reference).
At this juncture, you have to use pliers and then open a jump ring in order to attach the wooden square to the chain. Follow it up by closing the jump ring.
You also need to use jump rings in order to attach a jewelry clasp at the end of your chain.
[Also Read: Astounding Designs Of Filigree Jewellery]
So get ready to beautify your body with the pretty geometric jewelry and go rock the world with your fashionable math skills.