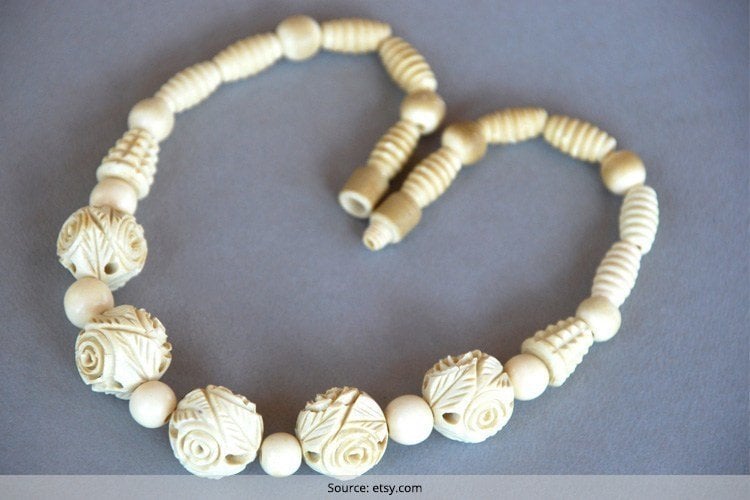 All you wild hearts must be having a roar of a time in your outdoor adventures. There is one chap you will meet who is tall, bulky, has two flappy ears and a big tusk. It is fondly called the Elephant.
[Also Read: Glass Bead Jewellery]
No, we are not going to tell you the story of an elephant, but how his tusk is the source of Ivory jewellery.
Vintage Ivory Jewellery
So you think this jewellery is old, boring and not worth it? Well, in Gujarat, a bride-to-be gets an ivory bangle from her family just before her marriage. Even in Rajasthan, ivory bangles are an integral part of jewellery. Apart from bangles, ivory earring and an ivory pendant attached to a necklace is equally popular. Hence, vintage ivory jewellery is very much a part of the Indian tradition in states such as Odisha and West Bengal too.
The USP of white coloured Ivory jewellery is its light weight and smooth nature. This makes it an upcoming trend amongst jewellery makers and lovers.
How Did Ivory Jewellery Came Into Existence – Some Juicy Nuggets
Historically, ivory was used for jewellery making even before gold or any other metal came into being. In the ancient times, ivory used to be painted or bleached and used for carving.
Ivory is harder and durable than wood, even bone. It neither chips, nor cracks or breaks and changes very little with time. This feature made it ideal to craft tools and weaponry, before metal came into existence.
Did you know that ivory jewelry designs have travelled along several trade routes in the historic era with spices and silk? This is one of the reasons why it turned out to be expensive and luxurious with every distance that it covered. In fact, ivory carving was common to Greek and Roman civilisations.
Ivory was also a major part of the gifts received or given by the royalty in yesteryears. So you can well imagine the high value of ivory. It also got its way into the making of piano keys till such time it was banned.
[Also Read: How To Clean Brass Jewelry]
Interestingly, the Japanese used ivory to make a stamp called Hankos as early as 5500 B.C. And yes, for those of you who want to know the various items that can be made of ivory, there are ivory combs, bracelets, writing tablets and knife handles. Whoa!
[Also Read: Breathtaking Antique Jewellery Designs]
With the passage of time, ivory came to be exclusively used for jewellery. Though it is a traditional ornament, ivory ornaments have become a rage in college campuses. That's because, it comes in a wide variety of styles and patterns and is in a budget-friendly range of college-goers.
Shopping For Antique Ivory Jewellery
Whether it is antique ivory bangles, bracelets or vintage ivory earrings and rings, there is no end to wearing this form of jewellery.
[Also Read: Jewellery]
Not just this, elephant ivory is used to make bead necklaces, anklets, bangles, decorative plaques and so much more.
Bangles
Earrings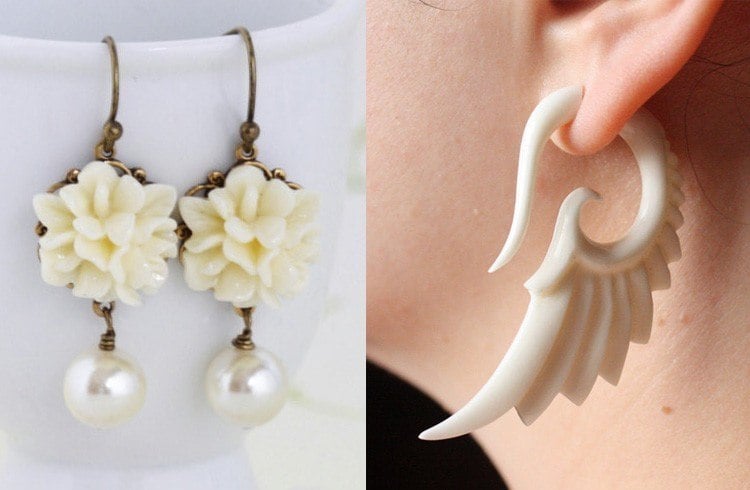 Necklace
[Also Read: Tanzanite Jewellery]
[sc:mediad]
Bracelet
[Also Read: Stone Jewellery Designs]
Ivory Carvers
What is Elk Ivory Jewellery
This one is purely dedicated to those who are fascinated by outdoors and wildlife. The interesting thing about elk ivory jewelry is that no two elk ivories are the same, so you are bound to get uniqueness and distinction in each ornamental creation made out of elk ivory. It is actually a way to announce your hunting accomplishments.
[Also Read: Astounding Designs Of Filigree Jewellery]
Elk means two teeth that are ivory which are commonly known as "elk teeth" or "elk whistlers".
Since elk hunts call for great amount of luck and energy, an elk hunt involves taking one or both ivories from the elephant and thereafter making elk ivory jewelry.
Talk of contemporary fashion and vintage ivory jewelry has come to be in the limelight. There never will be an end to antique ivory jewelry as long as fashion rules. Let us know which of the ivory jewelry designs are close to your heart.