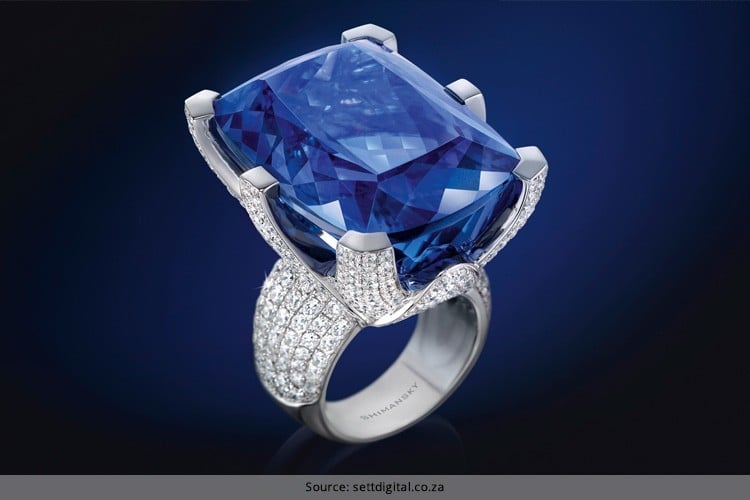 With Fall around, it's time to move to your fall style. Here comes the gemstone that is a perfect addition to your fall jewellery collections.
[Also Read: Aquamarine Jewellery: The 'Gem' Of The Sea]
This purplish-blue gemstone is trending in India overpowering the ruling stones of emerald and ruby. On top of it, blue gemstones have been the subject of attention and envy in the Indian market with the country's leading jewellers launching Tanzanite Jewellery collection.
Tanzanite is 1,000 times rarer than a diamond since it was discovered in the year 1967 at the foothills of Mt Kilimanjaro, Tanzania (East Africa). This am sure explains its rarity and rich history. Which is why tanzanite has come up to be the most desired gemstone people are waiting to own and possess.
Did you now that Tanzanite is the suggested gemstone for the 24th wedding anniversary? All you ladies nearing the silver jubilee have a new found reason to push your dear hubby into buying you classy tanzanite jewelry designs.
[Also Read: Truly Bridal By Kalyan Jewellers]
And here we have a comment from Markus Paul Wild, CEO of Paul Wild OHG, Kirschweiler who has the following to say "Tanzanite is very much on trend, as well as an extravagant classic."
None other than Brad Pitt and Taylor Swift have their birthday in December so you can well imagine how Tanzanite Jewellery can be an ideal December birthday gift for them.
Tanzanite Meaning and Properities
Tanzanite is a trade name that was coined by Tiffany's, New York two years after this gem was discovered. Because it was thought necessary to make the stone marketable to the public, the name has stuck on since then. Till this day, this gemstone has become extremely popular thanks to the marketing campaigns done by Tiffany.
[Also Read: Stone Jewellery Designs]
The tanzanite meaning is as unique and interesting as the gemstone. A member of the zoisite family, tanzanite is also called blue zoisite. This stone is thought to activate several chakras from the heart to the crown and is therefore used to link the mind with the heart. What an interesting connection tanzanite meaning spiritually has when it comes to accelerating spiritual growth.
Tanzanite owes its beauty to a gemological property (unusual it is) which is called pleochroism. This means the ability to exhibit more than one color. It's a fact which you can testify by viewing tanzanite from different directions. You will find it looks purple, blue, violet, gray, even bronze. In fact, such is its radiance that Tanzanite Jewellery has an enchanting radiance.
Tanzanite Jewelry Care & Handling
A kaleidoscope of blues and violets, Tanzanite is known for its brilliance as a highly refractive stone. It's sparkling finish makes it a great must for diamonds and other such precious gems.
[Also Read: Ivory Jewellery: Excellent Example Of Elegant And Painstaking Craft]
Being hard as an emerald, but far more durable, Tanzanite jewelry should be handled with care. Therefore, wrap Tanzanite rings, necklaces, and jewelry in a soft cloth or keep them safely in a presentation box.
Tanzanite Rings
Bring together the gleam of tanzanite and diamonds at your fingertips, by sliding on the magnificent shine of tanzanite rings designs.
1. Oval Tanzanite and Diamond Double Halo Ring
Stunning to the core, this gemstone and diamond ring has an oval tanzanite. Plus it has a double halo of brilliant round diamonds that are set in 18k white gold.
[Also Read: Bejeweled Fitness Trackers]
[sc:mediad]
2. Tanzanite and Diamond Infinity Ring
Check out this elongated-cushion tanzanite ring which is accented by pavé-set round diamonds in an equally stunning infinity design made of 14k white gold.
3. Le Vian Tanzanite and Diamond Geometric Ring in 14k Rose Gold
For those of you who like to wear unique tanzanite rings, check out this unconventional geometric ring by Le Vian. Crafted of 14k rose gold, it's where dazzling round-cut diamonds and chocolate diamonds elegantly encase a trilliant-cut tanzanite (1 ct. t.w.).
[Also Read: Here Are 5 Gifts You Can Give To Your Jewellery Addict Friend]
Tanzanite is one-of-its-kind gemstones that has been popular the world over for centuries. When are you planning to buy this rarest of the rare gemstones? With New Year around, Tanzanite jewellery purchase to banta hai.