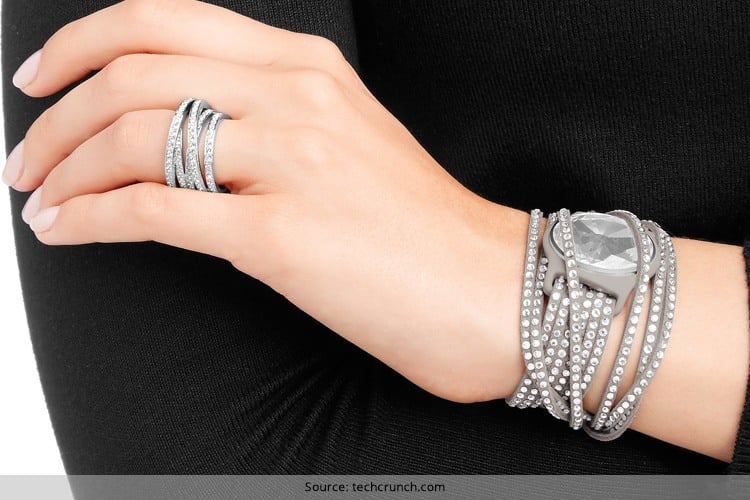 Technology and jewelry for some reason never seem to gel well. For years fashionistas have struggled with having a fitness band which wouldn't look ugly and something she could even carry off to a fancy dinner. Well, seems like the fitness-tech gods have finally listened to us and Swarovski jumped on the bandwagon with an amazing and 'bejeweled fitness tracker'.
[Also Read: Sparkling Swarovski Bridal Jewelry]
Misfit Swarovski Shine
Swarovski's addition to the Misfit Fitness Tracker has taken fitness to a whole new level. Misfit It was announced at CES in Las Vegas and they actually look like true jewelry! There are two different versions available in the market right now and they are a clear crystal or a violet crystal. However, the violet one is solar-powered – So your one problem is solved- You will not need it to be charged at all.
Misfit is actually a fitness brand that is known mostly for its fitness and sleep tracking gadgets. After partnering up with Swarovski, they have come up with two new wearable products and nine sparkling accessories (three bracelets, three wristbands and three pendants, all of which are available in black, white and grey).
The shiny accessories will work with the $99 Shine fitness tracker. This tracker in fact has a sensor-filled core. This is the exact thing that will have all the data and will actually track your daily activity, including your sleep and fitness levels. This is the part which will pop out on your wrist.
The best part about Misfit Shine is that it can be swapped according to how you would want to wear it. So, if you want it as a sparkly pendant, you can change your core or if you want to wear it as a bangled bracelet, you can do that too!
The prices of the tracker vary between $69 and $149, depending on the kind of bejeweled design you want.
Along with all the accessories that were launched, the companies also came up with two new wearable bands in its Swarovski Shine series- One is a fitness tracker which comes with a classic crystal face ($169) and the another (as we mentioned earlier) with a solar-powered violet design ($249). The latter design makes use of the "energy crystal" technology that will store up enough power and you can go charge-less for a long time!
[Also Read: 5 Most Beautiful Swarovski Earrings]
Intel's Mica:
Mica is yet another smart band which will change the way you look at fitness and jewelry.
MICA stands for "My Intelligent Communication Accessory" and this particular high-end wearable includes a curved sapphire touchscreen display.
CNET last week reported that Intel was expected to introduce the bracelet shortly, in a sign of the company's ambitions to expand into wearable technology and beyond its core chip-making business. The MICA is one of a handful of electronics that double as women's jewelry, including the $80 Misfit Bloom stainless steel necklace, which houses a fitness tracker, and Ringly, a ring starting at $195 that sends notifications from your phone using vibration and light.
The MICA is a jeweled fitness band which was engineered by Intel and it will mostly be available at luxury retailer Barneys New York and Opening Ceremony stores. But the sad thing is this fitness band will be priced around $1,000, which we think is a tad bit expensive!
[sc:mediad]
The good part is, the device will be able to provide alerts and notifications, including SMS messages, calendar reminders, meeting alerts etc. and these all will be sent directly to the wrist display. Also, two-way wireless data communication through 3G cellular radio will be available without the need to pair it with a smartphone. The best thing that this device can give you is the fact that it can charge wirelessly or using a USB cable.
The MICA will come in two styles, a black water-snake skin, pearls from China, and lapis stones from Madagascar and one with white water-snake skin, tiger's eye from South Africa, and obsidian from Russia. The cuff-style device opens via a clasp and has a 1.6-inch sapphire touchscreen that sits at the bottom of the wrist.
Now isn't that amazing luxury!