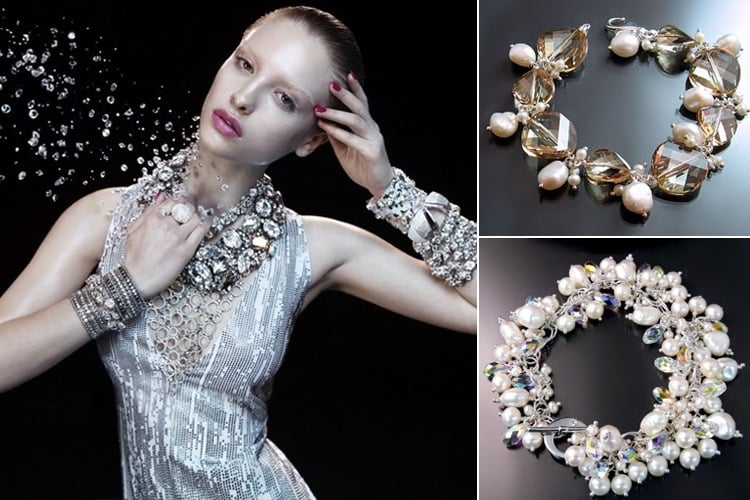 Some things in life are born out of passion and zeal. Some things in life smack of innovation and inspiration. Some things in life redefine glamour and sophistication like none other.
Ladies, we are talking about Swarovski bridal jewelry. It is beauty in every form and shape, whether it is jewellery, watches and fashion accessories.
[Also Read: Bejeweled Fitness Trackers]
But, when you see the Swarovski jewelry, it is enough to add that extra sparkle to your wedding attire. Little wonder why the super model Miranda Kerr has been roped in as the new face of Swarovski.
What is so special about bridal Swarovski jewelry? It has got specially cut stones that bring a unique sparkle, just apt for the wedding day. So, whether it is statement headpiece (like the one shown below) or crystal tiara (the second picture), Swarovski bridal jewelry knows how to be in the news and limelight.
The Swarovski Story
Fashion and bridal jewellery from the house of Swarovski never hides anything – whether it is understated luxury or opulence. That is why Brand Swarovski is all about creativity, beauty, innovation and perfection in jewellery.
[Also Read: Most Expensive Diamond Bracelets]
As expected, Swarovski crystals have brought about new heights in contemporary design when it comes to its collection. Individuality and inspiration have been the hallmarks of Swarovski jewelry.
Each season, the swarovski jewelry is garnished with radiant materials, colours, as well as patented techniques. All of which reflect in the supreme quality and distinctiveness that you as a discerned consumer flaunt to yourself and the world.
Now, most of you would be of the belief that Swarovski creates crystal beads and figurines only. Thankfully, that is not the case as Swarovski also makes rhinestones and pearls which many couture designers use for their bridal jewelry pieces.
Below we show Swarovski-enriched teardrop earrings that are encircled by freshwater pearls and blush colored crystals. Don't you find it exceedingly marvellous?
Meet the colored Swarovski rhinestones and freshwater pearls in this cuff that would make any modern bride shy away with the romanticism it brings.
[sc:mediad]
Swarovski Earrings
No matter the extravagance of a wedding, it is worth enjoying the same in bright bold colours of Swarovski bridal earrings.
[Also Read: Most Expensive Jewelry Brands]
Yeah, the Swarovski orange colours are the next romantic-looking and feminine ear studs that no eye can ignore. The colour of the crystal is so bright and eye-catching, that it can be worn without a blink by modern brides.
Swarovski Necklace
Check out this Silver Ivory Pearl and Swarovski Crystal Flower Necklace accompanied with earring Bridal jewellery set. Suitably gorgeous it is with multi-layered ivory pearl and Austrian Swarovski Crystal necklace. Which is why, this Swarovski bridal jewelry set is bound to make your wedding vows truly fabulous.
[Also Read: Shapes Of Diamonds]
If you want to know the importance of brands that have become a heritage value, then the necklace shown below is truly apt.
Whichever Swarovski bridal necklace you chose, it makes better sense to wear a strapless gown. Or else, how you would you reveal the delicate beauty of the world's finest ornaments?
[Also Read: Most Expensive Engagement Rings]
Cleaning Of Swarovski Ornaments
How many of you know that Swarovski bridal necklace is pretty popular as it is far more affordable than gemstones and diamonds. That doesn't mean it can be just worn and put back in the wardrobe.
Make sure to clean your favourite Swarovski crystal jewelry on a regular basis. All you need is warm soapy water. There is also ultrasonic jewellery cleaner and cotton gloves which you can use occasionally. In case you do, then rinse with lukewarm water and air dry it.
Do not make the mistake of using toothpaste, alcohol, or other such cleaners to clean your Swarovski jewelry.
Always keep your precious Swarovski bridal jewelry ornaments away from perfumes, hair sprays, make-up kit and strong chemicals as that can lead to tarnishing of the bridal Swarovski jewelry.
Now that you have an idea of bridal Swarovski jewelry, make sure to get it made and customised by a seasoned jeweller. And then tell us, how winning attention can be so easy with a Swarovski jewelry piece.