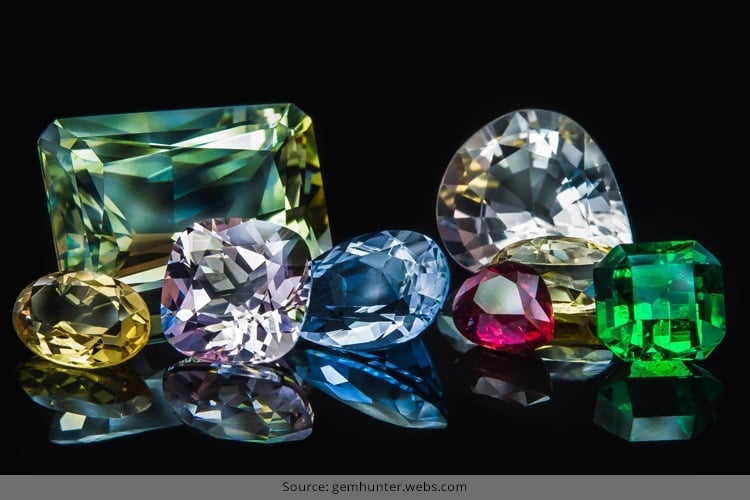 We have done quite a few posts featuring diamonds, but have we ever really spoken in depth about diamonds? We think not!
So, we thought to ourselves – Hey! Why not do an in depth post featuring diamonds, where our readers get to know everything that they need to know about diamonds. I mean, we are team FashionLady, right? We cover everything that's related to all the lovely ladies and fashion. So, why miss out on the most quintessential stone in a woman's life? Why miss out on an opportunity to do some massive and extensive research on the most coveted stone on this planet?
And hence, here we are writing a very interesting and an extremely informative post on diamonds.
A quick fact here –
Did You Know: Over 250 tons of rock needs to be x-rayed, blasted and crushed to obtain 1 carat of diamond. Every year more than 120 carats of diamonds are mined but less than a quarter percentage of mined diamonds end up in jewellery stores as fine pieces of jewellery. Can you believe that?
Now, without any further ado, let's get started!
Let's start with the most basic thing – Are Diamonds Natural Or Are They Man Made?
The answer to this question would be quite tricky, because today, anything and everything can be created in a laboratory.
[Also Read: Facts About Diamonds]
Likewise, diamonds can be manufactured and created in laboratories. The laboratory manufactured and created diamonds will have the same chemical composition as that of mined diamonds. The only difference between the two would be that they weren't mined – they were created. Other than that, you wouldn't be able to tell the difference between a lab created diamond and a mined diamond.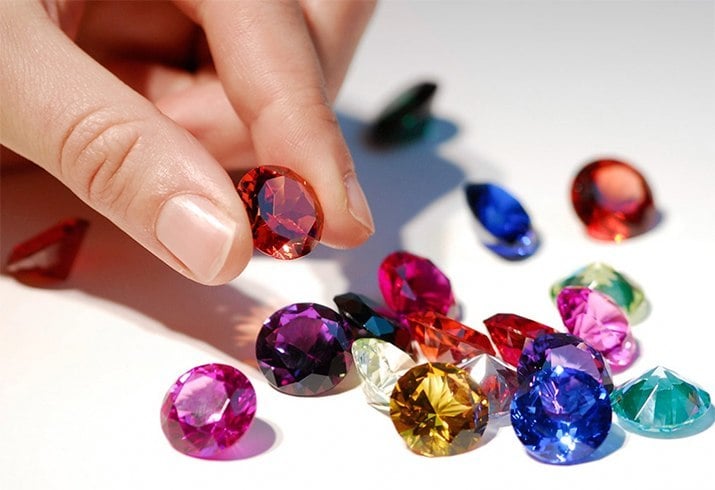 Cubic Zirconia
But be warned ladies, and don't confuse the lab created diamonds with cubic zirconia. Cubic zirconia diamonds just imitate the look and impression of real diamonds and differ from the actual chemical makeup of real, mined diamonds. So they are those diamonds that are purely used in imitation jewellery and such. In other words, cubic zirconia could be called as artificial diamonds.
So, now we basically have three broad categories of diamond
Mined
Lab Manufactured
Artificial
Now that the make of diamonds has been settled, lets move on to better and bigger topics at hand. With the make of diamonds sorted, there must be another question bubbling in your head. Right?
The other obvious question – Are All Diamonds White In Colour?
[Also Read: Top Gemstone Engagement Rings]
Well, the answer to that is – Nope!
Diamonds are not always white in colour. They come in different colours and forms. Diamonds are basically categorised in 5 broad spectrum of colours. They can either be teamed under:
Pink/Red
Blue
Green
Yellow/Orange
Purple/Violet
However, one must know that colourless diamonds are the purest – without any chemical defects – rarest and possibly the most expensive diamonds. Colouration in diamonds happens due to chemical imbalance, chemical defects and nitrogen impurities.
But as the 60's passed and 70's and 80's came into the picture, colourful diamonds became a vogue and started selling like hot cakes.
Imperfections were accepted with open arms and people looked forward to buy and wear something which was imperfect yet so beautiful. This was perhaps a symbolic phase in the history of diamonds. But even then, colourless diamonds remained on top of their game and were and still are the most expensive diamonds.
Let's dwell into their details now? How about we start with the rarest colour of diamonds
1. Pink/Red Diamonds
Pink to red diamonds are one of the pretties and most coveted colours of diamonds. The most alluring and enchanting part about them is that they are red and don't look like rubies at all. They have their own unique charm about them.
Lesser known fact is there are just about 20 to 30 red diamonds which size less than a carat.
History was created in 1980 when a 7.27 pink carat was auctioned for $127,000 and then in 1987, a diamond lover purchased an equally big and bright red diamond for $926,000 per carat.
Can you believe that?
In 2011, the Gemmological Institute of America recorded the biggest red diamond at 5.11 carat.
Let's take a look at the varying intensities of pink to red diamonds. Beautiful, aren't they?
For those who have fallen in love with these red diamonds but will have to save up to buy them, here's a temporary solution 😉 Yep! That's right! Get them tattooed!!
Here's a beautiful engagement ring made in platinum and encrusted in a huge red diamond rock, surrounded by small diamonds on either sides.
Did You Know: A rare purplish-red diamond was sold for a whooping amount of $2.6 USD. The diamonds weighs 2.6 carats and looks like this –
Gorgeous, right?
Well! This is why everyone says:
"Diamonds' Are A Girl's Best Friend."
2. Blue Diamonds
Another variant of naturally coloured diamonds are blue diamonds. Before we discuss the details, let me ask you this – what is the first thing that comes to your mind when we say blue diamond. Is it the beautiful Heart of Ocean diamond that Rose (Kate Winslet) wears in the movie, Titanic?
[Also Read: Most Expensive Engagement Rings]
Let us refresh your memory and show you guys a beautiful picture of Heart of Ocean –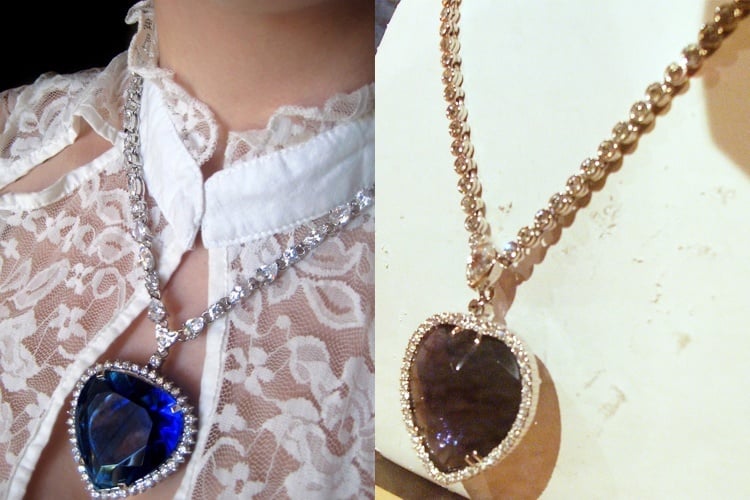 Since the movie was a work of fiction, the huge heart shape rock that was used in the movie was made of cubic zirconia. After the popularity of the movie, makers of Titanic asked Asprey & Garrard to recreate the piece in a lab. Weeks and weeks of hard work later, came the master piece that cost $1.4 Million USD.
Blue diamonds are not as rare as pink and red diamonds but they hold their own special value in the diamond kingdom. They shift ranges from blue to purple and are magnificent. According to a book written by Eden Rachminov, less than one tenth percent of coloured diamonds are blue.
Now can you imagine how rare they are!
Here are varying intensities of blue diamonds –
Lovely, right?
Here's a picture of blue diamonds in different shapes –
Check out this wedding ring made on special request –
3. Green Diamonds
The most important thing to remember while dealing with green diamonds is not to mistake them with emeralds. They are natural diamonds who go through a process of radioactive irradiation. Exposure of naturally white diamonds to the alpha particles in percolating ground can also cause the diamonds to change their colour to green.
Here are different colours and shapes of green diamonds –
Check out this beautiful vintage, Victorian ring –
The big square green diamond surrounded with precious stones. Looks lovely, right?
4. Yellow/Orange
As popular as the yellow and orange diamonds, they are also the most common coloured diamonds available. Yellow diamonds are formed when nitrogen molecules inside the diamond absorb blue light and make them appear yellow. The varying intensity of yellow colour diamonds depends on the concentration of gas that is present during the formation period.
Take a look at the varying intensity of colours of yellow and orange diamonds –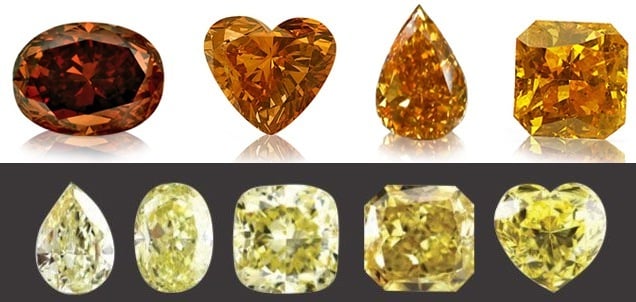 [Also Read: Classy Diamond Engagement Rings]
If you thought yellow jewellery wasn't appealing, then take a look at this –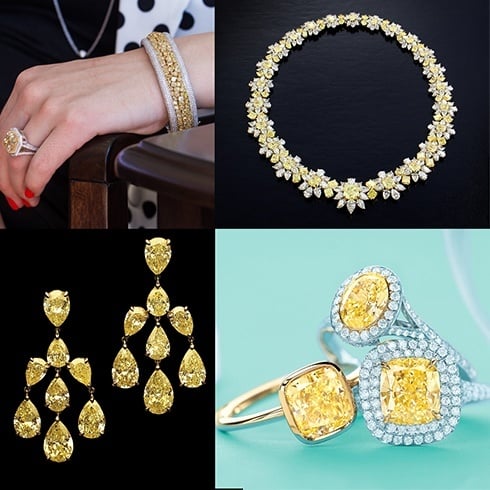 Do you remember this iconic neckpiece worn by Kate Hudson in her famous movie How To Lose A Guy In 10 Days?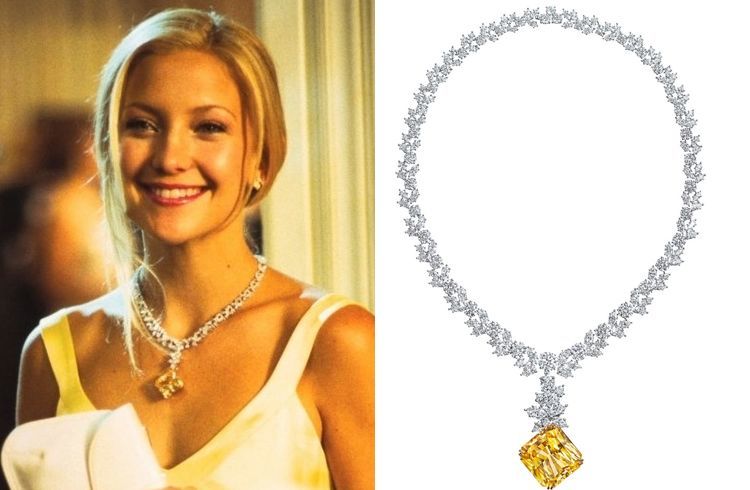 Do you also remember this Sunset Orange neckpiece worn by Blair Waldorf in the fifth season of Gossip Girl?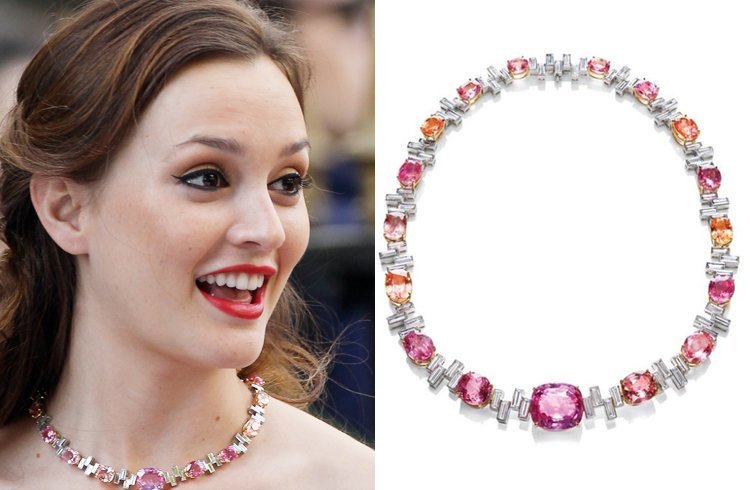 5. Purple/Violet
The last category of coloured diamonds are the purple/violet diamonds. These diamonds enjoy the same romantic appeal as that of pink/red diamonds. However, they are much more sombre in nature. Purple/violet coloured diamonds are discoloured due to the lattice-level deformation. If word on the street is to be believed, purple and violet diamonds are the most recently added diamonds to the list of coloured diamonds and don't have to bring to the table.
Let's take a look at their varying colour patterns.

Here's a gorgeous purple diamond rock set in the cushion setting –
Cuts And Shapes Of Diamonds
Now that the colours of diamonds are sorted, let's move to the various cuts and shapes of diamonds.
[Also Read: Types Of Diamond Cuts]
If I have to rate them in a category or list them up, then we would say that there are about 8 top cuts and shapes of diamond.
1. Round Diamonds
The most common and popular type of diamonds are the round diamonds. About 75% of the diamonds that are sold are cut in round shape. Due to its cut and shape, it reflects the most amount of light and shines the brightest.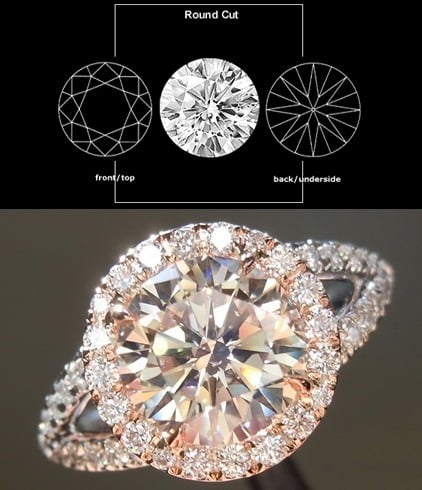 2. Princess Cut Diamonds
Princess cut diamonds came in vogue in the year 1980, ever since they became a popular choice for people who had to confess love and spoil their love with a massive engagement ring.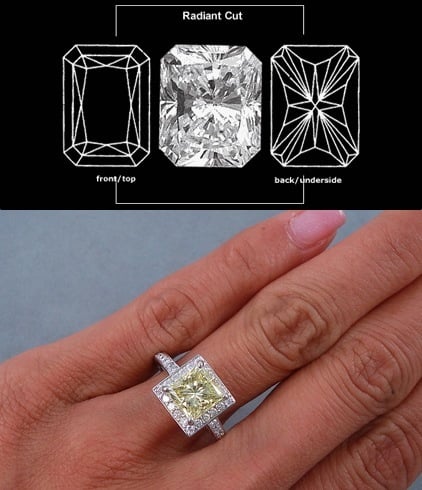 [Also Read: How Do You Want To Wear The Princess Cut Diamond]
3. Oval Diamonds
Oval shaped diamonds are the next choice after diamonds. They are also from the family of brilliant cut diamonds but come in the a more elongated shape.
Blake Lively's engagement ring is a pink coloured oval ring. Absolute gorgeousness!
4. Marquise Diamonds
These marquise diamonds are football shaped brilliant cut diamonds which are long and narrow and mostly give the impression of a bigger diamond. Although they have a bigger surface area, they aren't actually big in size.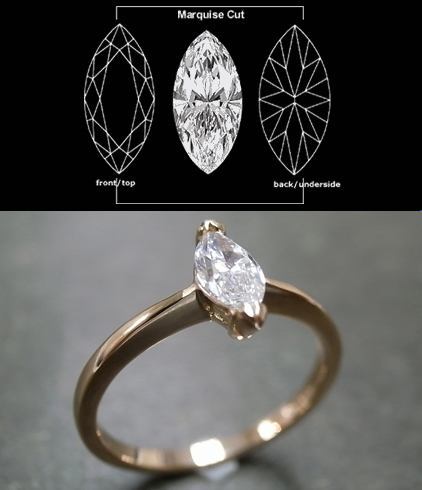 [sc:mediad]
5. Pear Shaped Diamonds
A combination of round and marquise design gave birth to the pear shaped diamond cut. This cut became incredibly famous amongst celebrities and changed the diamond game.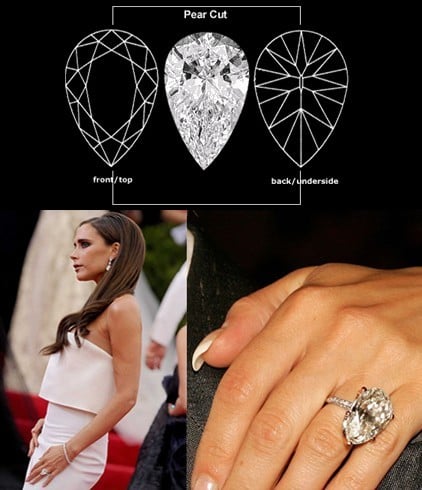 6. Cushion Cut Diamonds
These diamonds are preferred by the royal family. They are square shaped with rounded edges to give them a very soft and graceful look. They have been in fashion for over 200 years and to this date, they are the most popular shape after the round diamond.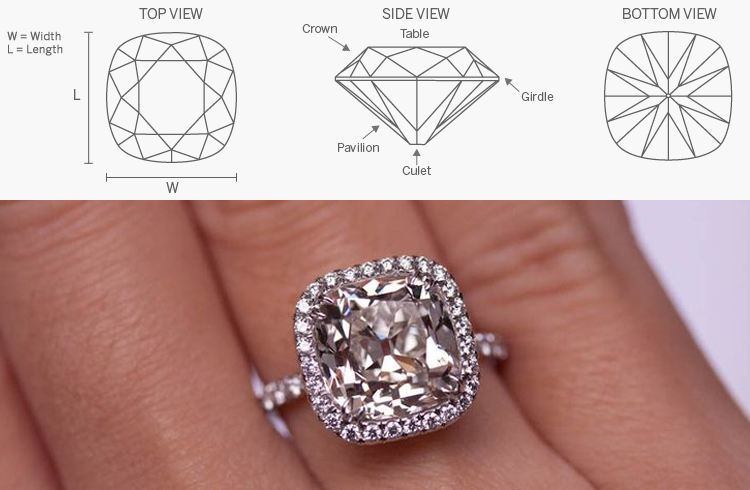 [Also Read: Best Diamond Jewellery Stores In India]
7. Emerald Cut Diamonds
Another royal shape of diamonds are the emerald cut diamonds. This is rectangular with broad and flat ends.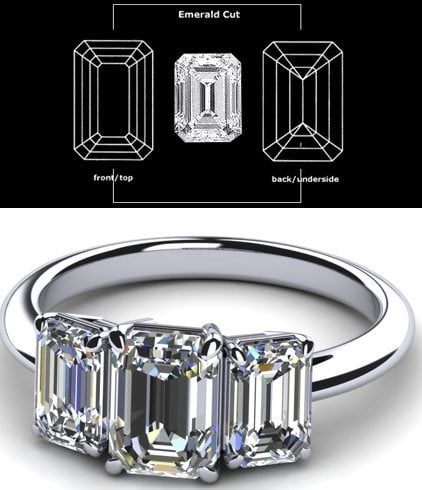 8. Heart Shaped Diamonds
Heart shaped diamonds are symbolic of love and are mostly used to show love and affection to your partner. They come in either in forms of rings or pendants. Do you guys remember? Lady Gaga's beau Taylor Kinney gave her a beautiful heart shaped ring when he went on his knee?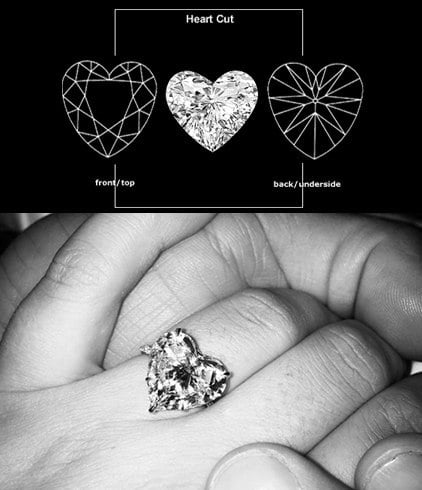 Between the make, the colour and the cuts of diamonds, we think we have said a lot. Now we think you are a bit wiser when it comes to selecting the type of diamond that you would like to own.
We hope you all enjoy reading it as much as we have enjoyed writing it down for you!
Until next time,
Adios!
XX