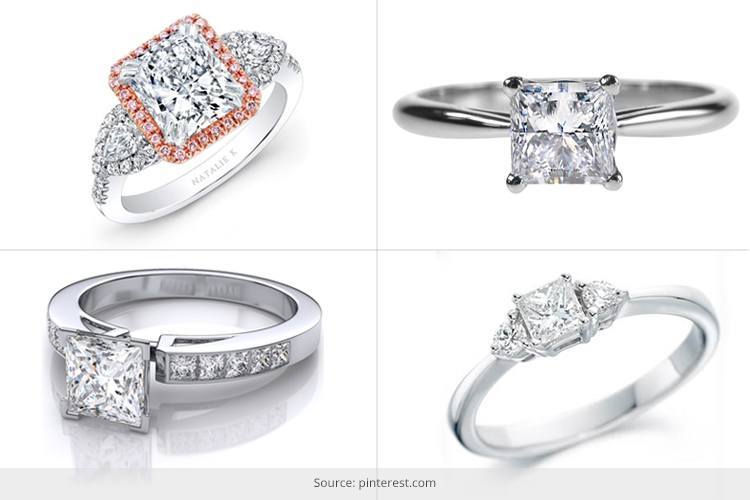 Among a broad range of cuts available in the market when it comes to diamonds, the newest in line is the princess cut which was introduced in the trade of diamonds in the 1960s. The meaning of princess cut diamond is that those diamond pieces which are cut is a squarish, pyramidal-shape. Though the rocks of the traditional engagements rings were basically round, the princess cut has succeeded in bagging some preference for its distinctive look in the recent years. Apparently, boasting an engagement ring that has a princess cut studded in it is certainly a great way of showcasing the stone, but not the only way. However, the preference for wrapping the shape of diamond certainly has much light than wearing it otherwise. To kill the monotonous way of carrying the rock, check out these variations that can make your princess cut diamond really rock.
Here are some princess cut diamond engagement rings
[Also Read: Did You Know These Facts about Diamonds]
Princess Solitaire
There are a number of ways to stud a princess cut diamond in a wedding or engagement ring. A princess cut diamond solitaire may be fixed parallel to the band of the ring. It also creates an impressive look when it is set at a tilted angle to create a diamond shape. The style of the prong also varies from classic Tiffany settings, to cathedral settings. The solitaire may be positioned lower on the ring band with a bezel or tension setting. The metal you chose can create a uniqueness in your diamond as well. Princess cut rocks are mostly set in white gold or platinum. This enhances their sleek and modern look. The use of yellow gold is also gathering popularity. But what will make a real great impression is the use of various metals in the band which will create an interesting design without using different gemstones. Your ring will have a multi-tone effect, breaking the regular white monotone.
Channel Setting
Another widely used setting for the princess cut diamond engagement rings is the channel setting. The stones are fixed into the band of the ring itself and not held above the band with the help of clipping tines. As the rocks are square in shape, a good number of these could be arranged side-by-side without leaving any gaps between them. This would create the illusion of a sparkling array of diamond fire. They make a great piece especially for bridal set wedding. Even Men's band can have this setting, as it would look gorgeous on the machos as well.
[Also Read: Different Types Of Diamond Cuts For Your Hand]
Multiple Stones Designs
Princess cut diamonds engagement rings are also worn with other gem stones for added extravagance. A combination of three rocks are the most popular variation in this context. There are numerous designs in which the ring can be molded. You may use a larger diamond piece surrounded by smaller pieces. Or you can have one diamond in the center tiny rocks studded through the band. All diamond engagement rings are totally customizable. So you may choose to wear the princess cut diamond as the main stone and surround it by other shapes like pear, rectangle or round. A white gold princess cut diamond ring will look fabulous with a collection of smaller stones with the main rock. Various other non-precious or semi-precious stones work as good accents.
Princess Cut Diamond With Other Gemstones
[Also Read: Affordable Engagement Rings On A Budget]
Another great way of giving some distinction to princess cut diamond ring is by using it as the main stone at the center and have colored gemstones around it as accents. Such type of designs uphold the diamond at the center and counterpoise it with other gemstones in an exceptional way. Princess cut diamond ring in gold especially yellow highlighted with other colored rocks like blue topaz, rubies, amethyst and sapphires are gaining more popularity by the day and make for a very 'in' choice for an engagement ring.
The shape of the princess cut diamond is very classy and carries a royal air in itself, hence the name undoubtedly justifies itself. The rock makes for an astonishing engagement ring with its splendor. Whether it is worn as a single-stoned solitaire or studded among a hoard of other gemstones it will never cease to shine with all its brilliance. Available widely at almost all stores across country, they are pretty easy to avail too. Gift a ring with a princess cut diamond to your woman,iIt won't fail to sparkle in her eyes lighting up her beautiful face.