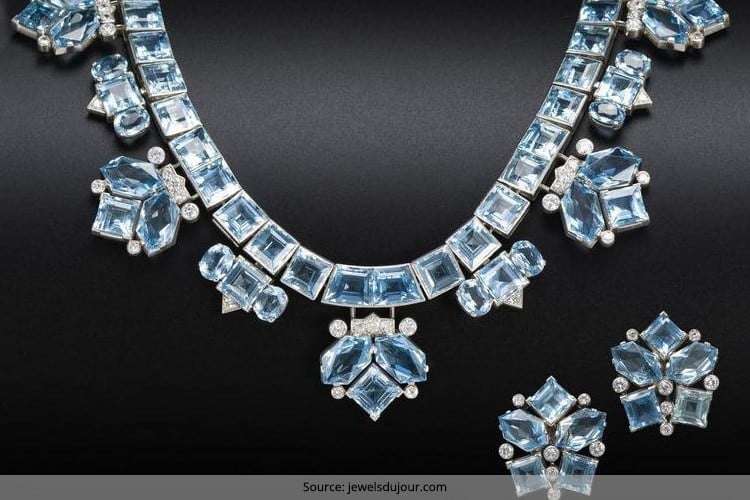 There are many semi-precious stones that are stunning and sparkling. There are many of them that are the first choice of luminaries and aristocrats. How can one miss out on the one that makes you hear the roaring waves of the sea, the one that rivals diamonds in its beauty?
[Also Read: Ivory Jewellery: Excellent Example Of Elegant And Painstaking Craft]
Aquamarine Jewellery is one such popular form of jewellery that is seen in stunning shades of blue and green. A close cousin of the emerald, aquamarine can vary between blue to greenish blue and green blue.
The name Aquamarine of the beryl species came from the Latin word which means seawater or water of the sea. The first word 'aqua' means water and second word 'marina' which means the sea. Which is why, if you were to go through the pages of the past, aquamarine is referred to as a sailor's stone since it was found in the treasure chest which belonged to one of the mermaids.
Aquamarine Jewellery Store – Shopping Tips While Choosing Aquamarine
Whenever you are out shopping for this precious blue green jewellery, make sure you go to a trusted aquamarine jewellery store. Here are some tips in going about doing that.
Look out for a trusted and reputed local dealer. You can also check out online stores. While doing so, check out their market reputation as well. To do that key in "aquamarine engagement rings vintage" on your browser, go on the search tab and then go shopping at top online stores.
Always do a thorough inspection of the various shades of aquamarine that range from bluish green to light turquoise to sea blue. Dark-coloured gems are expensive, whereas those with different shades of green are less valuable, inexpensive and readily available.
[Also Read: Stone Jewellery Designs]
Cross-check with your jeweller whether the aquamarine stone has been treated before. Some jewellery designers use dyeing, coating and heat techniques to up the shine of the stone which reduce the quality and devalue the gem.
Inspect the reflection, cut, clarity and surface of the gems. Since aquamarines are of light pastel colour, they should not be having any flaws. You can use special lenses available at the jeweller in order to examine the edges of the stone.
Ask the jeweller for documentation on the aquamarine gem which should have info about s tone quality, shades, cuts, warranty period and chemical treatments. And yes, overall costs too. It makes better sense to take exact measurements of your finger, neck, arm, or ear before placing the order.
[Also Read: Glass Bead Jewellery]
Aquamarine Features Worth Knowing About
As a transparent blue version of beryl, aquamarine is available in a wide range of colours – pale blue to deep blue with a hint of green. It is said that deeper the colour, the more expensive turns out to be the stone.
The price of Aquamarine Jewellery largely depends on how saturated the color is and how large is the cut.
You will find best quality aquamarines free from inclusions. Those of you who prefer wearing fine jewellery will know that aquamarine stone looks better when exposed to artificial light. This perhaps makes it a good choice for evening events such as dinners.
Aquamarine Earrings
Watch ice-blue Aquamarine slices surrounded by twinkling Diamonds in this Aquamarine Gemstone Slice & Diamond Detail Earrings. Weighing all of 0.81 carats, the Aquamarines are complemented by 18 carat white gold.
[Also Read: Tanzanite Jewellery]
[sc:mediad]
Dress up your ears with this heavenly pair of aquamarine cluster earrings arranged in oval shape. Mounted in 14ct white gold, it's hard to miss out on the diamond in the center of each earring.
Aquamarine Rings
Nothing beats the splendor of diamonds. But nothing surpasses the matchless charm of the pristine sea water aquamarine. It is believed that aquamarine stone protects the wearer against evil spirits and marital discords.
Going by the recent trends, antique aquamarine jewellery is one of the most sought after in precious gemstones. Varying from sky blue, baby blue to even deep ocean blue, aquamarine gemstone holds an iconic timeless appeal. That is why, it is considered by some as the ideal engagement ring.
[Also Read: Astounding Designs Of Filigree Jewellery]
Hope you liked the gorgeous designs we showed you on Aquamarine Jewellery. Drop in a line and tell us the ones your heart desires the most for your girlfriend or wife.