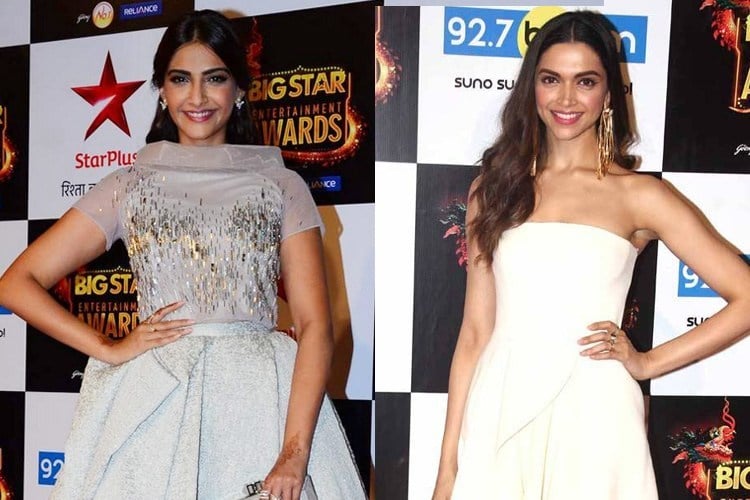 While the world attended the Ambani bash which was held in honour of cricketers Harbhajan Singh and Rohit Sharma, Sonam Kapoor and Deepika Padukone gave those events a miss and had the time of their lives else where.
Between Big Star Entertainment Awards, movie and brand promotions, these two girls blew our mind with their sense of style and fashion.
Sonam Kapoor
Sonam Kapoor opted for organza separates by a Lebanese designer based out of Dubai while at the Big Star Entertainment Awards. Her Rami Al Ali separates made her look stunning and gave her physique a very slender silhouette. For the first time, we totally ignored her arms and gawked at her beautiful figure. Simple hairstyle, magenta pink lips, Judith Lieber clutch and strappy Jimmy Choo finished her look. She looked very good!
Sonam Kapoor gave us a very similar look the other night when she wore a beautiful balloon dress from Ashi couture. To spice up her dress, she added a Chloe crop top and left her hair in soft wavy curls. A thin belt on her waist and matching golden pumps rounded her look. She looked really pretty! If I had a tendency to drool, I would drool for her!
One big take away from both these looks is how you can style yourself. Sonam Kapoor never shied away from opening up to the world and discussing her heavy arms. But she always experimented with looks and looked pretty in all of them!!
Deepika Padukone
Talking about experimenting, Deepika Padukone and her stylist Shaleena Nathani have been experimenting a lot these days. Over the past week Deepika gave us a lot of looks! Few were hits and few were a misses. Let's take a look at what she wore.
At the Big Star Entertainment Awards, where Ms. Padukone walked away with two major awards, she experimented with her look. A little risqué, a little vintage and a little retro comprised her look. She wore separates from Stella McCartney, customised earrings from Valliyan and Christian Louboutins. She looked lovely, to say the least!
Payal Singhal
Another vintage look was when she promoted her movie on the sets of Comedy Nights with Kapil. Pretty saree by Payal Singhal, earrings from Outhouse, a chic up-do and statement ring from Amrapali finished her look.
Didn't she look dazzling?
[sc:mediad]
Marsala
Giving us hopefully the last sighting of Marsala, the color of 2015, was Deepika Padukone in Amritsar for Bajirao Mastani promotions. Outfit by Patine, earrings by the beautiful Ritika Sachdeva and belt by Topshop finished her look. Do you like her hair and makeup? It's done by Daniel Bauer hair and makeup!
Gorgeous Queen
For another round of movie promotions, Deepika Padukone decided that she was going to slay all of us. Outfit by Varun Bahl Couture, lovely earrings by Curio Cottage and Daniel Bauer hair and makeup helped her finish her look. She looked lovely!!
With so many gorgeous looks over the weekend, it was definitely a fashion overload for us! And we honestly can't decide who looked better! It's a tough war!