Each time we hear the pitter patter of the rain, we are filled with unending delight and joy. With rains comes a chance to enjoy snacks, walk in the rain, listen to old melodies (and maybe spicy ones) and bunk office on the pretext of heavy showers and muddied ground. But the monsoon rains are not a good sign for our jewellery ornaments. In fact, the moisture levels and humidity post the rains can affect the metal alloy used in jewellery and spoil their charm and longevity.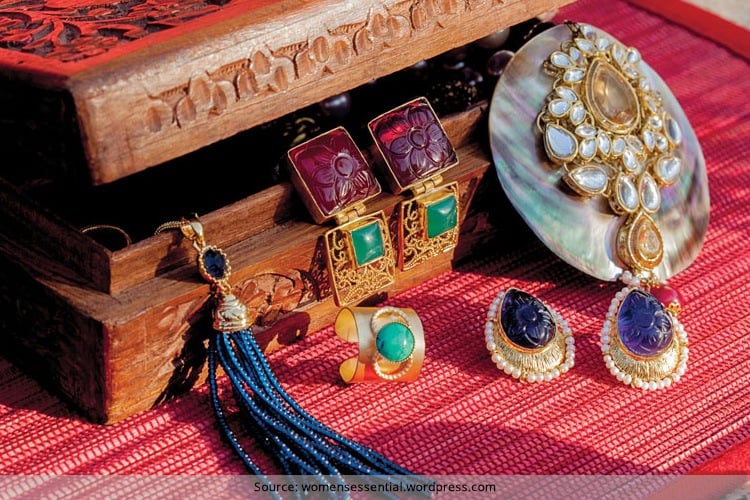 [Also Read: How to Clean Your Gold Jewellery]
But there are ways to keep precious ornaments safe against weather odds. So make note of these handy jewellery care tips and how to protect jewellery in rainy season before you end up cutting a sorry face.
Jewel Care Tips For Monsoon:
Tip 1:
Gold and platinum are counted as neutral metals. It means they need less of care and attention. But gold jewellery is prone to catching dust and dirt quickly when kept in humid environs. So, as a part of jewel care tips for monsoon, use warm soapy water to clean your ornaments.
Tip 2:
Silver is prone to turn black and in the monsoon season it needs extra care to prevent it from corrosion. To clean silver jewelry, one option would be to use toothpaste and soft cotton cloth. The second best option is to take it to a jeweler for a 'silver dip' to help restore its shine.
Tip 3:
When it comes to diamond, ruby, sapphire, or cubic Zirconia, just relax as these jewels don't need that much care. But whenever you smell dirt, rinse them in mild soapy water to get their shine back.
Tip 4:
When it comes to organic jewels such as pearls, coral or amber, then it is better to keep them in a separate box. Remember not to mix them with other gemstones as scratches are inevitable and likely to happen.
Because of their organic nature, gemstones need proper attention and care. Since pearls are delicate, their direct contact with perfumes and sprays might damage them. If you don't take adequate precautions in storing them, they are likely to develop nicks and scratches easily. So, put pearls in soft pouches or plastic wrappers after you have used them in order to protect them from possible frictions.
Cleaning your jewels regularly is a part of jewelry care tips as that will help retain their sparkle for a longer period.
Tip 5:
One of the essential jewellery care tips goes beyond cleaning ornaments during monsoons. If you are a cautious wearer, then try and avoid wearing delicate jewellery in the rainy season. If you still can't resist wearing jewellery due to the functions and invitations you have to attend, then make sure to dry them thoroughly before you keep them back in the jewellery boxes.
[sc:mediad]
Tip 6:
Moisture in air ends up hurting the metals. So, jewellery care means you should keep and store your precious jewels in airtight containers. Keep silica pouches in the containers so that they can absorb excess humidity. This technique gives less oxygen for the metal to react.
Today, there are branded airtight containers and also zip-lock bags wherein you can fold and place your ornaments to keep them from being broken off. This also helps you keep your ornaments in a vacuum environment. Plus, such kind of jewellery storage boxes are ideal in putting your expensive belongings. Precaution is always better than cure, remember?
Tip 7:
When you have a jewelry box with soft interior and hard exterior, then half your job of how to protect jewellery in rainy season is taken care of.
A strong and sturdy jewellery box always provides enough protection to your prized ornaments. The role of a sturdy exterior is to shield against the outer pressure, while a soft interior saves the articles (read ornaments) from being scratched and retaining their original luster. All you have to do is make sure that the jewellery box comes with different sections for keeping a variety of jewellery items.
Do practice the suggestions shared above on jewel care tips in rainy season. And remember to share it with your family and friends in network. Don't forget to tell us how you found them.