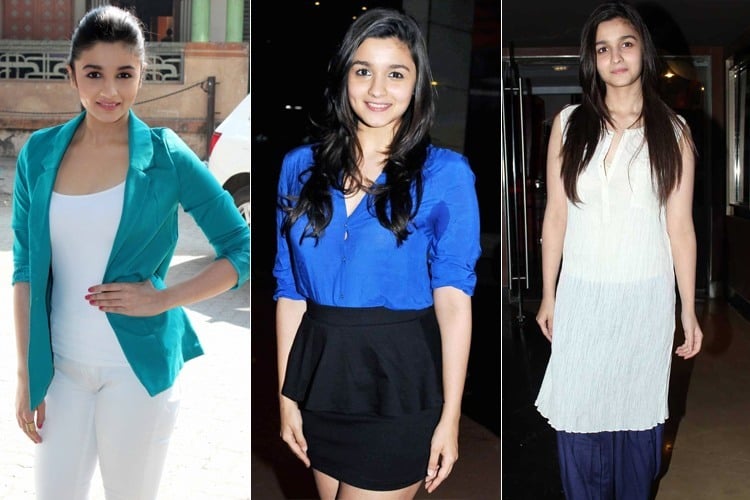 Cute, charming, innocent looking, sassy and with a wild side of her own in good ways, we simply adore Alia Bhatt and the famous Alia Bhatt fashion style doing the rounds. Now if you compare her to the other bevy of beauties in Bollywood or tinsel town, the mode of fashion as seen on Alia is what we call 'effortless'. The Alia Bhatt fashion style speaks of individualism without trying too hard, if you know what we mean. And moreover, the Alia Bhatt fashion style is flaunted by the actress herself, and here are some of her prettiest casual looks for the college-goers to emulate when the new session in college begins.
Try Emulating These Alia Bhatt Style
Talking about Alia Bhatt style, it would be her choice of casual wear that catches the eyes the most. Here are a few looks that you could emulate to look sassy and cool!
Caps And A Singlet
A nice cotton singlet with baseball cap, paired with denims for the bottoms and shoes for the feet. So chic yet casual, you wouldn't be short of praises when spring and summer arrives next year.
Styling The Summer Jacket
Bringing in a little colour to the all-white touch, Alia shows us how to make the summers not a cruel one, but a cool one! Wear this look and your college authorities wouldn't mind you walking around!
Leather Skirts For The Girls Night Out
A sleeveless top and a black leather skirt with ankle boots, Alia looks every bit chic and sassy here. A must-have look for the girls night out when the summer months hit!
Off Shoulders Please
A little quirky with the strappy number beneath the off-shoulder top being shown, Alia wears her denims tight and heels high to venture out!
Breezy Easy
Keep calm and cool wearing a simple tee with boyfriend shorts when the hot summer months arrive. Pair the look with shades for the eyes and sneakers for the feet!
Lace Tops And Black Cuff Pants
A walk to the mall or maybe out with the girls over panipuri and chaat, you couldn't go wrong wearing a lace top in white and black cuff pants. Sneakers or heels for the feet would be awesome to wear with this look!
[sc:mediad]
Lace Tent Dress
Lace tent dresses remind us of the 70s fashion, where women wore short dresses that had literally no hemlines. Seen at an awards show, Alia sports a lace tent dress skirt, pairing the look with a chic neckpiece.
Wear Your Scarf Like Alia
Summers and no scarves, says who? Alia shows us how to wear a simple scarf with skinnies and a plain round necked tee!
Mid-Length Kurtas And Black Tighties
Should there be a special someone calling you out on a date, dressing up for the summer evenings can be a daunting task. Keeping that in mind and your comfort too, wearing a mid-length kurta with tighties like Alia did would be the apt thing to do!
A Tank Dress With Sneakers
A floral tank dress with sneakers for the panache to come through, one of the best of the many Alia Bhatt looks we simply love!
Pink Block Heels And Blue Palazzos
Whoever came up with this style may have been thinking out loud, especially with colour blocking statements. Alia undoubtedly sizzles in the fashion statement made here.
Dhoti Salwar For Alia
If you want to be like Alia or want to know how to be like Alia Bhatt, you have got to embrace the power of all things minimal. As seen, Alia sports no heavy embellishments on her trousseau, but looks super cool in a long dhoti salwar.
Peplums For Alia
Alia looks ravishing in colour blocks. Peplums in blue with a black mini skirt; need more ideas on how to dress for the evening party?
Floral Prints And Stripes
Alia plays and very daringly so with prints and stripes. As seen here, she wears floral printed leggings and a b/w striped tee!
White Dress Pants And A Blue Tee
How cool is that for a summerish evening? One of the best Alia Bhatt fashion tips we get from here, play it like it is your daily fashion mantra!
So now we hope you would be ready to rock the college scene once the new session begins, since we have shown you how to dress in the Alia Bhatt collection. Get groovy and quirky, naughty and sassy, but keep calm and beat the summers in your own fashionable ways!