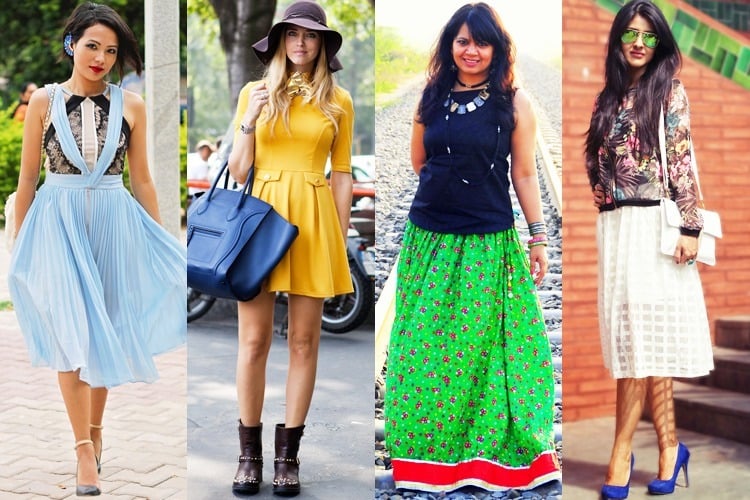 India is very trendy. In fact just like any other fashion cities in the world, there are tons of inspiration walking about on Indian streets every day. Indian street style fashion ideas are aplenty and everyone in the country is dressed very trendy. Here is one country that dresses up trendy day in and day out. We at FashionLady have picked out some great pieces right from the streets of India. Read on to know more on Indian Street Style Fashion.
[Also Read: Fall Winter 2015-2016 Color Trends]
Quirk's in Her Blood
This Delhi girl knows how to accessorize and she mixes her very punk look with some feminine silhouettes. This is an eclectic mix and will actually need a lot of confidence to carry around.
Scarves and Turquoise
When it comes to fashion, Delhi women are mostly front runners like this hoarder of scarves. This woman in the flea market of Delhi loves stocking up on scarves and adores jewelry made in turquoise. Here she is seen rocking both her fashion choices. You can get some street style outfit ideas from her picture below.
Traditionalist, But With a Twist
Meera from Mumbai does not believe in labels and she loves mixing and matching. She can be seen here matching a very bold ethnic design skirt with a simple white crop top. She loves travelling and her love for shopping helps her get some really good deals on tons of stores.
Colourful Chaos
Northeastern people have such a great sartorial sense that it is extremely difficult to point out follies in their dresses. Everything is up to date with the latest trends in fashion and their hair game is way too strong. Take a look at this lady from Dimapur. Very fierce!
Electrified Style
This particular lady has her own culture blog named as Bombay Electric. She is from Delhi and has quite some fashion tricks up her sleeve. Here is seen wearing an ensemble which has a healthy dose of Indian and western styles. It is all about mixing and matching!
[Also Read: Everything You Need to Know About High Street Fashion]
It's All About Some Geometry
This sweet lady from Delhi is rocking some pretty great geometrical prints. Cotton clothes in beautiful abstract and geometrical prints make quite the sight, but it isn't that easy to rock them effortlessly. But this woman surely did!
The Rocker Chic
This is one genre of females that you will regularly find on the streets. They are fierce and exude quite a lot of confidence with their attire. Like this lady who is rocking some boots and an amazing jacket who was seen strutting around in Delhi. She has a strong fashion sense and an innate love for online shopping.
[sc:mediad]
Channeling Some Coachella
Now this is one thing that you will hardly see in India. But with the music festivals like Weekender just around the corner, this genre will spawn and you will see quite a lot of ladies rocking Daisy Dukes and flower crowns. The temporary metallic tattoos haven't quite become that popular, but you will definitely see the Lennon sunglasses!
The Statement That Stole the Show
This particular woman on the streets is actually a model, but we weren't that interested in that. What struck us most about her attire is her quirky sense of fashion and her statement necklace. Now, instead of the usual huge stones and faux gold/silver polishing, she had a completely new thing on her! Check her out and judge for yourself!
[Also Read: Street Styles and Fashion Trends]
Isn't India a great place to find some fashion inspiration? Hope you found some good street fashion ideas for yourself. If you want us to include some Indian street style fashion in this list, please let us know.