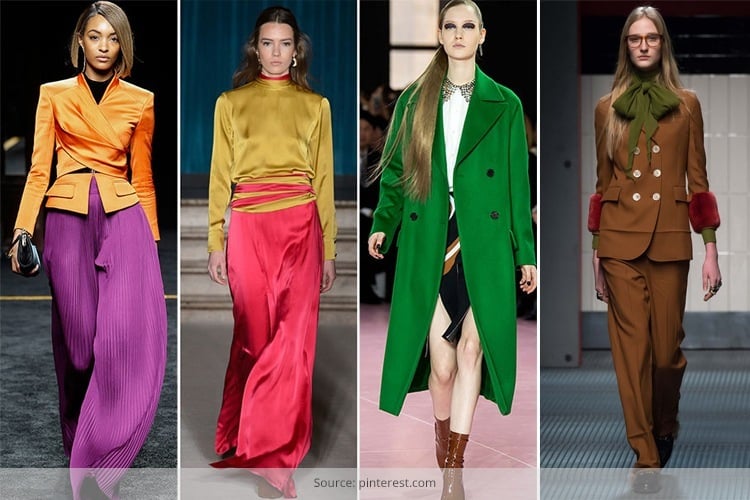 Craziest styles, superb color palettes and magnificent pieces. The Fall Winter 2016 fashion trends are packed with all of this and so much more.
Look back and you will find color trends 2016 dripping with creativity and intriguing presentations. Each designer has been able to bring in imaginative garment creations on a glittering catwalk with plenty of audience sitting in the visitor's gallery.
Whatever be the outcome, let us get a taste of fall winter 2015 color trends
Stormy Weather
This colour, gray and cool, signifies an overcast day. But it's a strong colour that's dependable, calm and perfect for the women in power who like to display their strength from their wardrobe. The rich gray that you see has been spotted on many celebs including Stella McCartney, Nicole Miller and others.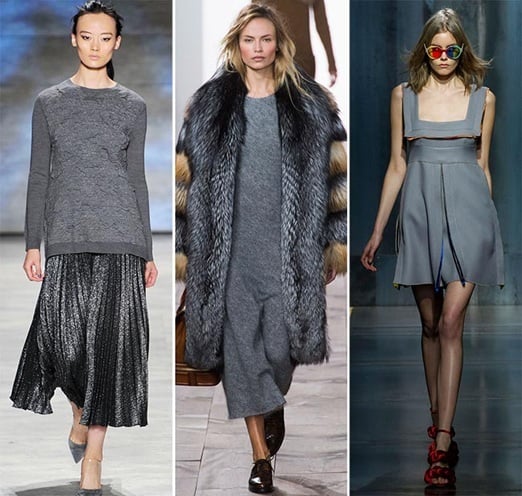 Dried Herb
The olive green colour might remind you of the garments worn by the military and the Khaki worn while going to the hills and mountains, but in the form of Dried Herb it is making a statement as a part of the fall winter 2015 color trends.
Earthy and grounded, this sophisticated color is a fashion staple for runways of New York, London, Paris to Milan and brings a cool impression to any garment.
Take for instance, Elie Saab who has captured this coloured beautifully well in his long sleeved mini dress. Rouland Mouret has used dried herb on panelled skirts to bomber jackets.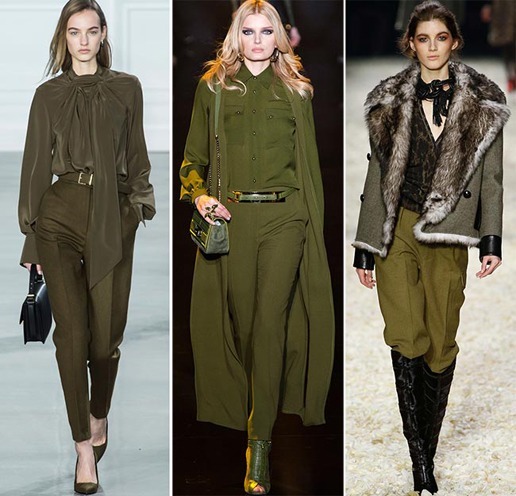 Biscay Bay
The teal hue of Biscay Bay exudes beautiful cool touch in the fall and winter pieces of Fall/ Winter 2015-2016 Color Trends. With a slight presence of green and the blue hues, the confidence of wearing floral prints with a sea background can be salivating.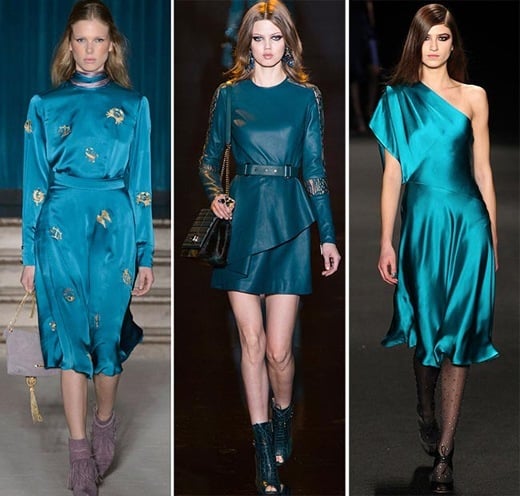 Cashmere Rose
Roses have been so much an integral part of fall winter 2015 color trends that it holds a touch of divine and posh looking. The soft pink colour is an absolute miss-not. Chanel is one fashion designer who has utilised cashmere rose to the best way possible, in the midi dress and pink colored Chanel shoes. From jackets to mini-skirts, and gloves to even waist corset, cashmere rose has reasonably impressed Dolce and Gabbana and many more in their collection.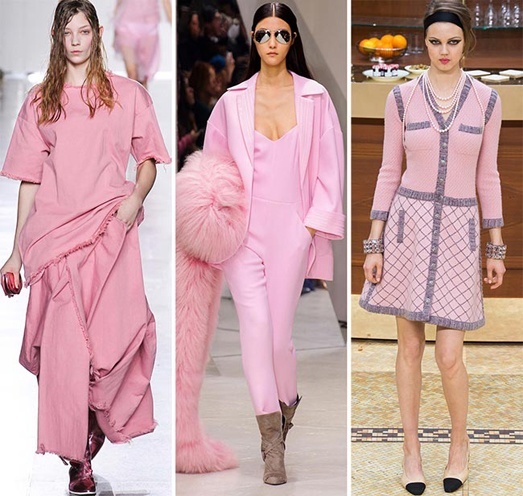 Reflecting Pond
Prove your fashion one-upmanship by going for darker blues. It's a fancy part of fashion trend 2016 that is quite alluring. Imagine a clear pond with dark blue waters which offers laudable sophistication when used more on pantsuit. Nina Ricci has happily adopted this colour into her pantsuits and fringes coats. So have Marc Jacobs and Chanel.
[sc:mediad]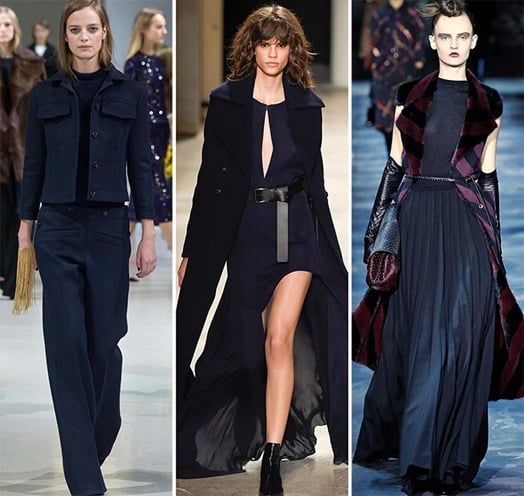 Oak Buff
When was the last time you experienced sunshine making its way out of a fierce storm? The Oak Buff is yet another fashion trends from Fall/Winter 2015-2016 that's mellow and comforting – the one that inspires positive emotions and cheer. John Galliano has taken darker shades of the Oak Buff and converted it into skirts, blazers, dresses and coats.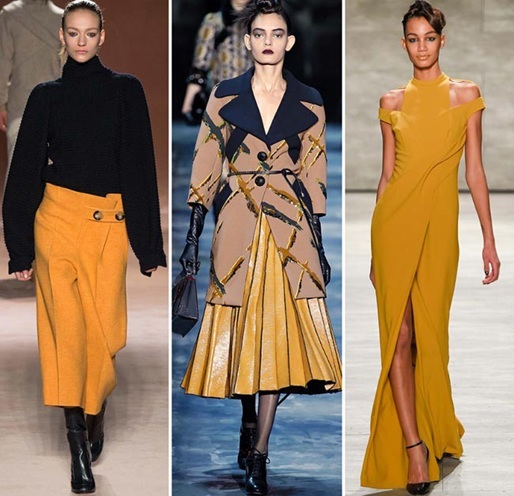 Marsala
Appointed as the Pantone Colour of the year 2015, the wine colored Marsala needs no introduction. This earthy red-brown colour has an unusual flair for drama which shows in the costumes as a part of spring summer 2015 fashion trends. Marsala is all about sophistication, texture, and matte finish. It is also about glamour and luxury, which is why it appeared in the fall 2015 collections of prestigious labels such as Tommy Hilfiger, Zimmermann, Nicholas K and more.
[Also Read: How to wear Dark Berry Colors this Fall]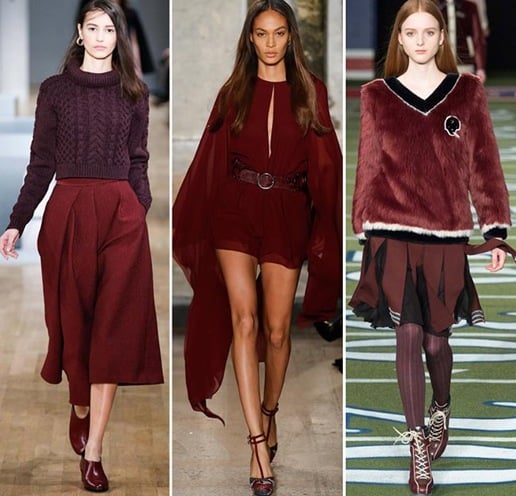 Cadmium Orange
The trendiest of fall winter 2015 color trends, Cadmium Orange has a dynamic sense of optimism to it that would smile back on you. It is a playful colour wrapped in fun and fantasy that's appealing and gentle to the eye. That is why designers such as Marc Jacobs, Louis Vuitton and Balmain have pursued this colour in their garments. Celine has picked this interesting color for the handbags and garments.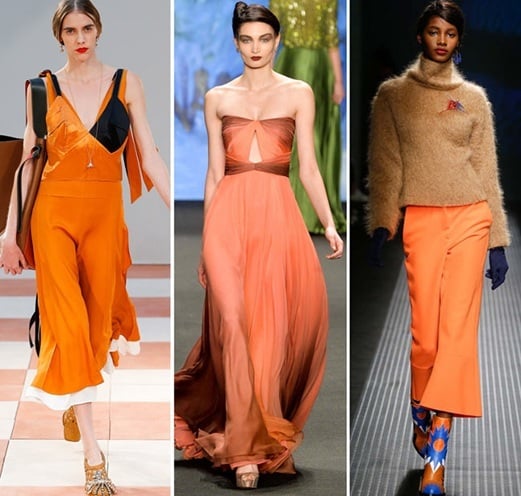 Desert Sage
When green and gray come together, what evolves is Desert Sage. It is the best neutral colour available as a part of Fall/ Winter 2015-2016 Color Trends which is pure and meant for the discerning. See the Desert Sage jacket worn by the model below teamed up with leather miniskirt and round neck black top as she walks for the Saint Laurent runway show.
[Also Read: New York Fashion Week 2016]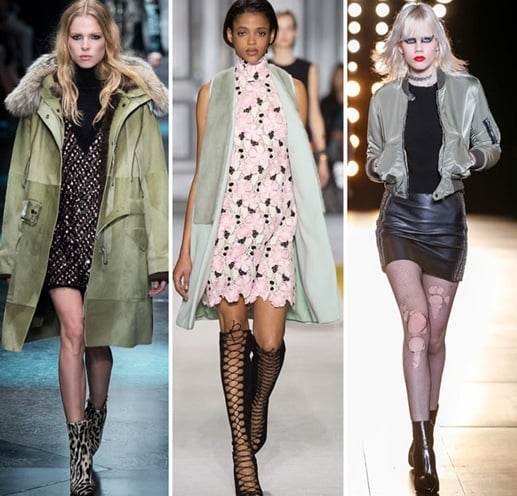 Amethyst Orchid
The lovely and feminine Amethyst is not only reserved for jewellery, it is shaping up as awesomely sophisticated color trends 2016. This intriguing colour has shades of sensuality in it which dare not be missed at the Fashion Week runways. Creative and exciting, Amethyst Orchid is showing its impact on skirts, dresses, shawls and even boots.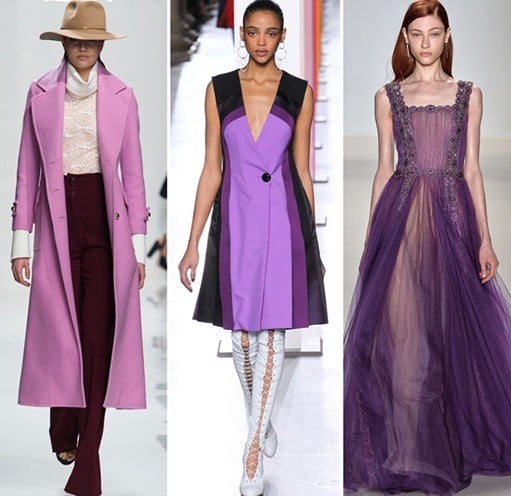 Metallic Silver
This is a futuristic colour that has been included in the Louis Vuitton fall/winter 2015-2016 collection on the Paris Fashion Week runway. You can't miss the silver shimmer on peacoats that glittered with every step taken on Saint Laurent fashion show a couple of months back.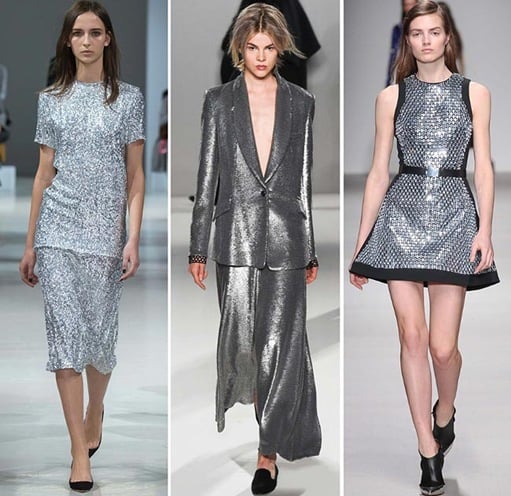 Black
How can one forget the timeless black which is a constant trend at the runway and Fall/ Winter 2015-2016 Color Trends. Apart from Dolce & Gabbana and Tommy Hilfiger fashion houses, Louis Vuitton label can be traced in black and white leather pieces to satin.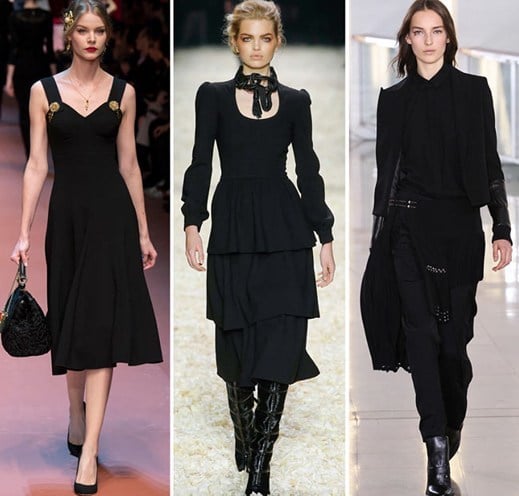 Red
Now this is one colour that can never be dull and boring. Which is why, its one reason why fashion labels such as Alexander McQueen, Saint Laurent, Dolce & Gabbana and Versace have used it extensively in their stunning collections of Fall/ Winter 2015-2016 Color Trends.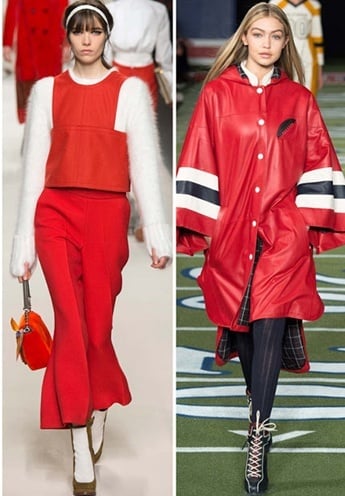 Now it's all on you as to which of the Fall/ Winter 2015-2016 Color Trends and shades you would like to paint your new season wardrobes in! Share with us the fall winter 2015 color trends that are on your wish list!