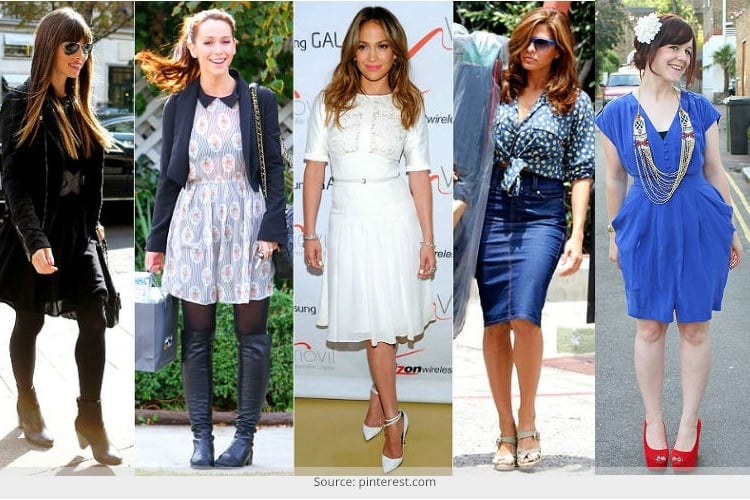 Getting a slim well-toned butt like supermodels is nothing less than a dream come true to most of us. And if you are one of those girls who are born with a wide hip structure, you have no choice rather than covering it up with right colored clothes for achieving a slimming effect. So, want to know about the best color choices to wear for your wide hips? Read on below:
What To Wear If You Have Wide Hips – Basic Color Rules
When you have the basic idea of how to play with colors for accentuating your best features and downplaying your large wide hips, you become a winner. Yes, quite effortlessly! So, let's start with the basic color rules that you need to be acquainted with before picking your clothes:
Shop your tops, bottoms, accessories and other outfit combos as per your preferred 'color complements'. These are basically colors that lie on opposite directions on the standard color wheel. You can try out complimenting shades for your outerwear and accessories to camouflage your trouble areas.
If you choose colors in synch with your natural skin tone, you will be able to shift the focal point from your wide hips to your attractive torso. So, go for what compliments your actual complexion.
You can always rely on your favorite color palette for the upper part of your body. It is even better to stick to a light and fresh spring or summer hue to put emphasis on your torso.
Once you put a light feminine color on your upper body, it acts as an amazing background for all other clothes and gives your outfit a visually stimulating twist.
Now, here are the color options that you can explore in terms of your clothes, shoes and accessories, if you have comparatively wider hips. Check out clothes to flatter wide hips:
[Also Read: clothing colors for pale skin]
Upper Wear
When it comes to putting a broader bum area out of sight, the most important task becomes to highlight the upper section of the body. For this, you have to pick light and bright colors, which can easily bring the eyes up. Nothing can be more playful than showing off your 'hot spots' with plain bold hues. Want to add some more spice to your look? Go for lots of detailing or large eye-catching prints.
Bottom Wear
The color of your bottom wear should always be in contrast with that of your upper wear. So if you are dying to give your hips a visually slimming effect, find bottoms in dark colors like black, chocolate brown, grey, dark purple, taupe, navy blue, indigo blue, olive green, and so on. No matter whether you are wearing shorts or skirts, solid dark colors can de-emphasize your hips and make them look more elegant. For jeans, try to stick to dark washes instead of choosing light or medium washes.
[Also Read: Fashion Tips for Wide Hips]
Dresses For Big Hips
If you are planning to wear one-piece clothes like 'A'-line dresses, jumpsuits or rompers, go for them after considering the colors properly. Such single piece dresses can downplay your bigger booty and define your beautiful curves only when you select them in solid dark or medium-dark shades. Large prints and patterns on them can also create an illusion of longer slimmer legs.
[sc:mediad]
Outerwear
The colors of your outerwear play crucial roles in hiding the wideness of your hips. If you wear a coat, make sure that it is dark enough in color and flows away starting from the waist. On the other hand, the colors of your blazers or shrugs should always be in your color palette so that they can go well with your tops or blouses and give you an interesting look.
Belt
A belt is the most useful accessory that one needs to make her hips look narrower. You can choose the size and width of the belt as per the proportions of your figure. But it is recommended that you stick to light tan, bone colors or neutral colors most of the time.
Scarf
Another trendy accessory that we simply can't miss is a scarf. There is no other clothing item, which can highlight the upper half of our body so brilliantly like a cool silk scarf. But you must drape something very colorful and vibrant so that all the attention goes away from your hips easily. There are different ways to ways scarves.
Shoe
Finally, pick the color of your shoes wisely as it can make or break your look. As you are trying to downplay your big booty, it will be better to find bright, multicolored shoes to complement your clothes. You can also go one or two shades darker than the original color of your legs so that the shoes match the entire outfit perfectly without making your hips look wider.
Got enough color inspiration for camouflaging your wide hips? Just gear up to try them out, ladies! You will never look the same again, we bet!
Hope this article on what to wear if you have wide hips is helpful.