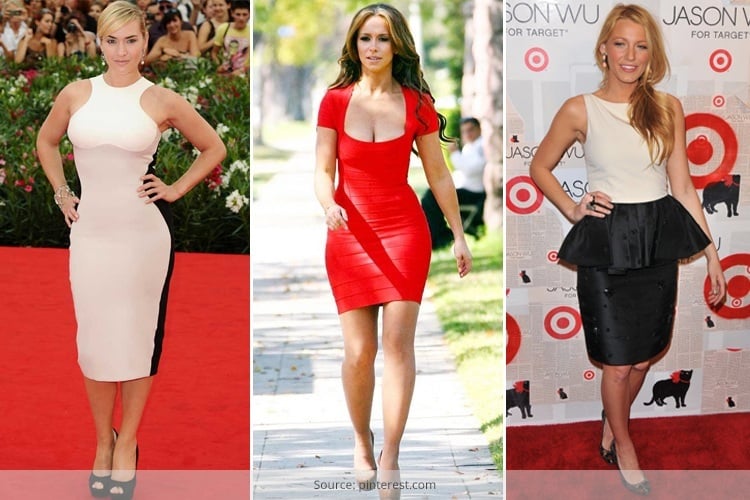 Large wide hips are absolutely sexy if they are in balance with rest of your body. But if they are not, you must always have something up in your sleeve to make them look smaller and more stylish. So, what to and what not wear if you have a comparatively broader bum area? We tell you some fashion tips for wide hips, right here:
How To Dress When You Have Big Hips
Yes, you can give your big bum a style makeover and make it look narrow. For that, you need to know about some wardrobe must-haves and follow few simple shortcuts.
Here we go on fashion tips for wide hips:
Simple Tunic
A simple humble tunic with proper fit can bring balance to your outline perfectly. It typically flares out in the direction of the hemline, which makes room for the wider hips the right way. A long tunic that reaches the end of your bum area is the best for this purpose.
[Also Read: Dresses To Hide Tummy ]
Shoulder Pads
You can create an illusion of wider shoulders by choosing tops or dresses with shoulder pads in order to balance out your broad hip structure. We girls by and large do not possess a large square torso, which eventually accentuates our feminine contour. But, an extra layer of padding at the shoulders of the tops can make you look a little square so that your hips do not get all the unnecessary attention.
[sc:mediad]
Empire-Cut Waistline
Be it long tops or sexy dresses, an empire-waist is what makes them flattering choices for women with wide hips. An empire cut basically refers to a cut falling right under the chest area, which allows the rest of the fabric to cover the tummy and the hips in a flowy manner. It's no wonder that such attires are absolutely perfect for creating some graceful curves, while concealing the trouble areas like wide hips and bulging belly.
A-Line Garments
Another great way to camouflage the broad bum area is to put on 'A'-line dresses or skirts. Most of these outfits fall right underneath the knees, thereby giving us flirty natural curves. You can also select 'A-'-line garments with plunging necklines that will flare away from your trouble area i.e. hips whiling make your upper body look attractive.
Wrap Around Clothes
If you are struggling hard to hide your broad hips, wrap dresses and skirts can turn out to be your best friends. But make sure that you choose the right one, which can hide the wideness of your bottom from view the most feminine way. For this, you have to find something that comes with a flared or pencil-cut bottom and gives your bust as well as torso a snug fit.
[Also Read: Fashion Tips for Apple Shaped Body]
Wide Straight Bottom-wear
It is important that you opt for pants or trousers with straight cut and wide legs. They should also come with considerably high waistline and flat front. All these features will give your hips, along with your legs a slimmer linear appearance that you are desperately looking for.
Some Amazing Tricks to Apply To Help Choose Clothes For Big Hips:
Let's check out some time-honoured and wonderfully effective dress-up tricks that can draw focus away from your large booty:
Pick your fabrics wisely. They should not be stiff or bulky. Rather, they should sit on the hips in a relaxed manner.
Wear light or bright colored upper wear with lots of detailing like ruffles, embroidered or embellished necklines, patterns, etc. so that your hips do not get much attention.
Choose clothes in contrasting shades for the bottom half of your body. Dark colors like black, grey, indigo blue, navy blue, taupe, chocolate brown, etc. are always preferred for creating a slimmer silhouette.
Wear tops or blouses that are mid-hip long or even longer in order to give an illusion of smaller hips.
For outerwear like jackets, coats, etc., find ones which are slim-cut end above your knees.
How Not To Dress When You Have Big Hips
Now, here is a list of what to avoid for driving attention away from your wide hips and streamlining your shape beautifully:
[Also Read: What Not to Wear If You Are Pear Shaped]
Do not put on very heavy and super tight fabrics. These will highlight your wide booty instead of creating a size-reducing effect.
Though right fit is necessary, stay away from form-fitting or skin-tight dresses at all costs.
Oversized or baggy clothes are definitely not for wide-hipped girls.
There are certain types of clothes like baby doll blouses, tulip tops, short jackets, and so on, which are not suitable for females with a large bum.
Avoid low-waist pants or trousers as they are the biggest enemies of a wide hip.
Skinny, light-coloured jeans are also a big no-no for women with large booty. Even wearing capri pants can also put emphasis on the flaws of your lower body.
Steer clear of pants or trousers with wide cuts as they may accentuate the width of your booty.
Say 'no' to pleats, details, flowers, patch pockets, geometric patterns, embellishments, etc. on the bottom wear.
[Also Read: Can Short Girls Wear Cropped Pants]
So, this was all that you need to look 'hip' with 'wide hips'. Keep these dos and don'ts in your mind and go fashionably bootilicious!
Hope this article on fashion tips for wide hips was helpful.