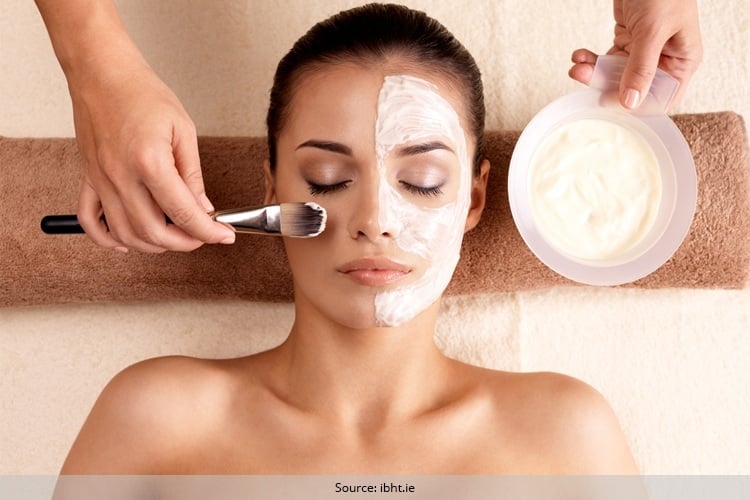 The nutritional benefit of yogurt as a digestive aid and powerhouse of vitamins and minerals needs no testimony. However, while browsing through a fashion magazine, I stumbled upon an article defining benefits of various yogurt face masks. It was surprisingly pleasant to know that this wonder ingredient is suitable for any and every skin ailment with no side effects. Additionally, it blends well with almost any kitchen ingredient to give you incredible results. Compiled below are some of the simplest yogurt face masks recipes with items from your kitchen and fridge that is guaranteed to make you look gorgeous like never before:-
Let's get started with yogurt face masks recipes
1. Yogurt and Honey Face Mask
Ingredients:
Method: Mix yogurt with honey to prepare a healing and rejuvenating mask. Yogurt contains alpha hydroxy acid which helps dissolve dead-skin cells while honey nourishes the skin and tightens pores. This yogurt face pack works as a wonderful cleanser, moisturizer, skin-brightener and scar remover. For best results apply thrice in a week.
2. Yogurt Face Mask with Rose and Honey
Ingredients:
[Also Read: Natural Night Face Packs]
Method: Take about 6-7 fresh crushed rose petals in a bowl and mixed well with yogurt, honey and some rosewater to form a smooth paste. Apply it on a clean face and leave it to dry. Wash off the face mask with lukewarm water after about 10-15 minutes.
Ideal for all skin types, this rose and curd face pack works as an excellent moisturizer. Reveal bright, radiant and youthful skin with this homemade DIY mask.
3. Anti-Acne Yogurt and Oatmeal Face Mask
Ingredients:
Method: In combination with honey and oatmeal, this homemade face mask with yogurt is an excellent rejuvenator which not only prevents and removes acne and blackheads but also cleans and moisturizes skin. It is also a terrific anti-wrinkle pack especially for dry skin.
[Also Read: Egg White Mask]
[Also Read: Yogurt for Rash Around Mouth ]
4. Yogurt and Strawberry Face Mask
Ingredients:
Ripe strawberries
Honey
Yogurt
Method: To well – mashed ripe strawberries add honey and yogurt. Blend the ingredients together and apply a thick and even coating of this paste to your face. Once the face pack preparation dries-off, gently scrub it in circular motions and wash off. This face mask is an excellent cleanser and skin-brightener, apply it regularly for visibly fairer complexion in few days' time.
[Also Read: Homemade Chocolate Face Packs]
5. Yogurt Face Mask for Dry, Flaky Skin
Ingredients:
½ Avocado
2 Tbsp. Yogurt
½ Tsp. Olive Oil
Method: Mix avocado, yogurt and olive oil together. This yogurt face mask is a terrific panacea for dry and flaky skin. The healthy fat content of avocado and rich vitamin E content of both avocado and olive oil with therapeutic properties of yogurt renders the driest of skin to go soft and supple. Blend in all the ingredients together and apply a thick and even coating all over your face and neck. Wash off with cold water once the pack dries off.
6. Yogurt and Butter Face Mask for Sensitive Skin
It may sound surprising but a yogurt face mask prepared by mixing softened butter and powdered oats could have miraculous skin benefits. It provides a spa-like feel to sensitive skin sans any side-effects. Using it once a week provides spectacular results.
[sc:mediad]
7. Yogurt, Banana and Orange Juice Face Pack
Ingredients:
Banana
Yogurt
Orange Juice
Method: Banana is often called as a natural Botox. Adding yogurt and orange juice to it fortifies its anti-aging and wrinkle fighting properties. To one ripe mashed banana, about 1tbsp of yogurt and adequate orange juice is added to make a spreadable smooth paste which is applied well with fingers on a clean face. A second coat is applied after 3-4 minutes to form a thick even face mask. Once dried, wash it well with cold water, after about 15-20 minutes. Use this recipe once or twice a week to surprise everyone with a visibly younger, supple and radiant look.
8. Yogurt and Cucumber Face Pack
The nutrient loaded astringent properties of cucumber, when combined with exfoliating and soothing properties of yogurt creates a wonderful face pack to take care of almost all skin ailments and leave a skin sparkling with freshness and purity.
[Also Read: Benefits Of Pumpkin Face Mask]
Ingredients:
Cucumber pieces
Potato Starch
Gram Flour
Lemon Essential Oil (Optional)
Method: Slices of about half a cucumber is blended well in a mixer and poured into a bowl. Potato starch or gram flour can be added to provide facemask like consistency. For oily and acne prone skin, few drops of lemon essential oil can also be added to it. It should be regularly used once or twice a week.
9. Yogurt and Almond Face Pack
Ingredient:
Honey
Yogurt
2 Tbsp. Finely ground almonds
½ Tsp. Lemon Juice
Milk
Method: To the basic honey and yogurt face mask, 2tbsp of finely ground almonds and ½tsp of lemon juice is mixed well. This is a wonderful scrub as well as serves as a face pack. Once the preparation dries on the face, scrub it gently with some milk and then wash off. See an instant difference in skin tone!
[Also Read: Bentonite Clay Mask]
10. Yogurt, Honey and Turmeric Face Pack
Ingredients:
Most skin care tips appreciate turmeric powder for its anti-inflammatory, anti-aging and skin brightening properties. The curd face pack of yogurt, turmeric and honey is considered a facial nirvana to resolve all skin issues and prevent acne, even tighten skin to ease-out wrinkles.
[Also Read: DIY Face Masks]
Let us know, which of these amazing homemade face masks with yogurt, did you try. Did you love any of the face masks mentioned above? Did you see a noticeable difference in skin with these effective remedies?