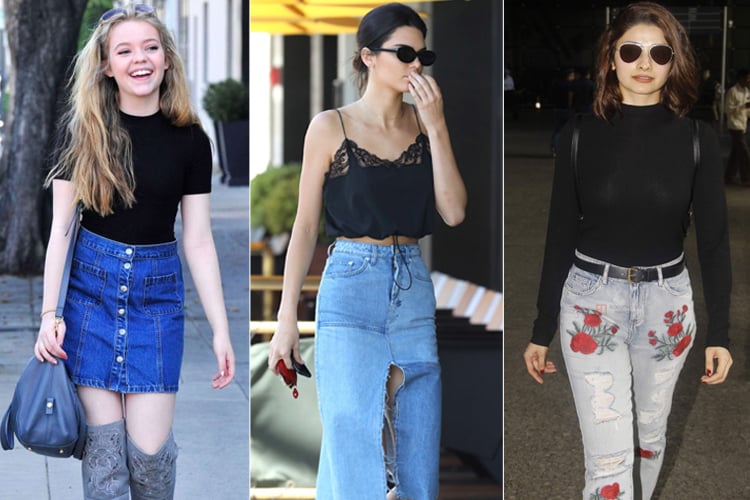 Think about it- we literally have been wearing he good old denim for years. All the more, designers have become most experimental with either ripping or embellishing them all over. Well, it definitely does not hurt to try something new for May all the way to Fall. To get you some clearer thoughts, we have picked the denim styles that are everywhere and worth trying out in 2017.
Ripped Denims
There are certain denim trends that are still going strong. One of the styles include the ripped jeans. Who better to get a cue from than stars who show how to flaunt this cold knee trend. Whether you opt for a floaty top, trainers or even heels, let these celebrities inspire your take on ripped jeans.
Deepika Padukone
Actress Deepika Padukone, upon her return to India from Met Gala, 2017 was spotted at the airport with a simple white tank top and ripped denim. When it comes to denim, the actress knows how to play her cards right. Her twist of putting on a military green jacket took her look to the next level.
[Also Read: Deepika Padukone]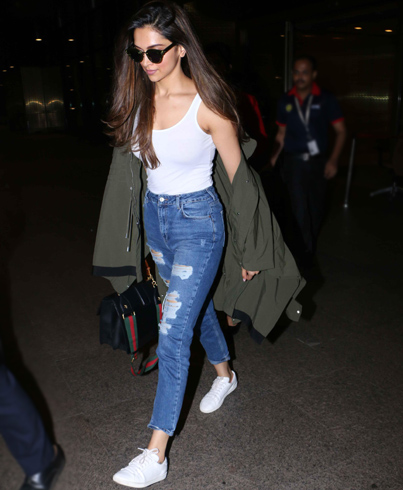 Neelam Gill
At a recent event in London, model Neelam Gill was seen teaming up in an oversized tee, ripped skinny jeans and white trainers. Her bold statement printed tee balanced off well with the ripped denim. She strapped on a mini-bag which is another trend for this season. This look is young, effortless and totally cool. Does it sound like you?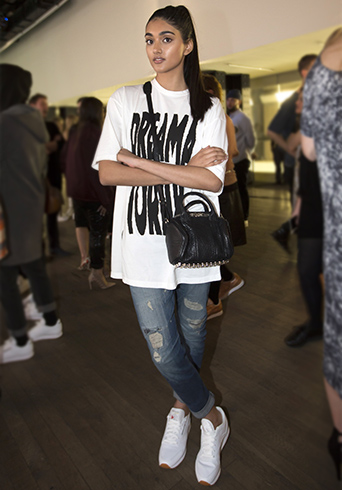 Kiara Advani
Newbie actress Kiara Advani was seen sporting a high-waisted ripped denim with a fringe jacket and a white tank top. She teamed the look with peep-toe wedge heels.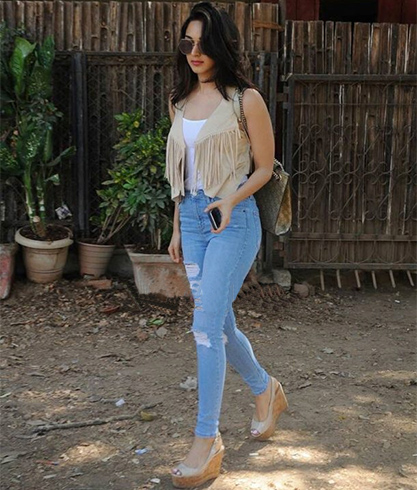 Fringed Denims
Fringed denim, also known as raw hem denim are trending and so right for the season. The bottom of the denim is frayed and looks undone. The messy part is the whole charm. Fringed denim can come in different designs- flares, skinny and cropped. There is a perfect fit for everyone. You can slip on sneakers, chunky, mules and look stylish all the way.
Here are few inspirational take-on of fringed denim.
Gigi Hadid
Model Gigi Hadi threw her own spin of looking fab in hem denim. She wore her cropped fringed hem denim with a turquoise Marc Jacobs MTV sweatshirt. Adding to her look was her 90s sunglasses by Roberi & Fraud. "I love these sunglasses, she exclaimed, so cute and tiny- I am beginning to get tired of all oversized sunnies we have been sporting for the last few years." Said in true Hadid style!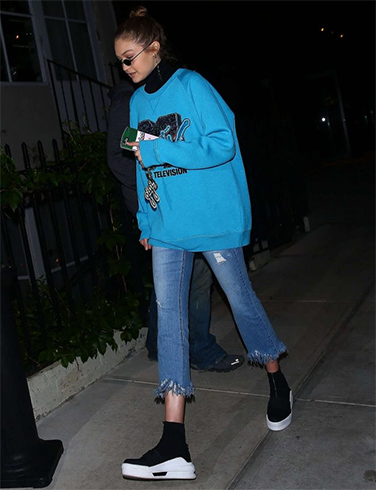 Neha Dhupia
Actress Neha Dhupia kept it casual in a white long tunic, blue jacket, and frayed denim to match. Her white sneakers completed the look.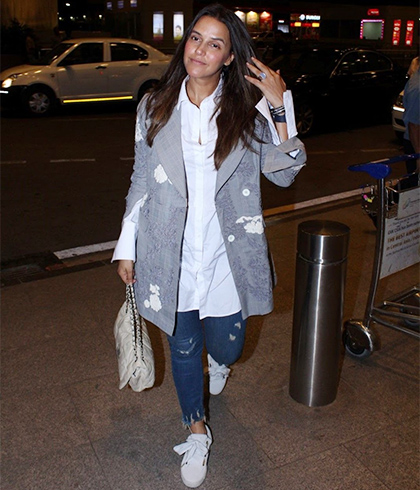 Embellished Denims
Prachi Desai
Actress Prachi Desai was spotted in ONLY rose embroidered ripped jeans teamed with a black top. Love her look!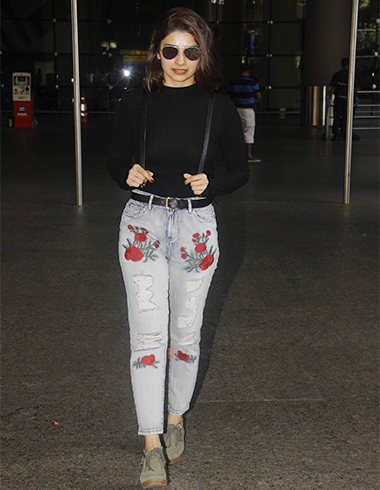 Florence Welch
Songstress Florence Welch has the perfect pair of Gucci embellished denim jeans with flower appliqués worked up. You can also channel her denim moment effortlessly with a slouchy top and leather clogs. Carry off this look to an upcoming concert or for brunch.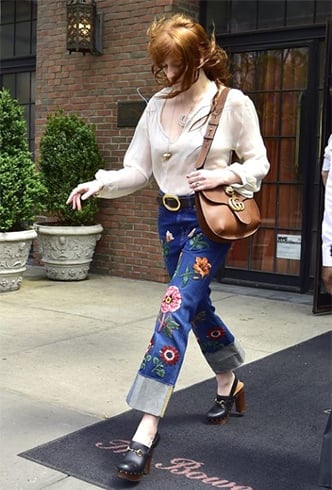 Denim Skirts
Denim Skirts were a big trend last season and it is no less this year. If you are unsure of how to make it work, then look how these celebrities have worn their button-down styles in all different ways. The ultimate trick is to keep it ultra simple and allow the skirt to make its own statement. From button-downs paired with plain white t-shirts to ankle boots, here are few ways to wear your denim skirts this season.
[sc:mediad]
Jade Pettyjohn
Teen actress Jade Pettyjohn looks pleasant in her version of a denim skirt and polo necked black tops. If you want to try her version of denim style, then you can skip the knee length boots and go for a pair of sandals or sneakers.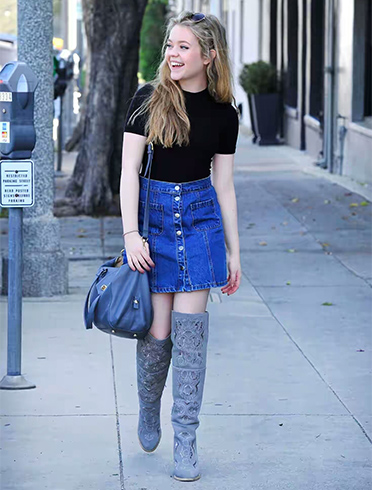 Kendall Jenner
Kendall Jenner's denim skirt is a refreshing alternative to denim shorts. It's below the knee modest length version is so right for summer and even beyond. The frayed front slit is a smart way to flash a little skin but yet it is tasteful. She paired it off with Alexander Wang tank top with a lacy embroidery neckline and slip-on suede finished boots. This makes for an ideal summer outfit.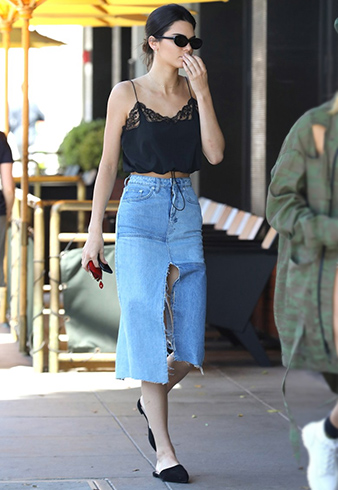 Bella Hadid
Ankle boots and leather together is a lethal combination and makes it a winner for all street styles. Hadid's rise edge frayed cut-off denim paired with patent ankle boots complimented her slender legs. Well, black and leather are definitely Bella Hadid's style statement and she really can play well with it. "I wake up in the morning and if I want to wear a vintage tee and leather, I will, but if I want to wear a pair of overalls or a skirt, I do. It just depends on what the day is- I put on what makes me happy and what I feel like wearing."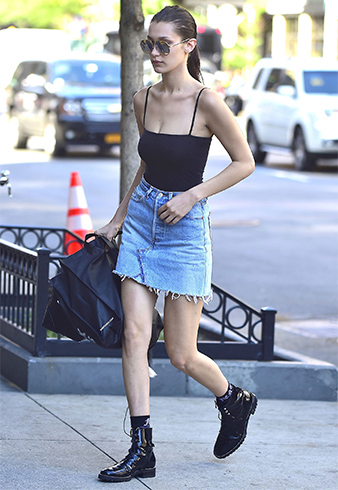 Karlie Kloss
Just like how Karlie Kloss chose to wear her A-line denim skirt and t-shirt, you too can give it your own spin. This look is quite effortless, so to say. Nothing like a denim twist to face the summer. The best thing about this look is you can just throw on the pieces together and move out. Just add a pair of sneakers and you are set.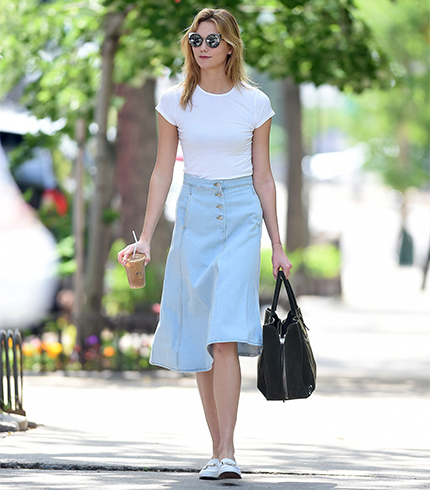 Lily Collins
Lily Collins is seen in a fresh denim skirt paired with a white slouch tops and black Yosi Samra Cambelle strappy sandals.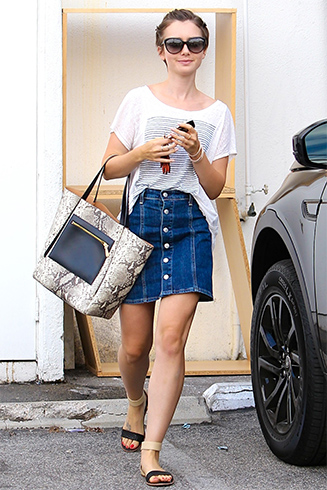 Jacqueline Fernandez
One style we particular love in actress Jacqueline's entire denim moments was this. Her long denim skirt with its fringed hemline was just the right mixture for the season. She simply paired it with a white tank top and high heels. Her chignon scarf completed her entire look.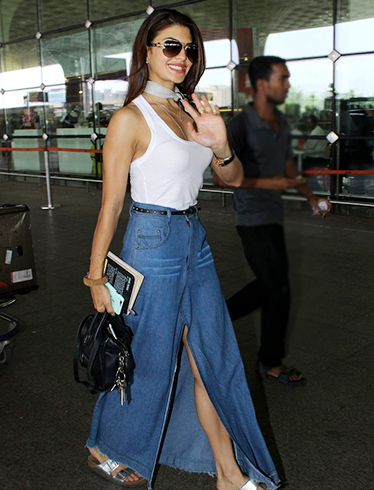 Alia Bhatt
Actress Alia Bhatt's casual take on denim on denim is totally imitable. This particular ensemble was from Masaba's newest collection. Her matching denim crop top and her polka dotted designed denim skirt make for an adorable fit. She rounded up her ensemble with Alexandre Birman tan sandals.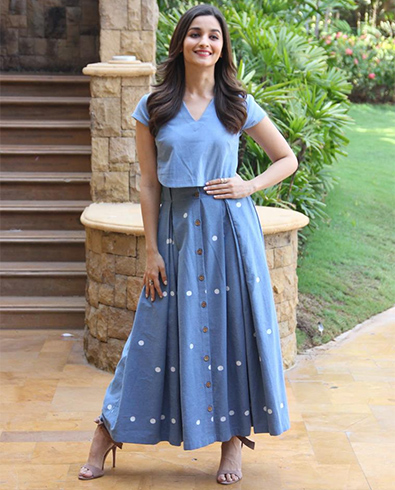 Denim Dress
Summer is in full swing so going bare-legged seems to be the obvious choice. So, denim shorts are a must-have for the woman on-the-go from May till fall. But, why settle for one thing alone when you can also reach out something like a denim dress. It can be the absolute classic wardrobe stable and require effortless styling.
Victoria Secret Model Romee Strijd button-down denim dress is a total dinner.
Romee Strijd
Once you get the outfit right, you just need to settle with your shoes and accessories like how you normally would do. Strijd teamed her dress with black leather sneakers. The bandana she tied around her neck gave her the subtle edge. This can easily be a summer denim dream for anyone.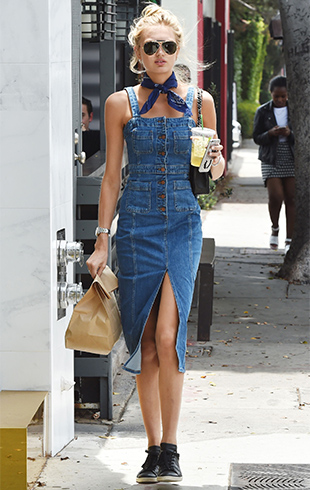 Elli Avram
Actress Elli Avram denim dress is close to what Romee Strijd is wearing. Her strappy heels complemented her summer look completely.
Denim Shorts
A lot of celebrities turned up for Justin Beiber's concert held in Mumbai. Looking preppy were Alia Bhatt and Khushi Kapoor. While Alia wore a Rheson's jacket-a Sonam and Rhea Kapoor's label teamed with denim shorts and sneakers. While Khushi walked in wearing denim shorts paired with a knotted white tee. Another celeb who looked concert ready was Bipasha Basu. She wore a black top, a sheer jacket, and denim shorts.
Alia Bhatt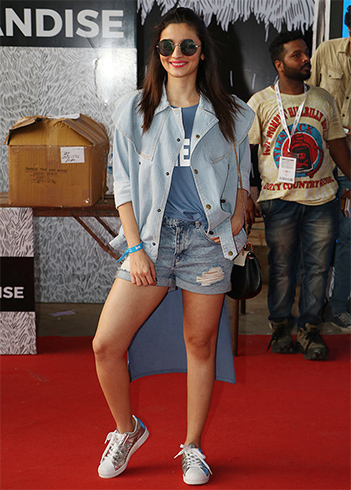 Khushi Kapoor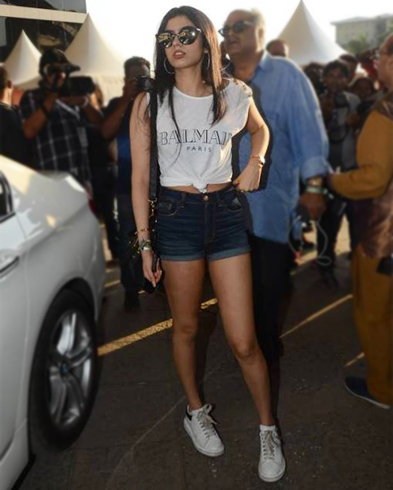 Bipasha Basu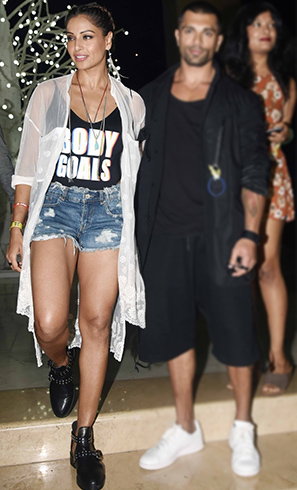 These denim designs are all-the-rage at the moment. Hope you enjoy shopping the trend.
Images Source: pinterest, instagram