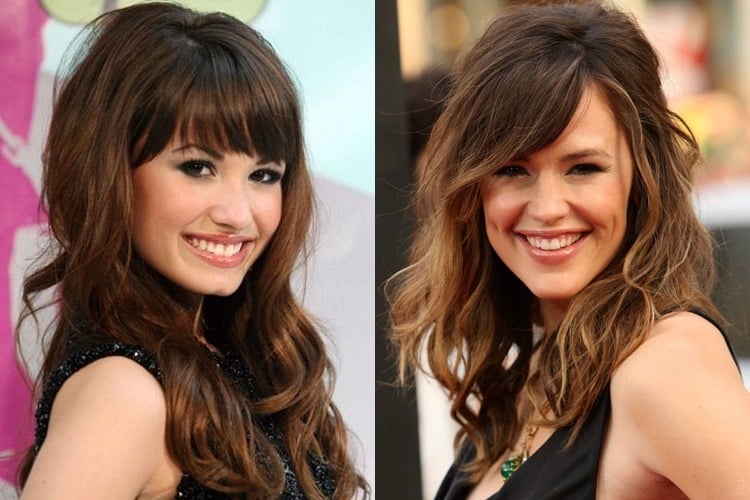 Short or long, edgy or soft, blunt or tossed, wavy or poker, bangs baby bangs can do wonders to make you look younger than what your real age is, if not way half your age! Hairstyles with Bangs are haute this Fall and Winter, with the likes of Jennifer Anniston, Angelina Jolie, Dia Mirza, Priyanka Chopra all getting some. Yes, our very own desi and videsi girls are well into their 30s and some in their 40s too- does their age show? The answer is NO; thanks to the pretty Hairstyles with Bangs they flaunt!
Different Bangs Styles
If you've been wondering how to make age hide and if makeup or the clothes you wear don't do enough justice- these different bangs styles would be the answer! Read on!
Doll It Up Like Kim
Fashionista in her own rights, chic in style, luxe attitudes to flaunt and a doting mother of beautiful kids too- Kim Kardashian seems to be everyone's favorite these days when it comes to following her fashion ways. We really wouldn't know her age and not that it is any of our business, but boy does she dress her hair with bangs styles and center partings, to look like a party baby each day. What's the secret Kim?
Side Swept Bangs
Bangs don't have to be fringes or middle partitioned always, not when you can play the naughty rabbit girl of the 1920s everyday. Take a cue from our Hollywood celebs, women in their 30s and 40s that make waves with flowy wavy side wept bangs.
Short Ruffled Bobs
For those who really wouldn't have the time to doll up their hair and rush to work everyday, short bob cuts would be an apt hairstyle to don. However, with time passing by, one could have ageing signs on the forehead and under the eyes that stand out stark and blunt. The fringe flat bangs on the forehead would help bring around an amazing look, which contours the face making it look small, young and petite.
Sleek It Up Like J.Lo
Curvy, bootylicious and a lady with the voice of a nightingale, Jennifer Lopez very well shows us women in our late 30s and early 40s how to make heads turn. This time though it is her hair. She plays wonderfully with sleek bangs to the sides in a sweep, which defines her cheekbones and her soft jawline too!
The Soft Nerdy Look
The soft nerdy look is the new sexy look, which most corporate women in the nation can adopt. For example, should you opt for a short bob or a blunt bob, keep the bangs falling straight on your forehead. The center of attention would be on your eyes and the cheeks, rather than the wrinkles on your forehead!
Full Face With Side Wave Bangs
For women with a full-face and wanting to have a slimmer leaner look, the side-wave bangs in sweeps and cascades would work wonders. This would be a mix of the tussle locks and the droopy falls, defining the cheek bones and highlighting the jawline!
[sc:mediad]
Chopped Layered Front Bangs
For the corporate woman or the homemaker who really wants it short, crisp and to the point, the chopper layered front bang look would be an ideal fashion statement to flaunt each day. The best part is, this is a look so versatile that it can be worn with Indian and western wear; for any event and occasion too.
Messy Shags With Layers And Front Bangs
To hide the lines on your forehead and near your eyes and even the cheeks too; think of the messy shag hairdo with layers and front bangs swept to the side. Perfect for cocktail evenings, at work or even when meeting someone special- it doesn't scream 'trying too hard'!
[Also Read: Hairstyles By Signs]
Curly Bangs Be So Gorgeous
For women with short curly hair and yet would want some volume and hair play, the curly hair bangs on either side with a middle partitioning would be an apt hairdo to choose!
Side Bangs With a Long Touch
A little edgy here, but fit for the woman who knows what she wants and with no hassles at all to deal with, the side bangs with a long touch in front, works wonders to suit the corporate and yet a very feminine look! Try these long bangs!
[Also Read: Short Bob Hairstyles with Bangs]
Finally, you could also try the side bangs like Rihanna – or just get creative and form your own new version of bangs to bring down the ageing effects! Have fun!