Have a newborn on your list to give gift to this holiday season? Whether it's your own baby or of your near and dear ones, they are always a source of real enjoyment. Nothing brings more joy than pampering them with personalized gifts and displaying your own love and affection. Baby goodies like bibs, onesies, socks etc are always required in bulk and gifting machine embroidery goodies is the best way to spruce up their cute stuffs. They make terrific personalized gift items and are much cherished even when grown out of use.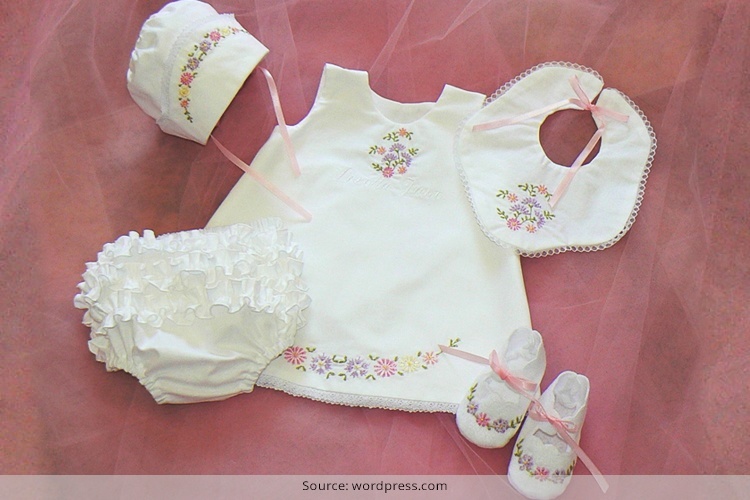 Machine Embroidery Designs For New Born Babies:
Let's glimpse through some beautiful machine embroidery goodies to create for the little-ones:
Personalized Baby Caps:
Quick and easy to make, baby caps when made in soothing colors and cute embellishments with doll face embroidery designs are going to awe every onlooker. Babies usually do not like anything on their head and pull off every tactic to remove the adornments, so why not make them wear it while they still can't remove it, hats make them look adorable and unique. Baby caps, apart from making them look gorgeous protects their tiny little heads from harsh winds, bitter cold and harmful rays of sun. Spin and sew them a personalized baby cap with machine embroidery designs.
Baby Bibs:
After diapers, a bib is perhaps the most used item, required in bulks. The number of bibs required in a day may be actually shocking for those who are novice around children. Doing some DIY machine embroidery doll faces or any other designs on it will not only kill the bib boredom but also create an interest in the baby to wear them with avid interest and pleasure. For your cute baby girl, just draw a beautiful baby design like a doll, a teddy bear face or any other stuffed animal face and machine embroider it with variety of color threads.
[Also Read: Christmas Embroidery Gifts]
Clothes & Apparels:
Make awesome and unexpected machine embroidery goodies for adorable little ones. Babies' clothes needs a change every few hours owing to their messy ways. However, maintaining a wardrobe which is outgrown every third month costs a bomb but is a compulsion. So, why not gift a set of personalized clothing to the little one and their parents. It is not only simple but much economical too. Create cute baby frocks, machine embroidery doll faces apparels, little baby leggings, tiny gowns, miniature dresses and much more with a sewing machine and thread work craft. These baby sewing projects are going to make you famous soon.
[sc:mediad]
Baby Blankets:
Personalized baby blankets that feature playful prints on colorful fabrics are beautiful giveaways to little ones. Make snuggle time for babies more better with handmade, machine embroidered, DIY blankets prepared in a smoke-free and pet-free environment, sans of any treated chemicals and dyes. These soft and adorable quilts not only charm the baby but leave the parents moved and thankful too. So, get your sewing corner ready to make some beautiful baby blankets as giveaway this holiday season.
Personalized Toys:
[Also Read: Embroidery Stitches ]
Plush toys are classic favorite gifts for newborns. Why not transform them to a great keepsake by personalizing them with machine embroidery designs? Choose your embroidery detail, something which speaks up and personal about the kid, like their date and time of birth, their name etc., and sew in the pattern on these soft toys to give them a personalized touch. Now these whimsical stuffed animals come alive with magic of human craft and go on living a much longer shelf life in comparison to their shop-bought soft teddies. Make a personalized stuffed animal toy to awe-inspire the newborns and flabbergast the parents.
Balls & Blocks:
Gift your little ones with something interactive and nice to play with. Sans the plastic, chemical colors, treated raw materials and factory made products. Give them a safe and sure accessory to play with that has been spun in the comforts of home with lots of love, some colorful fabrics, varied yarns and a sewing machine. Stuff these fabric balls and blocks with some foam to add volume and for something for the baby to grasp on to. These fabric toys will remain with them even when they outgrow them and be kept as memorabilia to be passed on to generations next.
You will win not only applauds and appreciation but also very many hearts with these machine embroidery goodies. Start creating beautiful doll face embroidery design stuffs, cute embellished embroidered accessories and more with few colored yarns, a sewing machine and a set of needles. Get your creative hormones pumping now!