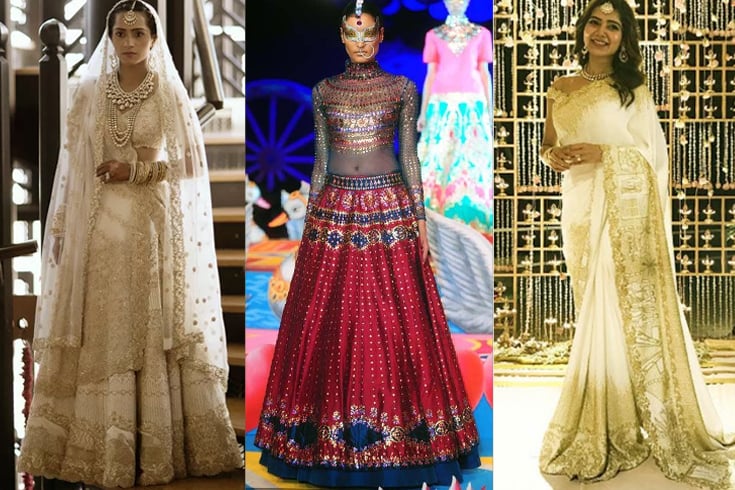 The Indian bridal fashion is currently experiencing a dramatic paradigm shift, accredited to the change in the outlook of the modern day Indian bride, bridal wear in India is no more about set specifications. With a plethora of combinations to explore, the quirky swagger brides are definitely spoilt for choice.
Inspired by the strong-minded woman of today, who wants to take the path less travelled, who wants to play with an all new color palette, and who wants to work new drapes and cuts, a whole new breed of designers are doing some serious out of the box work, to pleasantly surprise their off-beat and adventurous bride-to-be's.
So if you are a bride who is looking forward to that standout piece, that is sure to get you all the spotlight not only on your D-day but have people talking about your cool and exquisite bridal outfit for years to come, then we did suggest you opt for one of these offbeat designer labels.
1. Manish Arora
This man knows nothing conventional. Working with bold motifs, and an even more bold color palette designer Manish Arora never ceases to stir up a free-spirited vibe with each and every creation belted out of his label. Designated to be one of India's quirkiest designers, Manish fears none and tops the list of quirky Indian designers. With no soul in the industry having the ability to do cool and kitschy like Manish Arora, the King of Quirk is definitely our first and foremost pick for aligning with your unconventional fashion senses. So lovelies, head to the designer for your customised number and have people guessing the label you are wearing on your special day. We are sure once you step into the designer's magnificent world of colors and patterns, you are sure to be mesmerised.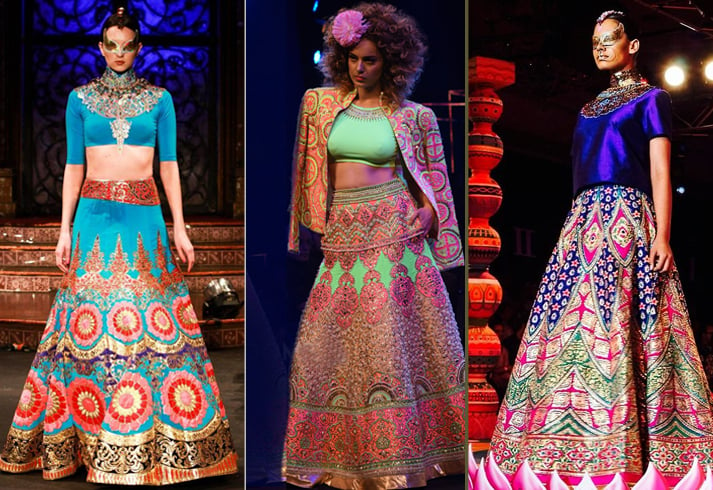 2. Jayanti Reddy's Fusion Lehengas in Navy and Ivory
At the Spring Summer edition of the Lakme Fashion Week 2017, Jayanti Reddy caught all our attention with her oriental inspired contemporary and chic bridal collection. Working on an unconventional color palette of blue and white for the bride-to be's, Jayanti presented a more fusion bridal collection, mixing Indian elements with oriental touch ups.To transition a cliche bride into her more oriental Asian counterpart, Jayanti delighted us with an off beat piece, that coupled a traditional navy blue lehenga with a more oriental inspired ivory layering. Feminine and fluid her collection encashed on playful feminine elements. If light and sensuous in a distinct navy and ivory shade card is your preference, then Jayanti could play the leading lady in this most important phase of your life.
3. Tarun Tahiliani's Metallic Lehengas With Shirt Blouses
It was not long ago that we were hooting big time for the metallic trend, but we have to admit we did never envision the shine and sparkle to trickle down into the bridal category as well. But when someone like master couturier Tarun Tahiliani attempts to offer a breakthrough silhouette, you just know that this one did be the "It" piece. Showcasing at the most recent LFW edition, designer Tarun Tahiliani had the models sashaying down the ramp wearing beautiful lehengas with unique shirt style blouses. This one's new on the block and is sure to be a star performer on one of your special days. Comfortable, chic and an absolute winner indeed.
4. SVA's embroidered Lehengas With Creative Tops
SVA's sense of style, season and fashion is inevitable. The label is always in the pursuit of exclusivity and with their fashion week showcases this year, they announced their fashionista genes pairing their lehengas with creative blouses that totally have the power to accentuate the overall look of a modern day bride. With a color palette ranging from pastel hues to decorated maroons, SVA has successfully made it to our list of designers who have the ability to offer a head-turning piece.
5. Kotwara's Black and Silver Lehenga
The label Kotwara, the brainchild of Mira and Muzaffar Ali presented a romantic collection on the ramp of LFW Summer Resort 2017. Although tabooed as an evil colour, Kotwara presented their showstopper outfit in a black and silver embroidery. Breaking stereotype, the designer deserves special credits for having presented black the bold and beautiful way.
[sc:mediad]
6. Koesch
Have a love story to share? Then do it the fashionista way, just like actress Kresha Bajaj and Samantha Prabhu who had their stories, embellished and crafted onto their outfits. Now, it just can't get any more special. Taking customisation to all new heights, this label is doing everything to make your moments last forever.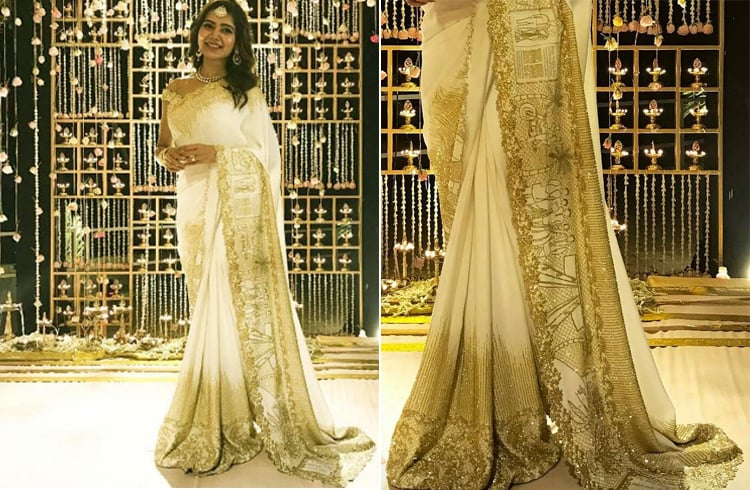 7. Priyal Prakash
Known for her zig-zag patterns, designer Priyal Prakash brought chevron patterns into the limelight as far as bridal outfits were concerned. Working chevrons in bright and luscious candy colors like oranges, pinks, and yellows, Priyal gave the brides a break from the usual embroidered pieces ensuring a pretty day and cheerful look for the bride-to-be's day functions.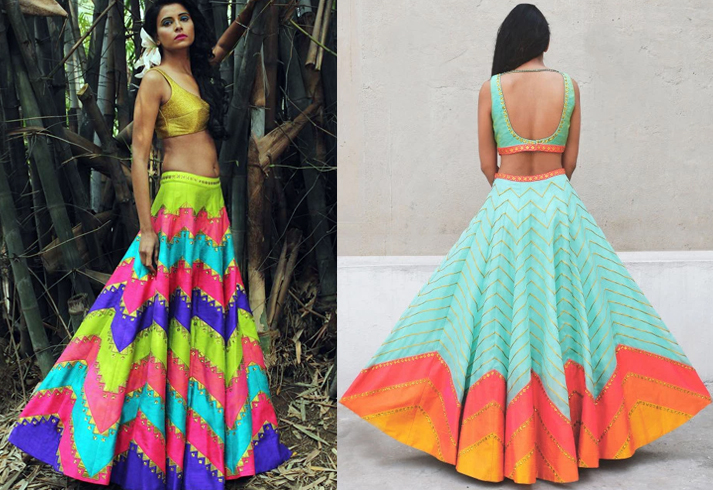 With designers like these within our approach, every girl would willingly ditch the usual and opt to take some risk and adorn a piece that will be remembered for a long time to come. So this one's for all the Miss's who are due to be Mrs this year, we suggest you get out of your comfort zone and make a definite statement on your d-day.
Images Source: instagram