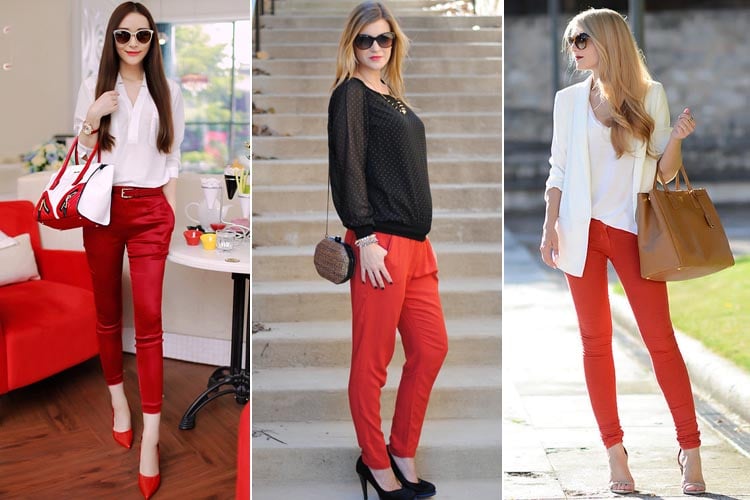 "What are those? That's too retro."
If this is what you get to hear every time you sport some perky red pants, then you should know that the people around you are complete noobs. It's a pity that women all over the world are intimidated by the thought of having too much brightness in their outfits. Instead you just need to tame the intensity of the colour and use it to your advantage.
[Also Read: What To Wear With Green Pants]
Style Tips On How To Wear Red Pants Outfit
If you are confused on what to wear with red pants outfit and desperately want the naysayers to agape in amazement with their jaws touching the ground the next time to flaunt red, then you will quite certainly find solace in the style tips on how to wear red pants, listed below.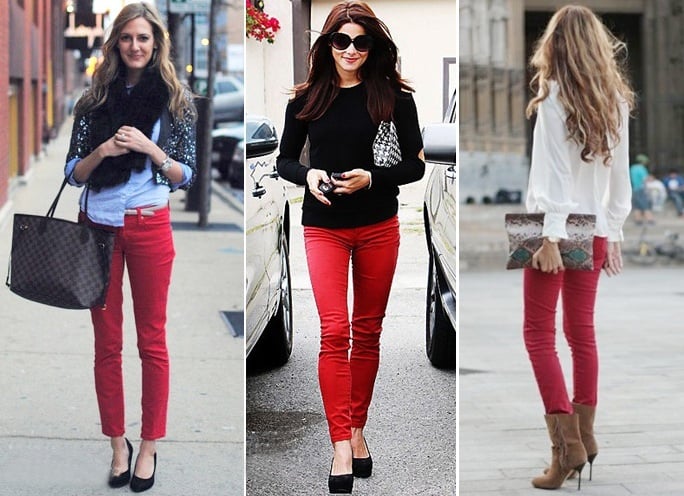 If the thought of red pants outfit is still a bit daunting to you, you can play it safe. Red and white remind me of Tom and Jerry. They complement each other so well that seeing them together gives off an instant feeling of satisfaction. Loose and "flowy" or skinny and hugging, choose red pants with a classy white blazer to exude that perfect professional touch, readying you for any work party that comes your way.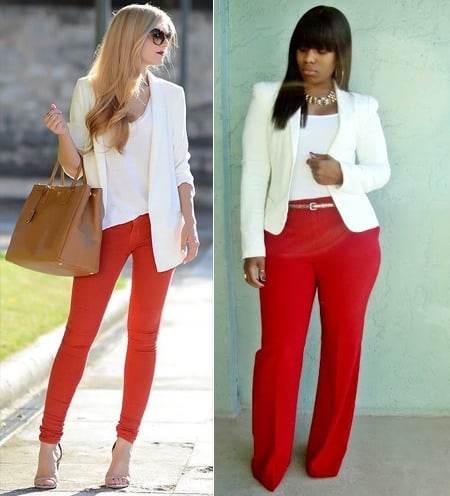 Playing safe is justifiable, but that just makes you predictable (duh! Who needs that?) So if you want to hit the ground running and come out all bold at work or other semi-formal events, what's the harm in having red all over? But how to wear red pants and still be brave enough to add more red? Well, try pairing them with a matching red blazer and add a cropped top to hit the perfect home run. Accessorize it with long gold necklaces to amp things up. Unfortunate to have no amazing abs? Or conservative enough to not flaunt the midriff? No problem. Grab a tank top instead. You do you, okay?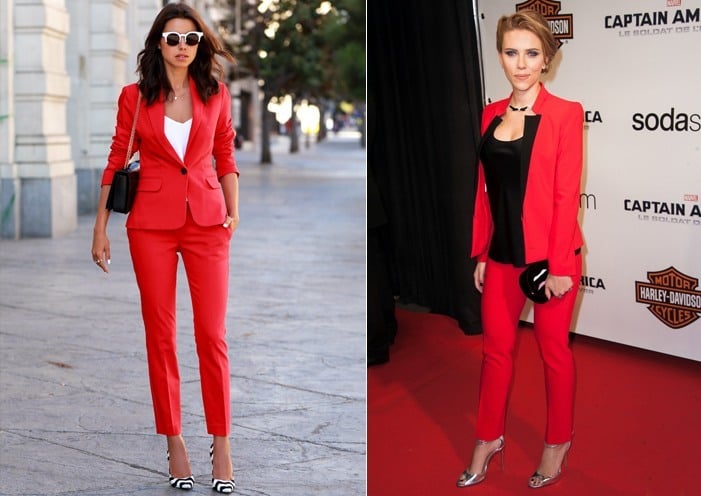 Go nude. Not literally though. Colouristically. Coupling hot red pants with white tees and pale beige or neutral coloured blazers might seem boring but when you see it practically, the simplicity just blows you away.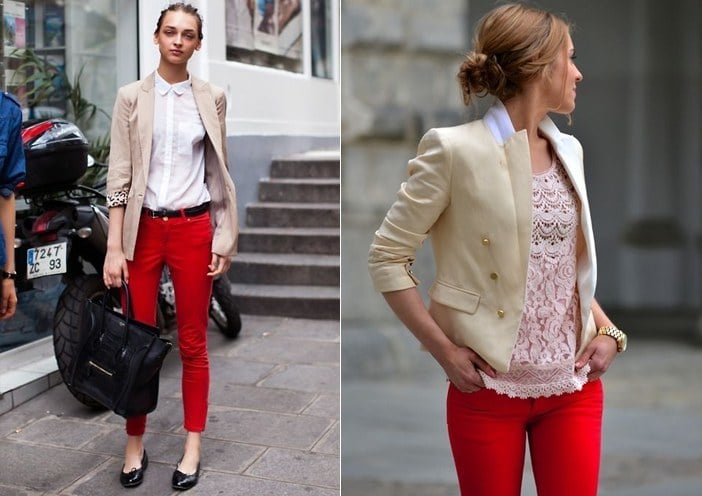 Your wardrobe is incomplete without a pair of cool tight red pants. Longing for a summer outfit but at the same time yearning for ways to wear red pants outfits and show off the street style poise you've got in you? Then clubbing those pants with your favourite muscle tee would surely make you an absolute showstopper. As an alternative, a graphic tee will add sparkles to your outfit with a patterned jacket as a sidekick to it. Throw in some pointy-toe pumps while heating it up a little bit by adding a few gold-tone accessories, and what you've got there is a perfect festive outfit.
[Also Read: What To Wear With Light Blue Jeans]
Knee-high boots are a thing right now, and the adventure seekers can very well build up a quick outfit around it with their red pants and cool blazer. If choosing a colour to match your pants is a questionable topic for you, another safe bet would be to use black or navy blue blazers while going for white for the top.
[Also Read: How To Wear Leather Pants]
A proper white button down shirt (tie optional) paired with a well-tailored blazer with sequins and sparkles would be the simplest way you can win the appreciation of the crowd. If this sounds too heavy, just take it easy and throw in a denim jacket (or a denim shirt, if it's warm) to spice it up nicely.
[sc:mediad]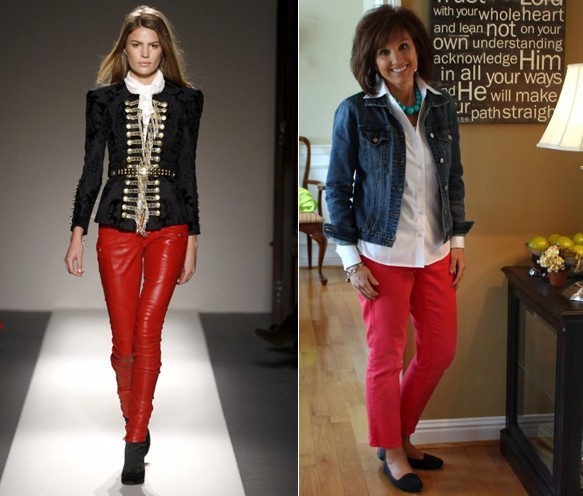 A cropped printed jacket perfectly solves the problem of what to wear with red pants because the bold and cocky red you have on, might need as bold a partner as itself. While notching up the appeal quotient with the pants and the printed jacket, you will also need something to sober the whole outfit down. A calm serenity of a solid coloured tee might be just what you are looking for.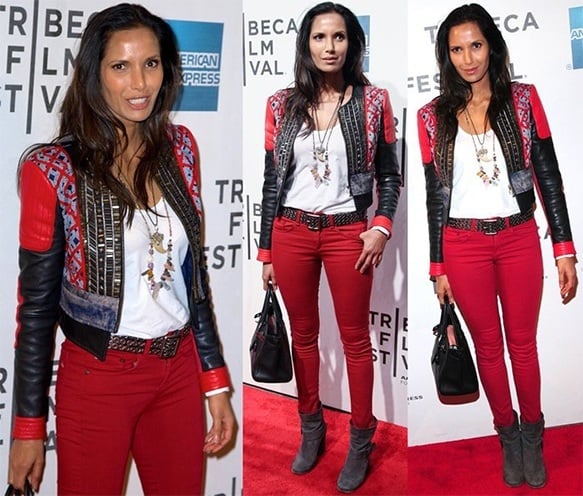 Nothing portrays you better as entering the scene all guns blazing than an electric leopard print top. A black jacket always covers up any left out flaws, so it's always advisable. On the other hand, leopard print scarf and even stilettos are an absolute knockout.
Here is another look that you can try while searching for red pants outfit ideas. Pair up your favorite dark flannel shirt with your red pants and you are good to go.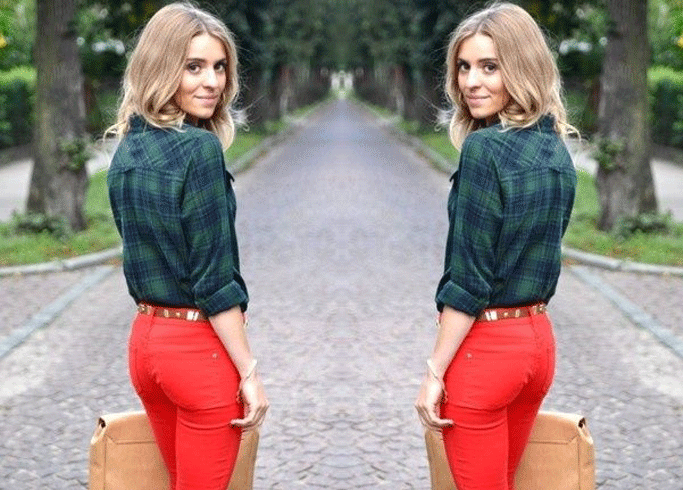 If you are aiming for a cute outfit with red pants, then we suggest you pick up a cute polka dots top to go with your red pants.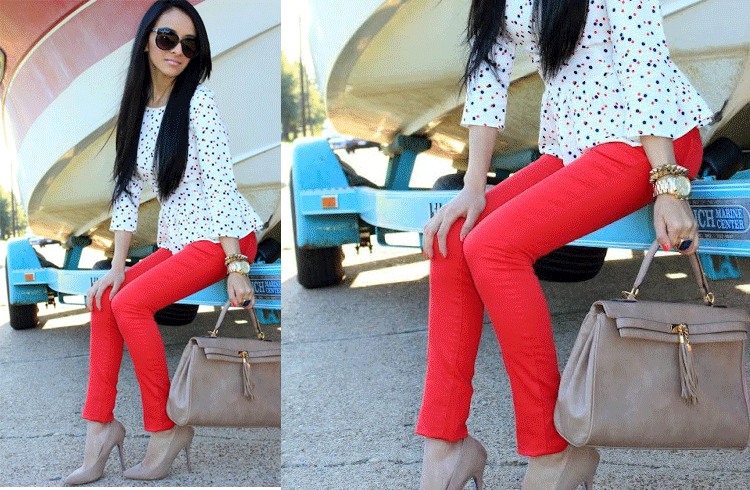 Wondering what to wear with red leather pants? Try the basic striped t-shirt.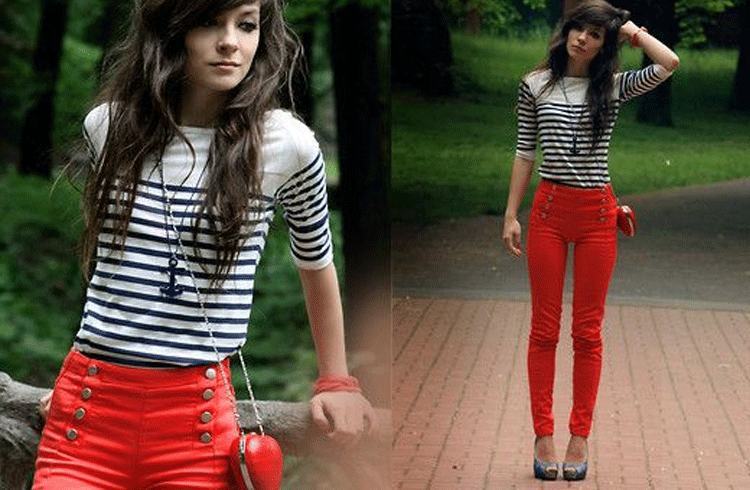 This combination with red pants is surely going to wow you. Bring out your chambray shirt and simply wear it over your red skinny pants. You could either accessorize it with oversize clutches or drape a scarf.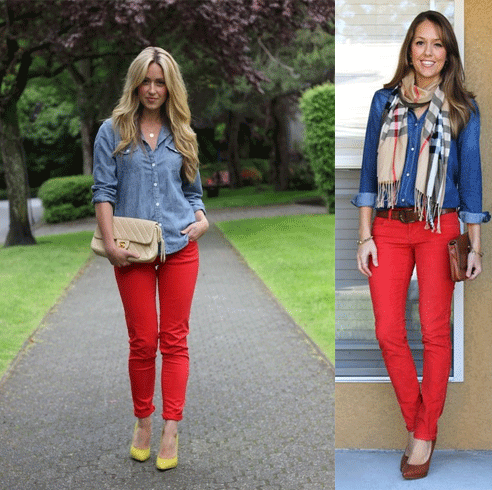 This post on what to wear with red pants is definitely incomplete without mentioning about the classic black and red combination. This is one combination which will definitely spoil you for choices – from formal wear to casual wear to a date night, this black and red pants combination is a sure shot winner.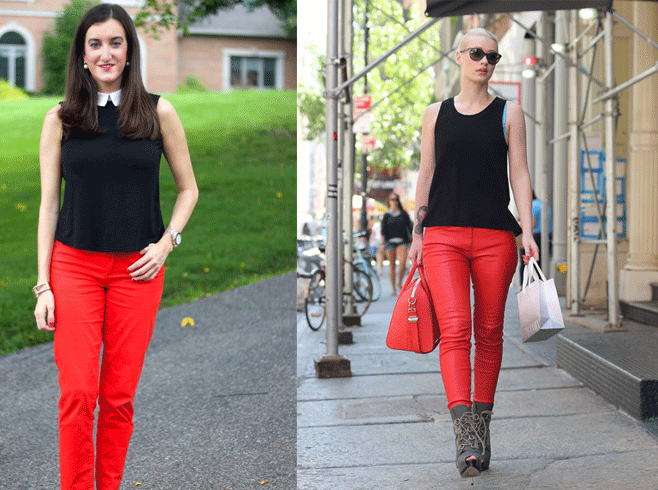 Your what to wear with red skinny pants dilemma is solved. A gray sweater or cardigan will look beautiful on your red skinny pants. Wear a white buttoned down shirt underneath it and look your fashionable best.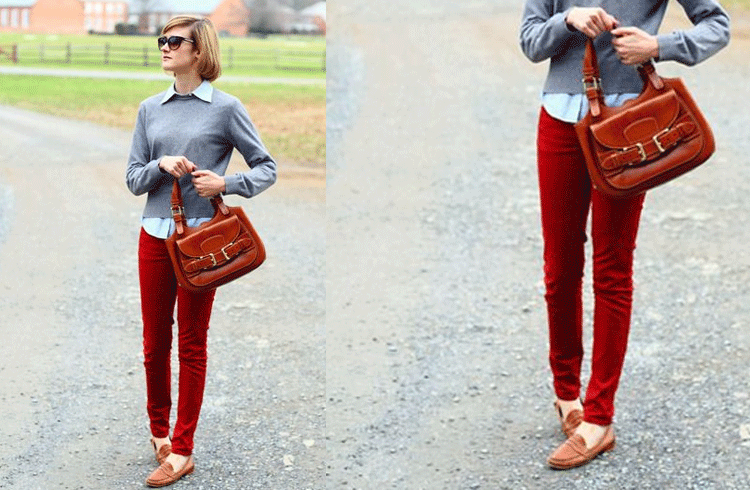 Check out the below images to find out what shoes to wear with red pants. You can flaunt your fet in solid black pumps to nude flats to funky animal print pumps or go bold by wearing hot red heels.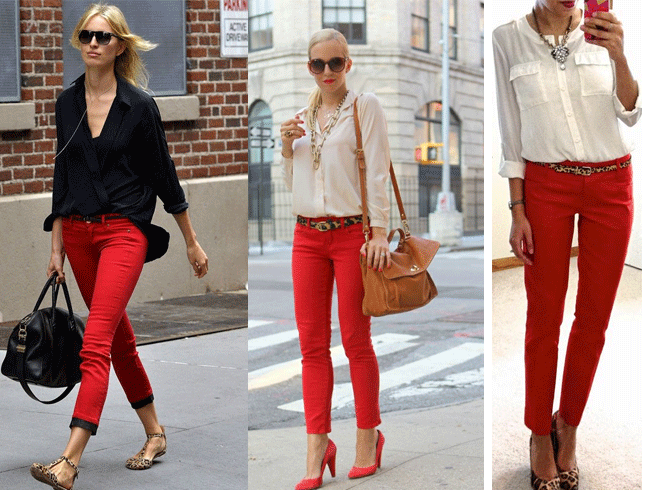 Still not sure about what to wear with red pants? Well, you should know that red pants are basically just blank canvases where you have the license to go all out and paint your creativity. After all, aren't outfits just tools to express yourself and offer the people a tip-off as to what's on the inside?
[Also Read: How To Wear Dark Berry Colours]
So, what are you waiting for? The ramp is all set. The lights are all beaming. And now you know what to do too. You'll notice all the heads turning, and it's all because you deserve it.