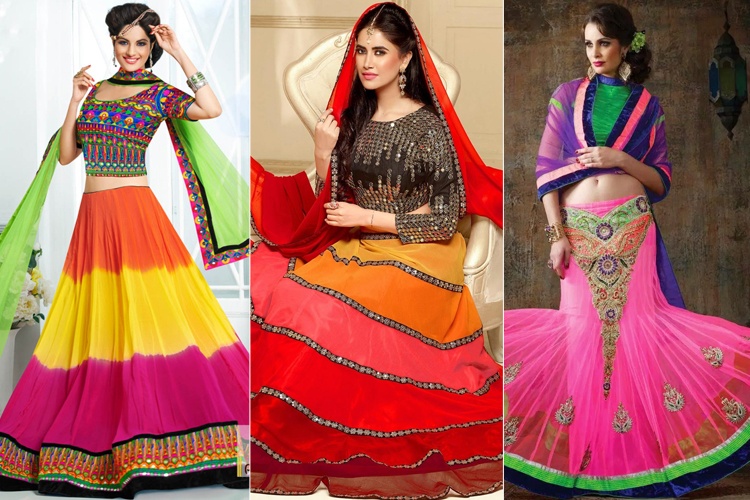 No Indian culture is so vibrant with color, joy and naughtiness than Navratri. And chaniya choli is that special dress which adds gorgeous festive color to this nine day long festival.
[Also Read: Wear Auspicious Colours This Navratri: Day1 – Grey Color]
With the long flowing skirt and blouse or choli, the chaniya choli design, or chaniya choli dresses is every woman's dream outfit for Navratri.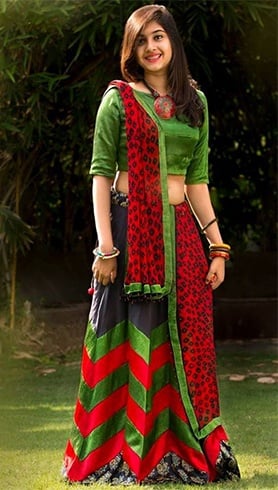 Though chaniya choli for wedding is usually made up of cotton and decorated with embroidery work, the neckline and sleeves are dotted with detailed work.
Chaniya Choli Designs For Navratri
Let us check out chaniya choli designs for Navratri and latest design of chaniya choli so that you know the latest and the hottest chaniya choli patterns.
Red And White Chaniya Choli
Deepika Padukone might be on cloud nine for starring in Sanjay Leela Bhansali's next film 'Padmavati' opposite Ranveer Singh and Shahid Kapoor. But the garba outfit she wore in the film 'Ram Leela' is reference point this year too when it comes to Navratri chaniya choli.
[sc:mediad]
The beauty of the multiple layered ghagra DP wore in the film is that it had embroidered hemline and waistline. And the chaniya choli blouse pattern had awesome detailed work on the neckline and sleeves too. The chunni she wore had a bright color contrast which truly made her the 'Leela' of all times.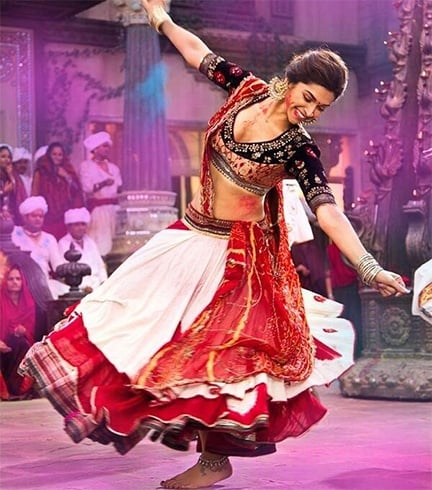 Chaniya Choli With Mirror Work And Embroidery
Nothing can beat the invincible charm of traditional chaniya choli. The Navratri chaniya choli design shown is rich in kutch work and mirror work, and the vibrant shades it has makes it a miss-not chaniya choli designs for Navratri. And the stylish contrast colour dupatta is like the topping on the cake.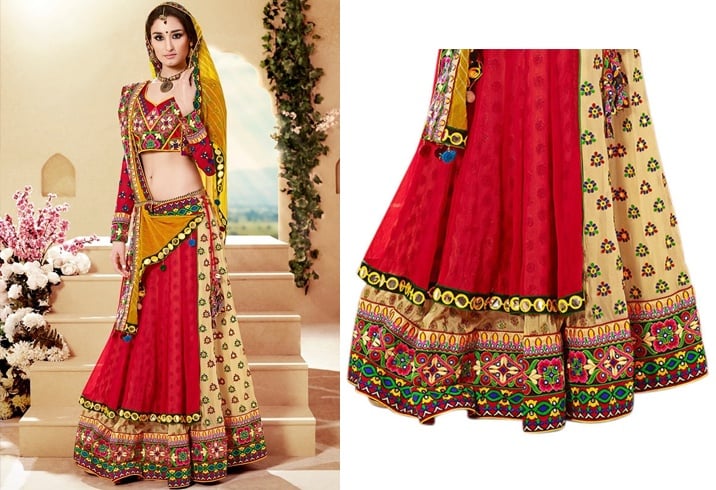 Lehenga Set With Designer Choli
Blue-pink can be a lethal combination and Priyanka Chopra proved it amply in this latest design of chaniya choli. And here the faux chiffon dupatta in fucshia pink looked killer with the dark blue lehenga that has been beautifully designed using zari, resham, cut bead, sequins, stone, lace, and patch border work. How can you miss out on the full-sleeve choli worn by PeeCee that has stunning contrast horizontal stripes?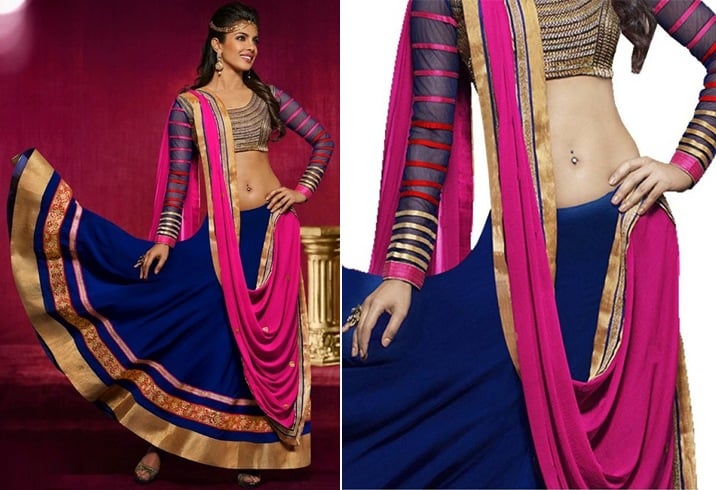 Black And Pink Lehenga
Simple looking this chaniya choli is but the accompanying chaniya choli blouses is simply irresistible with kutch work done on it. Mind you, this is not machine-made but a hand-embroidered blouse. This kali-style lehenga comes with a wide contrast border so that you can instantly look a style icon.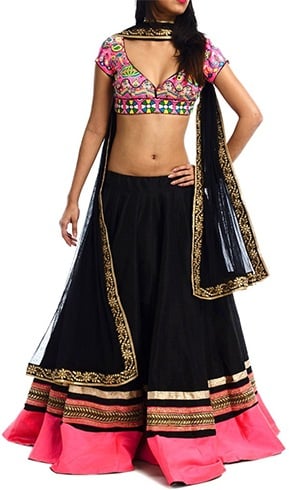 Multi-Colored Lehenga Choli
This chaniya choli might look traditional chaniya choli but it has everything to make this chaniya choli designs for Navratri truly rocking. The A-line lehenga is so multi-colored it will color up your beauty quotient like anything. Plus there is the beautiful kutch embroidery border on the lehenga and blouse too (which also has mirror work).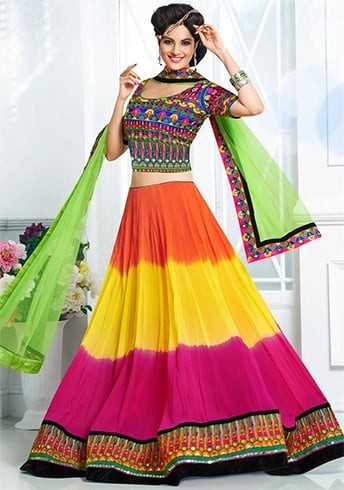 Ombre Lehenga Choli
This peacock shaded lehenga makes you look regal and royal with the stripe pattern in gotta lines and gold sequin floral motifs on dupatta and blouse.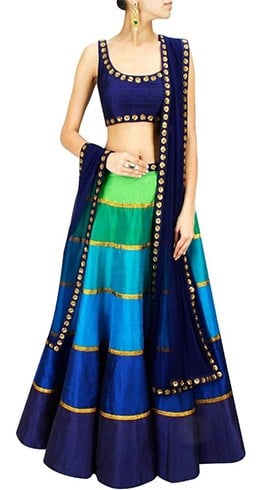 Orange Net Lehenga Choli
Give Garba nights an orange flavour with this orange lehenga choli design. The net lehenga has art banarasi jacquard lining. What completes the ethnicity of this chaniya choli are the embellishments like dori, stone, lace work and patch border work.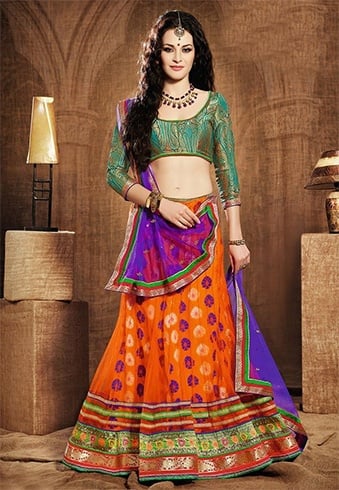 Lehenga Choli With Zig Zag Pattern
Stand out from the rest by donning this latest design of chaniya choli which has zig zag patterns in contrasting colour, with increasing width from top to bottom. When you add parallel lines of gold gota strips and gold sequin floral motifs on panels, you know what you will look like – a diva.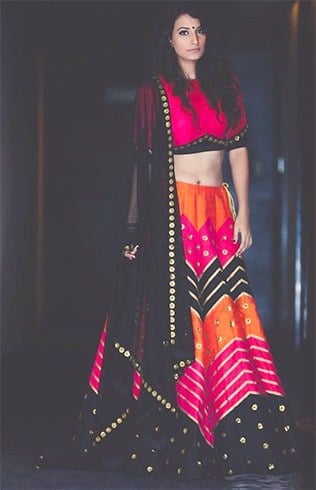 E-Commerce Links To Shop Chaniya Choli From
Pink And Yellow Color Cotton Traditional Ghagra Choli at Rs 2700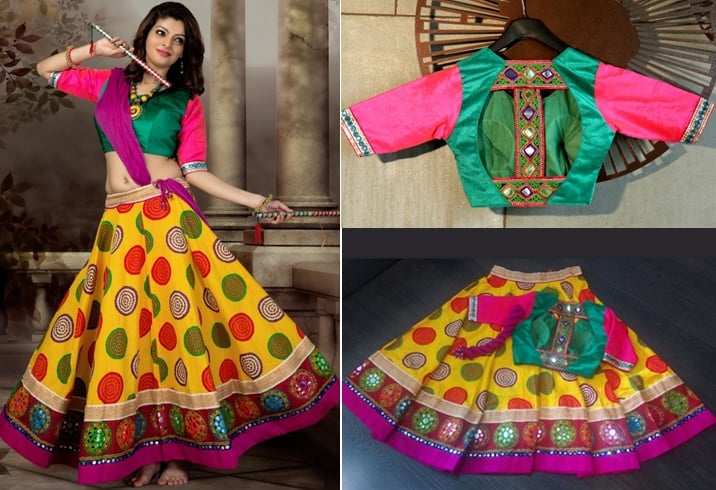 7 Colors Life Style Black Net & Jacquard Semi-Stitched Lehenga Choli Material with Dupatta at Rs 1198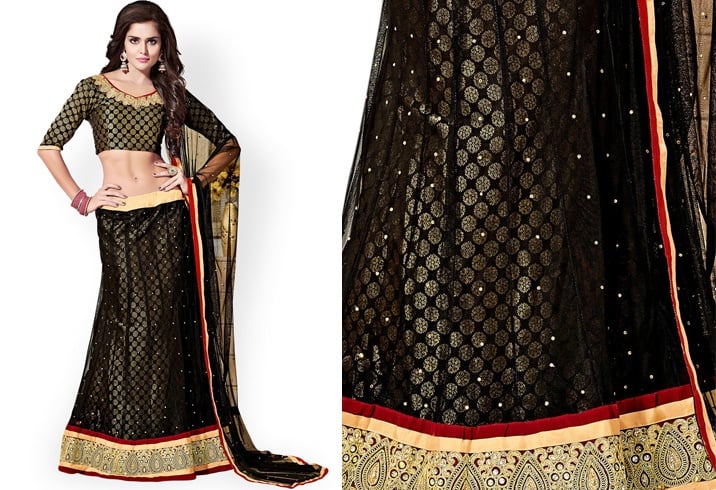 JAMBOREE Embroidered Women's Lehenga, Choli and Dupatta Set (Stitched) at Rs 1900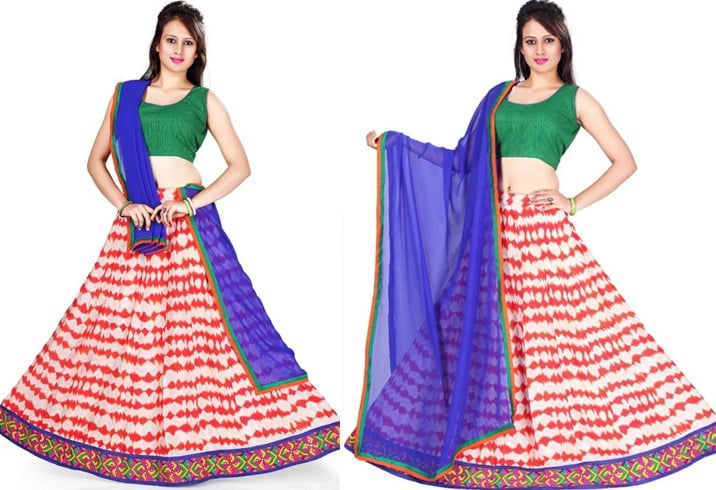 Magnetize Georgette Red Designer A Line Lehenga Choli at Rs 2,430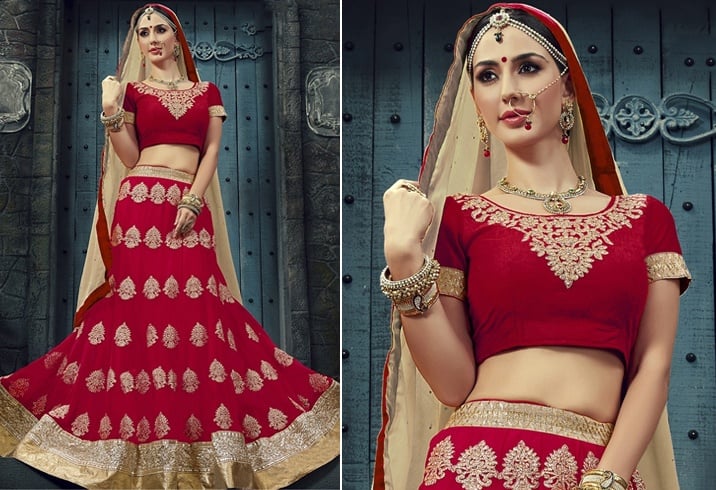 Wedding Designer Red and Cream Chaniya Choli at Rs 8,840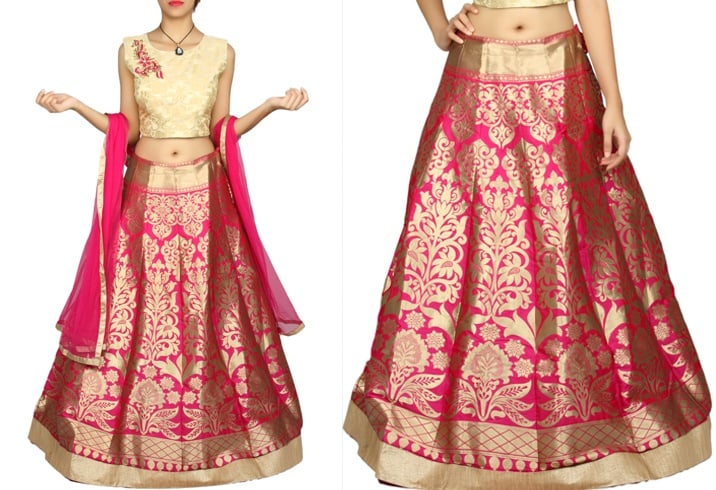 Fuchsia Net Zari Work Unstitched Bridal Lehenga Choli at Rs 13,209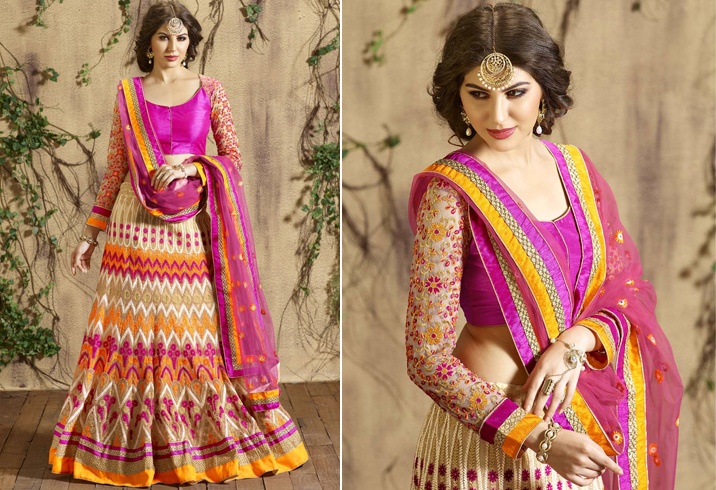 So, which are the chaniya choli your heart is craving for? Tell us how you found the chaniya choli designs for navratri with likes and comments.