Celebrate this year Navratri Panchami 2021 i.e. the fifth day of Durga Puja 2021 with the color blue. Apart from its aesthetic values, the color blue dictates a powerful position in the world of fashion, offering you with an array of designs and styles. Go through our special 5th edition on the eve of the 5th day of Dusshera.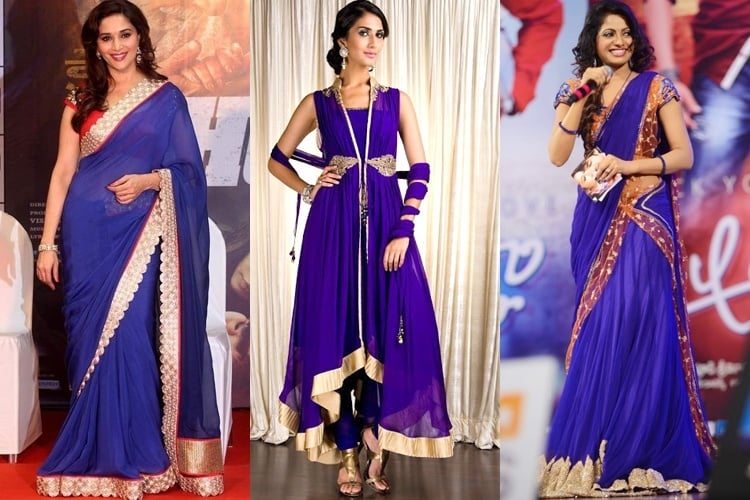 After the fourth, we will talk about the 5th day of Navratri. The 9 days of Navratri are dedicated to 9 avatars of Goddess Durga. The tradition of 9 colors is quite widespread in states like Maharashtra, Gujarat, Uttar Pradesh and other North Indian states.
As each day of Dusshera is dedicated to a particular form of Goddess Durga, it has its own value and significance in terms of colors too. Devotees offer saris to Goddess as per the color of day. For instance, Panchami color of the day is blue. So, devotees today offer blue sari to Skandamata. They even prefer to wear traditional attires in blue color.
The blue color is one of my personal favorites. Mostly known as royal blue or electric blue, I simply adore this shade. This fashion color looks great, when it is combined with nude shades, white, red, camel brown, silver, gold and even neon colors.
This Navratri, you don't have to be an expert to add a pop of this shade into your traditional outfit. FashionLady suggests you one thumb rule when it comes to styling it in blue – Don't overdo the blue!
Whether you're wearing it on Navratri Panchami or planning to go blue this Diwali 2021, be warned not to mix this shade with other blue colors or else you'll just end up looking like a Smurfette character. So, it's better to experiment with other colors that I have mentioned above.
Electric blue can flatter all kinds of skin tones and even looks great on Indian complexion as well. This particular shade complements all neutral colors such as beige and even some bold colors like burgundy, pine green and fuchsia pink. Only remember, shades of blue on one another is a big no in the fashion world.
We offer you some of the best items from our collections, which are a perfect blend of colors, aptly suiting the festive mood and fashion alike.
On the eve of Navratri Panchami, we are today celebrating the Durga Puja in blue color. Scroll and get indulged in blue this Dusshera!
Since this is a rich color, we offer this floor-length royal blue anarkali dress, which is rich with elaborate zari and thread embroidery on the overall dress. The color combination of blue and cream just makes this anarkali suit look ambrosial and high-end even though its price does not fall on that side. What's better than low-priced but high quality products? It's a steal.
The next is a blue net anarkali with delicate embroidery work on neck, sleeves and hemline, looks extremely elegant to easily suit any occasion. The sheer design on the sleeves and border line maintains the femininity of this traditional attire.
As I've already mentioned, you can experiment with colors. This rich combination of two bold colors of pink and blue makes this anarkali suit look extremely sensual. The floral motifs in pink patch work, plus the neck and sleeve design raises the value of this dress. The matching blue net dupatta is kept simple to focus on the delicate embroidery of the dress, thereby making the dress look gorgeous.
Wish to give a new twist to yourself? Want to try a new style with a traditional ethnic look? Check out this dress that make you look thin and tall even if you don't wear heels. The ensemble has a Banarasi shrug which is the highlight of the dress. Banarasi also imparts a sense of tradition which is a good sync with the festival. The dupatta is kept simple with delicate and very little embroidery work.
If you want to add some height to your look and want to show people around you that you are extremely trendy and cool, try this asymmetrical suit that has zari embroidery on its neck. Wear dull gold stilettoes to look ravishing.
Here are some more glamorous additions to the list on the eve of the 5th day of Durga Puja. Keep scrolling!
Floor-length anarkalis have been ruling ethnic fashion for a couple of years now and are definitely going to stay. This royal blue Anarkali is perfect for the Navratri Panchami 2021 as it is extremely graceful, offering a luxe feel. The suit is adorned with rich golden patchwork and colourful embroidery till the mid-section and huge motifs on the shoulders.
Right from the V-shaped neckline, the intricate gota work continues towards the flared bottom and end with an embellished hem. Paired with a neon pink net dupatta featuring gold patchwork, this Anarkali looks best with dramatic eye-makeup and stilettos.
This is another gorgeous number in blue modelled by Sushmita Sen. This Georgette floor-length Anarkali is adorned with beautiful embroidery in contrasting white on the yolk and sleeves. While the sleeves are flanked by matching floral motifs, the dupatta also features the same design to complement the outfit. How could you forget to notice the beautiful border that is encrusted with lace and matching embroidery work? Just complete your look with some pearl accessories to add grace to your outfit.
Just as the leggy lass Sush, even Lara Dutta has modeled for some prominent brands. The blue anarkali gown flaunted by Lara is a show stopping piece. This velvet jacket style anarkali gown offers a luxury look to the wearer. The royal blue shade of the ethnic outfit is embraced with sheer fabric on sleeves along-with a detachable sheer jacket adorned with patches of floral embroidery.
The sleeves are heavily laden with floral motifs and golden embroidery work that end with red borders, thus giving an edge to the outfit.
No celebration is complete without lehengas. Especially during Navratri. Flaunt your styles starting from fish-cut to A line lehenga designs that are available online or at any designer boutique.
Let's look at some lehenga designs that you could buy online.
Hope you enjoyed this blog on blue ensembles. Stay tuned for Navratri Colours for Day 6.