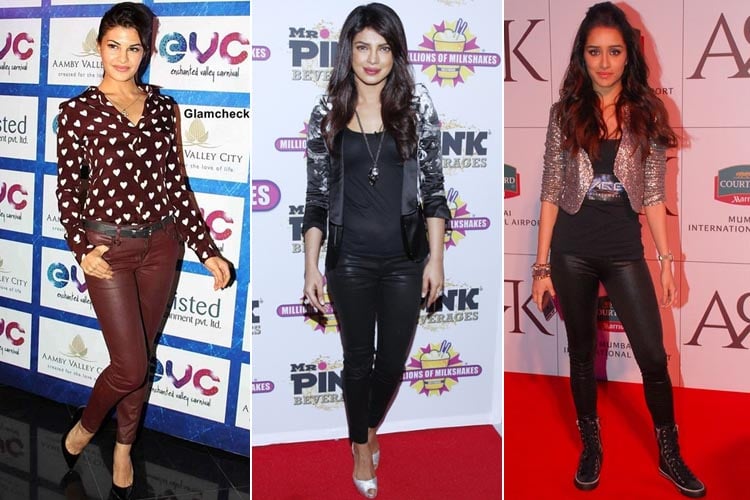 Leather pants are like the epitome of style. They can make you appear completely chic or even make you look drastically ludicrous! That's why many girls find it troublesome pairing the pants with the right clothes and accessories. Having the same kind of issue, eh? Don't understand what to wear with leather pants? Well, don't be so anxious. We're here to help you overcome the problem of matching up your leather pants with the correct attire; in the same manner that celebs do.
[Also Read: How To Wear Straight Pants]
So, read on for the style tips on how to wear leather pants.
Here are some leather Pants Outfit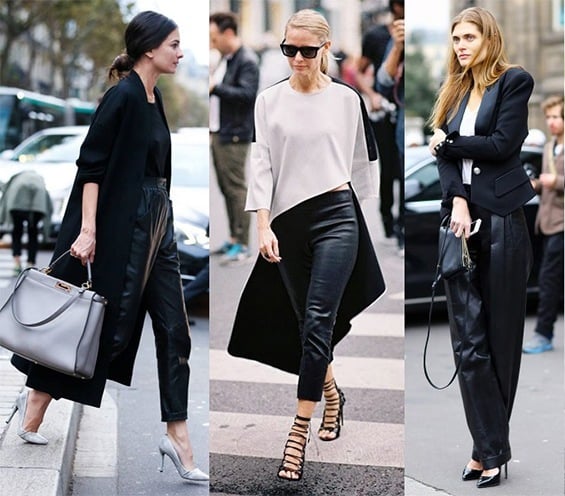 The Black On Black
Grab your black leather pants and adorn it with a super casual black sweatshirt. Slip into some heels. The difference in textures will coordinate so brilliantly, and give you a superb biker chic look. Have no sweatshirt? Try on anything black, such as a long top. And that's how Priyanka Chopra does it!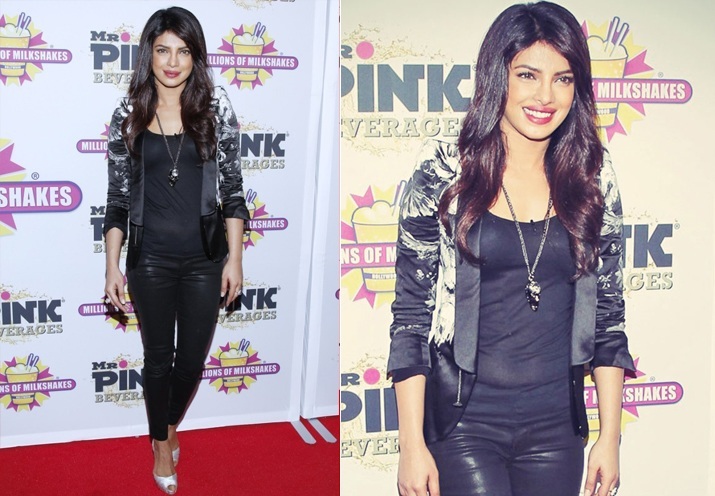 Leather Pants With White Shirt
Pull on your leather pants and then put on a crispy white shirt. Throw on a pair of heels.
[Also Read: What To Wear With Red Pants]
It's simple, it's refined. Check out Malaika Arora Khan! The way she has kept her hair to one side adds on to the sophistication of the outfit.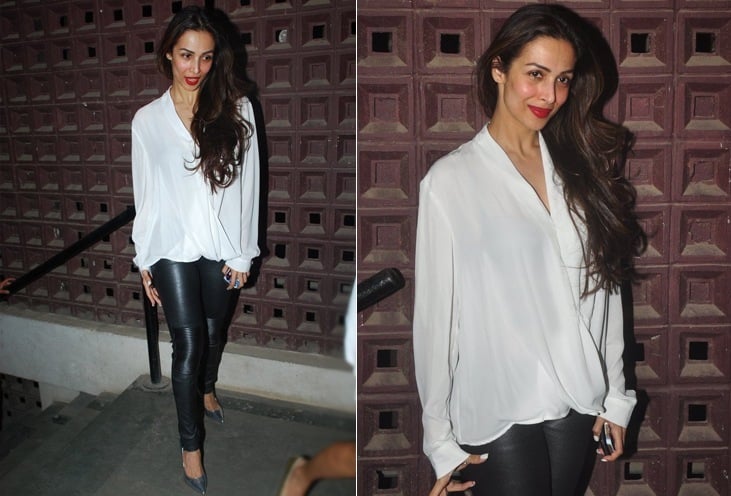 [Also Read: Cool Leather Fashion Accessories]
Leather Pants With The Sweater
Throw on your warm fuzzy sweater along with your leather pants. A pair of sneakers or flats will look superb. Katrina Kaif pulls off the look quite brilliantly looking naïve and modest in a cute star studded knitwear and rimmed glasses. Nude makeup look further heightened the charm.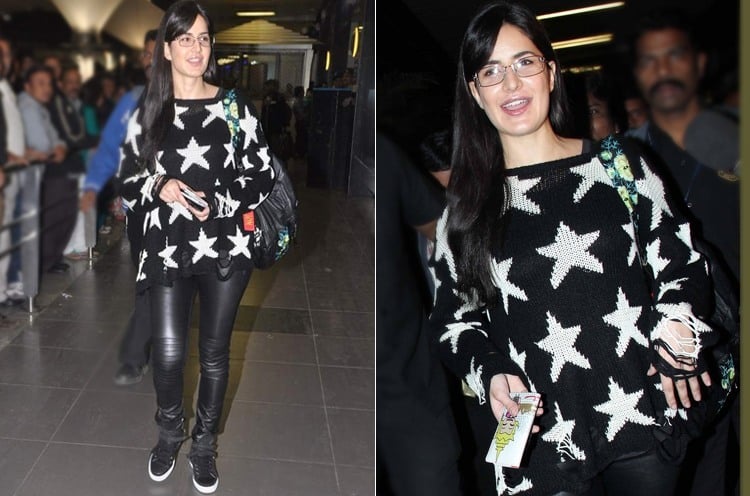 The Non-black Leather Pants
Have a varied colour of leather? Jacqueline Fernandez does! And she sports her maroon-brown leather pants fantastically with a luxe oxblood silk heart printed button-down shirt. A bold choice but carried off with aplomb. The feminine-chic look is further heightened with a tucked in style, black leather belt, black pointy pumps and a slim chain-pendant set.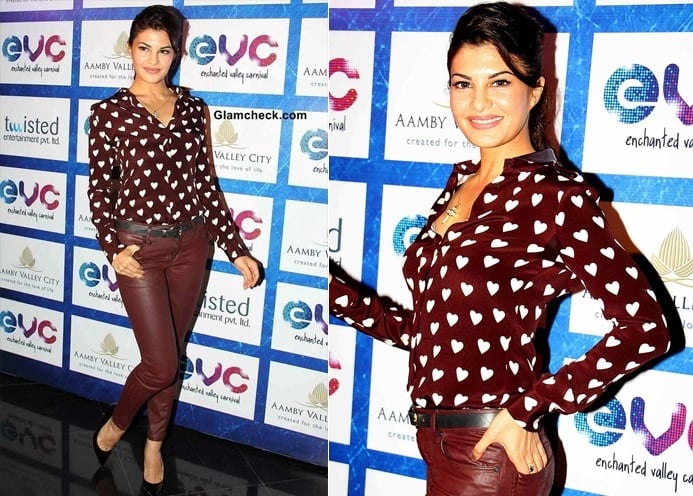 [Also Read: How To Maintain Leather Bracelets]
Leather Pants With The Tee
A graphic T-shirt with leather pants will make a rad combo. Maybe throw on a plaid shirt or blazer, and even some boots for the perfect attire. Sneha Ullal tells you how to wear leather pants with any tank top or graphic tee and give it a semi-formal look with a casual plaid shirt or formal blazer.
[sc:mediad]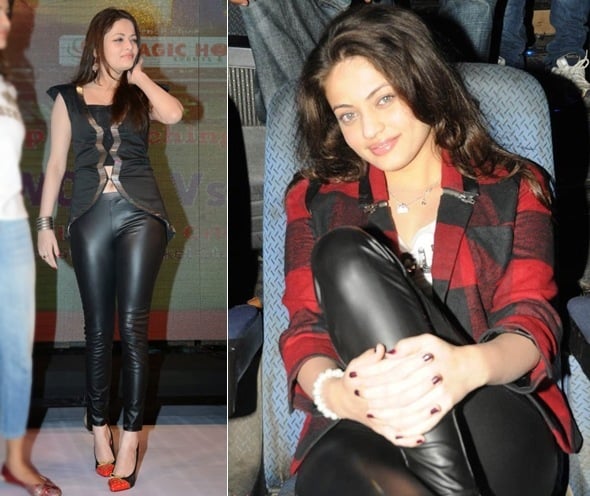 Leather Pants With The Corset
Have a really glamourous corset top? Try it out with your leather pants, it looks really hot! Take inspiration from Malaika, see her team up her skinny leather pants with golden sequined top and high heels for a launch show.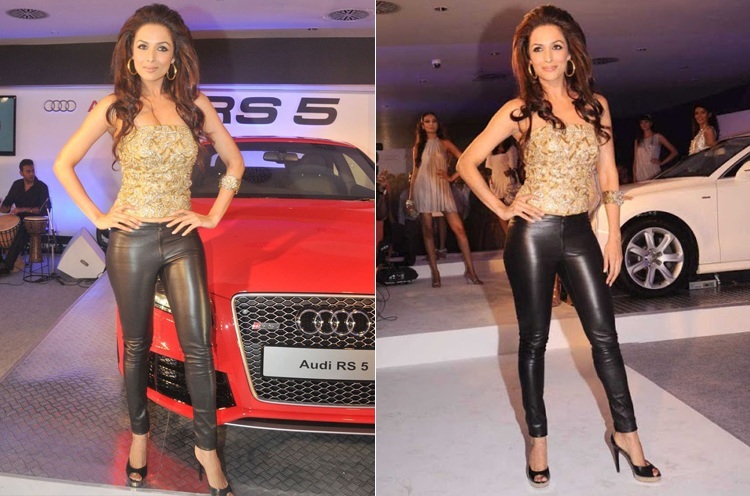 Leather Pants with The Crochet Top
Yes, even your beautiful crochet top or a knitted kimono teamed up with your black leather pants and a great pair of boots to rock the look. Urvashi Rautela looks wonderful by pairing a fringed white crochet atop a neon tank. To add a dash of boho-chic look she teamed her ensemble with a pair of swanky aviators, golden hoops and denim cap.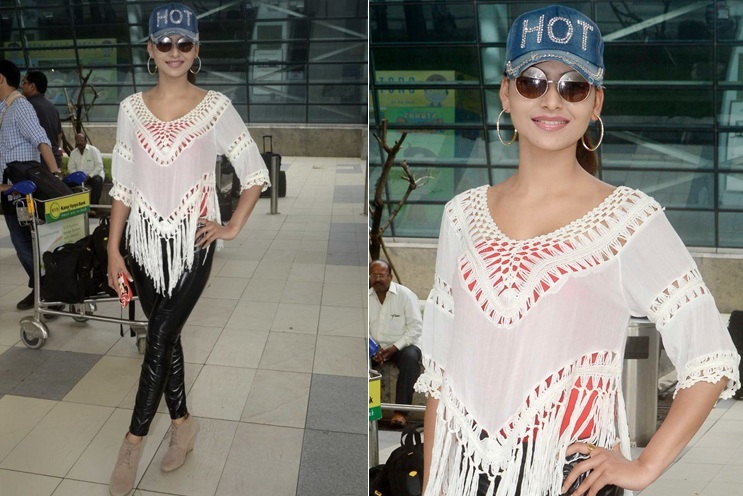 Leather Pants With The Blazer
What to wear with leather pants to exude a funky style statement? Just get your tee and wear a glammed up blazer on top. This, with your leather pants will give a wonderful and polished look. Learn it from the Bollywood babe Shraddha Kapoor with her metallic sequined jacket and sexy pair of boots. Chunk of bangles, chic hair do and heavy eye makeup completed her clubbing look.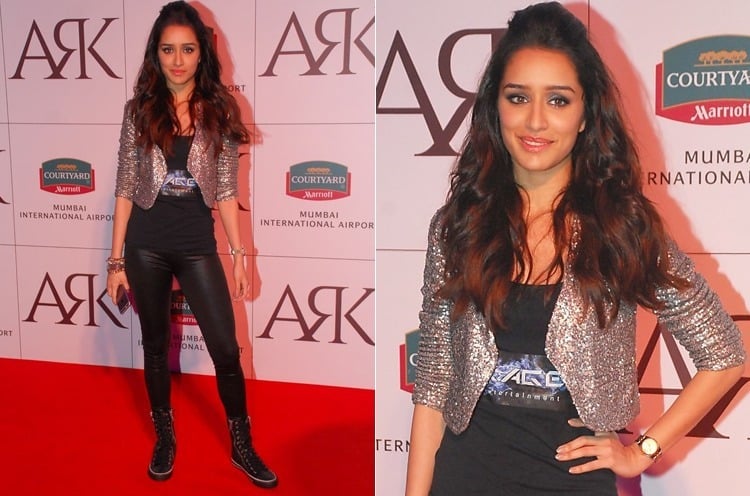 These were the 'How to wear leather Pants' tips straight from Bollywood. So, now that you have an idea on what to wear with leather pants? You can chuck the denims this season and opt for leather pants outfits. Go buy one if you don't own one already!