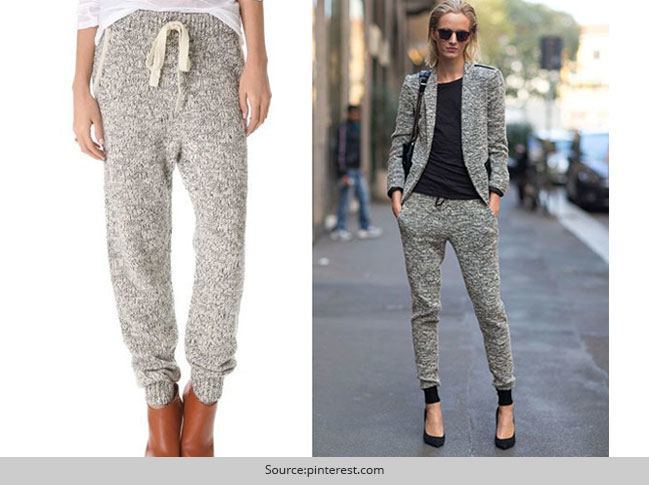 Not just sweatpants, they are the new trending style this season. Pull out your old ones or get the brand new in different styles and fit. Gone are the days when sweatpants meant saggy, shapeless wear that you could only sleep in. The best part about sweatpants, they are extremely comfy and today I can say, stylish too. Fashion has gone one full circle and we are here styling the pants that are called sweats.
A new piece in the fashion block for those who choose comfort and style at equal priorities. It's a new trend in bottoms and coming out as big in every way. It's a staple in everybody's wardrobe and needs to be worn in a new way.
Here we will show you ways to wear your sweatpants anywhere beyond home grounds. You could wear your perfectly comfortable sweatpants ad still look very chic. Work beyond imagination and here is how to do it with Sweatpants Styles:
1. Casual Chic:
Throw in a pair of your sweatpants and keep it casual, like with a slinky top or loafer shoes. The pictures will show you the right way to wear them but as far as ideas are concerned, go with a loose top or a top that's uber comfortable like your sweatpants and put on a jacket. The perfect way to look casual and fun.
2. The Athletic
Sporty chic with sweatpants? An absolute yes! Wear it your way with a top that's the same colour as your pants and shoes that speak out sporty. Sunglasses and cool girl hairdo will complete your look for the day.
3. Fitted:
The market has various kinds of sweatpants for you to buy. These are my favourite because they look very leggings like but are actually sweatpants. What more could you ask for. So wear these well fitted sweatpants with a loose cardigan or a strappy top because anything you wear on them is going to look good.
4. Hippie look:
This look is an experiment with sweatpants that's been very successful I must say. So different patterns and textures along with your sweatpants would give a look that more hippie. Loose clothing, not fitted to the body, lots of fun accessories and maybe throw in a hat. Make interesting looks in this kind and look very trendy.
[sc:mediad]
5. The Lounging look:
Chilling in this particular outfit is definitely the motive. Look at these celebrities relaxing in their outfits and out in the public. It's a sign you can wear them out too. With messy hair, a nice handbag and shoes to match your day are all you will need.
6. Style it:
Fold up your pants and wear quirky accessories with them, just flirt with your style in this comfy avatar. Add a bit of colour to your attire with shoes and bags or do up your lips real bright.
7. Play around:
The huge fur jacket, or animal printed cardigan, it will work up your outfit making the sweatpants look less like sweatpants. Notice the dull colours, sweatpants are usually that colour preferred. So, you will have to add to that with some good outerwear or your hair let down nice and flowy.
8. Accessorise:
One key element in styling and dressing up is accessorising. An outfit is never complete without its jewellery or belt or sunglasses to suit the occasion. A statement neckpiece will class up your sweatpants or even a stylish way to wear your belt with them.
9. Suit it up:
Like Barney says, Suit up, you can suit up your sweatpants. Had we ever thought of that! No! So try it out with your blazers that wit really well or are tailor-made for you. The silhouette will flatter your body type in case the pants are baggy and loose. Wear it this way and you will never look at sweatpants the same way.
10. Printed:
Printed sweatpants styles are an absolute boon. You can wear them with a white top or a colour that looks good on your skin. It's simple and no-fuss required style.
I'm sure now you have ideas and ways to wear those sweatpants of yours and look fashionable and feel even better. The sweatpants styles is trending and hence wear them before it becomes old. If you have any more hacks as to how we can out them in, do let know.